Heroes on the Water offers fishing escape for local veterans
Chino Valley's Dan McGowan starts new Northern Arizona chapter

Originally Published: March 23, 2021 3:45 p.m.
Updated as of Wednesday, April 7, 2021 5:54 PM
For United States military veterans, rehabilitation and the act of returning to normal life can be a difficult process and feel like swimming upstream. But there seems to be a growing movement that is lobbying for government bodies to provide more programs and resources for men and women who may be struggling against the current.
In the meantime though, there are many nonprofit organizations across the country that provide help to veterans and now, northern Arizona is getting its own chapter of Heroes on the Water thanks in large part to Dan McGowan, a Vietnam veteran who lives in Chino Valley.
What is Heroes on the Water exactly? It's a 501(c)(3) veterans charity that creates alternative wellness programs to serve veterans, active-duty military personnel, first responders and their families.
The primary proven therapy used by Heroes on the Water is kayak fishing. Volunteer-led chapters around the United States hold outings for the nation's heroes. Recurring activities give these veterans and their families a lifelong social network with like-minded people.
McGowan, who's had a fiery interest in fishing and kayaking practically his whole life, was a volunteer for the Phoenix Chapter and would go down during the summer seasons to help out with certain events.
However, McGowan said the Phoenix chapter closed and some of their equipment was passed on to him and so he took this opportunity to start his own chapter in the Prescott area, which would represent all of northern Arizona.
"The reason I'm into this is because it's so fulfilling for me," McGowan said. "What we do is we take them out and give them a kayak, give them a paddle and fishing pole and they go fishing. We're there to help them if they need anything but there's so much to do that they don't have time to think about the stuff that comes with PTSD (post-traumatic stress disorder)."
Everyone who has helped McGowan set this group up is a resident of Chino Valley, including fellow Vietnam vet Wil Williams, former councilmember Mike Best and a few other Lions Club members.
McGowan added that the veterans that join this program can also bring their family or friends along on these fishing excursions. And according to Williams, the national organization of Heroes on the Water has about 50 chapters across the country, which have served over 48,000 personnel and over 13,000 family members since 2007.
"Dan is an incredible guy. He has the drive and he has the motivation to do this whole thing," Williams said. "It's very calming to be on the water, even if you're not fishing and if you're just kayaking, it has got to be calming because you're out in nature. It's quiet, you're handling your own craft and it has to be beneficial."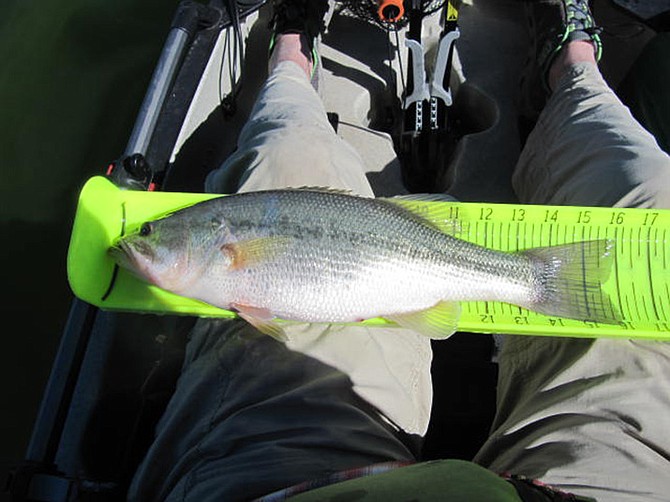 As for when the Heroes on the Water will begin operations, McGowan stated they are waiting until the weather warms up, setting a tentative start date on the second Saturday of May. Depending on the turnout of veterans and volunteers during the first outing, he added that he hopes to have a fishing outing once every month from May to October.
Most of the fishing trips will take place at local watering holes such as Willow Lake, Lynx Lake, Watson Lake and Goldwater Lake. McGowan said he's even looking to branch out the chapter to Flagstaff and possibly all the way up to Lake Powell near Page, but only provided enough veterans and volunteers in those areas are willing to step up and participate.
"Some of these guys, their lifestyle isn't what you would love. It's something that you want to get away from," McGowan said. "They had a rough how many years and so it's just about paying them back and helping them out … I've met guys that were just elated and there was one that said he hadn't felt this good in 10 years. It really helps them get better for a little while."
The chapter has even started receiving donations from friendly neighbors and local sponsors, including Findlay Toyota and Epic Angler fishing store in Prescott. Of course, McGowan said the chapter is always taking donations, sponsorships or any opportunities to partner with a local organization.
For now, the Northern Arizona Chapter of Heroes on the Water is still reaching out to local veterans all around the quad-city area to join their cause as well as volunteers to help carry out the fishing operations. If interested in joining or volunteering, McGowan can be contacted at sailfish.01@hotmail.com or at 928-963-0878.
Aaron Valdez is a reporter for Prescott News Network. Follow him on Twitter at @Valaaron_94. Email avaldez@prescottaz.com or call 928-445-3333, ext. 2031.
---
Sign up for our e-News Alerts
SUBMIT FEEDBACK
Click Below to: