Finding and Making the Good recognizes GYCC's Emergency Box Program for COVID-positive patients quarantining at home
Originally Published: March 23, 2021 5:33 p.m.
Finding and Making the Good recently recognized the Greater Yavapai County Coalition (GYCC) for its COVID Response Action Plan-Emergency Box Program.
GYCC received daily urgent requests from COVID-positive community members with moderate symptoms, who were being asked to quarantine at home to avoid overflowing hospitals.
"The goal of the program is to keep as many COVID-positive people out of the hospitals as possible by creating COVID support boxes containing 14 days of supplies that will help COVID-positive people manage and monitor their symptoms at home," stated John Duncan, board member and program organizer.
Based on supply, the boxes focused on oxygen and temperature monitors; PPE for everyone in the household; disinfecting/sanitizing products; hydration and electrolyte support and shelf-stable food items.
To date, the group has completed more than 35 boxes with an approximate cost of $800 to benefit those in need. Finding and Making the Good recognized their efforts with a donation of $250 and flowers from Allan's Flowers.
To join in the effort or contribute to the cause, contact Molly Freibott or John Duncan at gyccinfo@gmail.com, or donate at the website az-gycc.org. GYCC is a nonprofit collaboration of organizations that provide an umbrella of support to members and allies of the LGBTQ+ community in Yavapai County.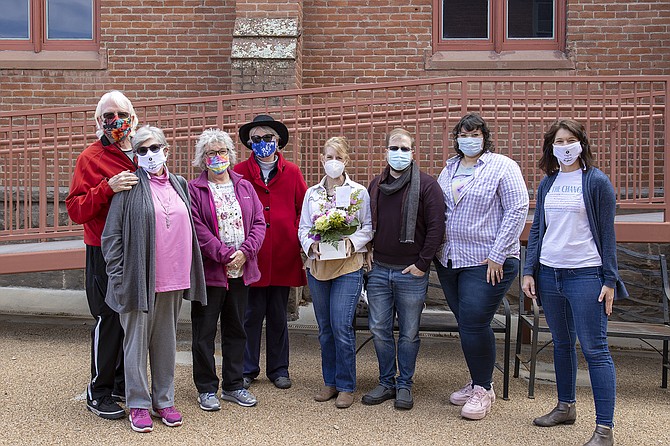 SUBMIT A NOMINATION
Finding and Making the Good in Prescott is a group of volunteers banded together to not only identify, but also obtain input from local area residents on people that are doing selfless acts in the community. As part of Gato Community Gives program, their mission is to "celebrating people doing, living and creating positivity without expecting anything in return."
To learn more, or to nominate someone in the community who is "making the good," visit findingandmakingthegood.com or their Facebook page, facebook.com/findingandmakingthegood.
— Information provided by Finding and Making the Good.
SUBMIT FEEDBACK
Click Below to: