Obituary: William (Bill) Green
Originally Published: June 19, 2021 3:35 p.m.
Born in Phoenix, Arizona on April 24, 1931, passed away in Phoenix, Arizona on May 24, 2021, William Green was 90 years old. Son of Josephus Green and Ida Mae Wolford Green (both deceased).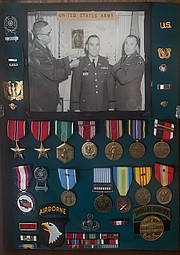 One month after the death of Bill's grandfather, William Wolford, whom he lived with in Phoenix, he entered the Army in 1948, at age 17. While in the Army, he traveled the world, one of the more memorable experiences he would share was about his duty in guarding the General of the Imperial Japanese Army, Hideki Tojo, during his war crime imprisonment. Bill earned many accolades for his service in the Army: 2 Bronze Star Medals, Army Occupation Medal (Germany-Japan), Korean Service Medal, National Defense Service Medal (1st OLC), UN Service Medal, Armed Forces Expeditionary Medal (DOMREP), WW II Victory Medal, Vietnam Service Medal, Vietnam Campaign Medal, 1 O/S Bar, Army Commendation Medal, Expert (Rifle M-14), an Airborne Paratrooper, and more.
In 1970, after 22 years in the Army, Bill retired with the rank of Chief Warrant Officer during peace time duty, however during active duty he was assigned the title of Corporal. He returned to his hometown of Phoenix where he met up with family and friends and met a younger sister, Juanita, for the first time. Shortly after his return home, Bill married his loving wife Kathy, on Nov. 4, 1972. They were married for 48 years and were inseparable throughout those years.
At the young age of 42, Bill started working at the Arizona Motor Vehicle Department (MVD), in Phoenix. He and Kathy always kept busy and enjoyed raising their daughter, Pamela, and shared their hobbies together, such as riding horses, raising goats, chickens and ducks, farming, being outdoors. After 13 years working for the MVD, Bill retired again. They moved to Yarnell, AZ then to Prescott Valley, AZ, and finally settling in Dewey-Humboldt, AZ until his death. In retirement, Bill and Kathy continued to enjoy their time together with dancing, attending yard sales and swap meets, Mexican food dinner date nights, listening to soft music. In Prescott, Bill helped start a "senior" softball league, volunteered for several years in the Prescott Search and Rescue and was a member of the Masons (32nd Degree.) Bill liked the smell of dirt after a good rain. But most of all, Bill enjoyed just spending time at home with wife Kathy.
Bill wanted to be remembered as a genuine person. You knew where he stood on any subject. He also loved to joke around. He had an infectious laugh.
Survived by: loving wife, Kathleen (Kathy) Denise Junkans Green; daughter, Pam Green Nazarrio; grandsons, Jessie and Joseph Nazarrio; sister, Juanita V. Martin; nieces and nephews Betty Carol (DeDe) McWilliams Figlia, John F. Martin, Joseph A. Martin, Maria M. Anderson, Margaret M. Glomb, Mark A. Martin, David M. Martin; half-nieces/nephews; Pamela Green West, Andrea Green Cawksell, Michelle Green Rowe, Jason Green, Toby Green, Dan VanDusen, Harry VanDusen. In addition, he is survived by many beloved family in-laws, grand-nieces and nephews and life-long friends. Deceased: sister, Clara Green Burns; brother, Gardner Green; half-brothers, Luther (Butch) Green, David Green; half-sister, Patsy Ann Green VanDusen; nephews, Larry Lara and Robert Lara.
Bill's ancestors were the founders of Santa Fe and Albuquerque, New Mexico and he was qualified to be certified by the Sons of the American Revolution, (SAR). Family and Military Memorial Service to be held at 1 p.m. Friday, June 25, 2021 at Prescott National Veteran's Cemetery Columbarium, 500 Highway 89 North, Prescott, AZ 86313.
Information was provided by the family.
SUBMIT FEEDBACK
Click Below to:
More like this story