Fentanyl Bereaved Family Day brings families, community together to heal
Event shows importance of sharing stories, advocating for tougher sentencing of dealers
Originally Published: June 15, 2021 1:59 p.m.
As you listen to the heart-wrenching stories of parents who have lost their grown children's lives to the synthetic opioid fentanyl, you might whisper to yourself: Could this happen to someone in my family?
It's a scary thought, but fentanyl-related deaths are rising across America, and the reality is that an increasing number of parents who thought something like this could not happen to them are being encouraged to rethink their stance.
During a Fentanyl Bereaved Family Day event on Sunday, June 13, in Prescott Valley, parents, relatives and friends of victims joined local politicians at the Civic Center amphitheater for several hours to redouble their efforts in spreading the word about the dangers of illicit fentanyl.
MatForce, a nonprofit coalition which combats substance abuse in Yavapai County, reported in April that overdose deaths in the county rose by 22% within the past year and that 25% of those deaths were attributed to those ages 20-29.
The report, commissioned by the Yavapai County Overdose Fatality Review Board, added that fentanyl overdose deaths have increased sevenfold in the past five years and accounted for half of all overdose deaths in 2020.
MatForce Assistant Director Nikki Rosson said her organization has developed a new illegal fentanyl toolkit, which was formed in Prescott Valley and was released June 1. The toolkit uses data from 300-plus volunteers in developing methods for fighting the fentanyl scourge.
"We encourage you to share your stories because they are very impactful for people," Rosson added.
Psychotherapist Hope Matsuda said that those who are grieving the loss of a loved one should know that while grief is not finite, there are ways to cope with the "wave that we go through."
"Life does go on, by laughing, by talking about those we love," she added. "That's a beautiful thing."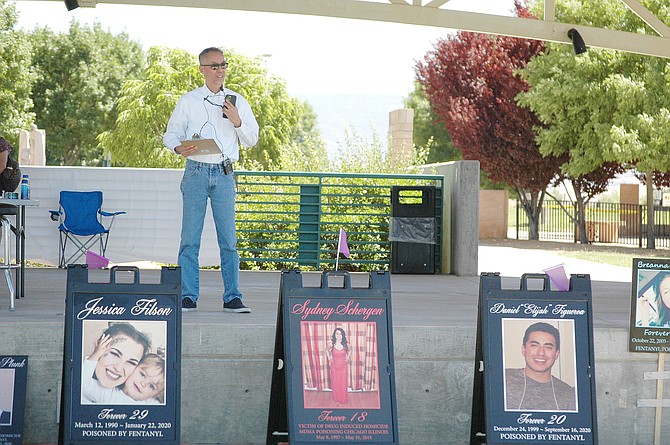 PUSH FOR 'DRUG-INDUCED HOMICIDE' LEGISLATION
Arizona District 1 Rep. Quang Nguyen (pronounced WIN) of Prescott Valley said he is committed to shepherding House Bill 2779, which would make drug-induced homicide a crime, through the state legislature in 2022.
This year, District 8 Rep. Frank Pratt introduced the bill to the legislature, but it failed to get out of committee.
"I'm not sure why it didn't make it," Nguyen said of HB 2779.
The bill specifically calls for individuals who traffic in illegal fentanyl to face a mandatory sentence of a Class 1 felony, Nguyen added.
In 2019, Nguyen said there were 36,000 fentanyl-related deaths in the U.S., and that the problem got worse as the COVID-19 pandemic spread across the nation in 2020.
Through the first six months of 2021, Nguyen added, the U.S. has already exceeded 37,000 fentanyl-related deaths.
"This is not political — it affects all of us," he told the crowd on Sunday. "My intention is to get this done. We need the mayor and council to speak your stories. Get online and speak — testify for me — to get that thing done."
Nguyen also intends to ask for more government money for educating teens and young adults, those who are mostly dying from fentanyl, about the drug's lethality.
Matt Capelouto, whose 20-year-old daughter, Alexandra, died from an accidental overdose of fentanyl, has been advocating for a drug-induced homicide bill in California for months. (The case for prosecuting drug-induced homicides is made on the web at druginducedhomicide.org.)
California Senate Bill 350, also known as Alexandra's Law, states that anyone convicted of selling drugs would receive a formal written notice that says, "It is extremely dangerous to human life to manufacture or distribute real or counterfeit controlled substances. If you do so, and a person dies as a result of that action, you can be charged with voluntary manslaughter or murder."
Although the bill was not approved in the California legislature, Capelouto and others are pursuing a ballot initiative for Alexandra's Law, which would allow voters to decide the legislation's fate.
Steve Filson of San Bernardino County in California said he lost his 20-year-old daughter, Jessica Filson, to illicit fentanyl in January 2020. Steve added that parents like him and Capelouto share a bond.
"We are bound together in bereavement in what seems like an endless battle against evil," Steve said. "Law enforcement must realize that deaths by drugs cannot always be considered overdoses. We need to evaluate incidents as they occur. This is about intentional illegal distribution of poisons, and [dealers] need to be held criminally accountable."
LOCAL HELP AVAILABLE FOR ADDICTS
Earl McCrea, recovery ministry director at the Heights Church in Prescott, said he leads a 12-step program called Elements Prescott, which provides a safe, open environment for those struggling with addiction.
McCrea, a recovered longtime heroin addict, says Elements Prescott's support group tries to help 200 to 300 people each week who struggle or have struggled in the past with drugs, sex or gambling, among other addictions. Family and friends are also encouraged to attend meetings.
"We invite people who are hurting," McCrea added.
McCrea, who said he has been clean and sober for the past four years, encourages people who are interested in Elements Prescott to visit facebook.com/ElementsPrescott or heightschurch.com, call 928-445-1421 or send an email to hello@heightschurch.com.
Follow Doug Cook on Twitter at @dougout_dc. Email him at dcook@prescottaz.com or call 928-445-3333, ext. 2039.
Share #StopFentanylNow
SUBMIT FEEDBACK
Click Below to:
More like this story