Finding and Making the Good: recognizing 'Horses with Heart'
Originally Published: June 10, 2021 6:24 p.m.
Prompted by last month's recognition of Lisa Lucidi of Lucy Dee's barbecue, Finding and Making the Good nominated Lucy's chosen organization, Horses with Heart, for recognition this month.
Horses with Heart is the Premier Accredited Center in northern Arizona (a distinction earned from PATH – Professional Association of Therapeutic Horsemanship), whose mission is to provide a safe, therapeutic equine experience for special needs and veteran communities of northern Arizona.
"We were so taken by the work Horses with Heart was doing when we learned about it from Lucy, we felt it more than deserving of recognition," commented nominator Breeanya Hinkel, owner of Prescott Woman Magazine.
The 29-year-old equine organization offers four therapeutic riding sessions per day and is 90% volunteer based.
"Our dedicated staff provides this equine experience to help foster confidence and dignity for people with special needs, while challenging each participant to develop independent skills at their own level of ability," stated Jan Grise, riding director. Among Grise's many credentials, she is a certified instructor (CTRI), mentor to instructors-in-training and equine specialist in mental health and learning.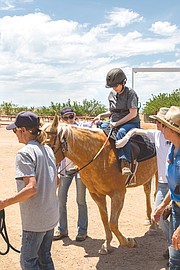 "For the special needs and military veteran's communities, the physical and mental benefits of riding horses in a structured and supervised setting are numerous — and well-documented," Grise explained. "Not everyone knows, however, that we can thank the simple motion of a horse's gait for much of the progress that occurs. Because horseback riding rhythmically moves the rider's body in a manner similar to a human gait, riders with physical disabilities often show improvement in flexibility, balance and muscle strength."
Beginning in 1993 near Dewey, Horses with Heart moved to its current headquarters in Chino Valley in 2012. In Chino Valley, the work begun in 1993 continues, and for so many riders, "Difficulties Become Possibilities."
To contribute or volunteer, visit horseswithheartaz.org or call 928-553-9178.
SHARE THE GOOD
Finding and Making the Good continues to reach out to the community for nominees and encourages everyone to share their stories of people "making the good" at FindingAndMakingTheGood.com.
Each month individuals are selected to be recognized.
For more information, to participate, or to make a contribution, visit FindingAndMakingTheGood.com or their Facebook page to learn more about your neighbors who are "Making the Good."
Information provided by Finding and Making the Good.
SUBMIT FEEDBACK
Click Below to:
More like this story