YCSO K-9 unit makes 'rare' seizure of $150 million in powdered fentanyl
Originally Published: June 4, 2021 4:43 p.m.
Updated as of Saturday, June 5, 2021 6:28 PM
On Wednesday, June 2, a Yavapai County Sheriff's K-9 deputy conducting traffic enforcement efforts seized powdered fentanyl worth $150 million.
The deputy noticed a truck heading south on Interstate 17 near Cordes Junction, weaving in and out of traffic and driving recklessly, according to a news release.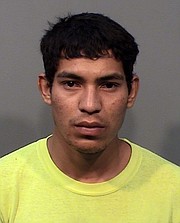 The deputy stopped the driver, 21-year-old Daniel Antonio Guzman Perez of Phoenix. During the traffic stop, the deputies noticed some inconsistencies while speaking with the driver. The deputy's dog alerted on the vehicle and inside they discovered several packages of what appeared to be 22 pounds of powdered fentanyl, according to reports.
"We typically see a lot of fentanyl in the pill form. But this is the second time in less than a month that our K-9 unit has seized powdered fentanyl of this magnitude, which is extremely rare," Yavapai County Sheriff David Rhodes said.
The YCSO estimates that this seizure could make between 5 million and 10 million fentanyl pills.
"It is extremely concerning that powdered fentanyl is now being trafficked across our state," Rhodes added.
The driver is being charged with transportation of narcotic drugs, sales of narcotic drugs, possession of narcotic drugs, possession of drug paraphernalia.
Information provided by the Yavapai County Sheriff's Office.
Watch dCourier.com and The Daily Courier for more details.
Share #StopFentanylNow
Sign up for our e-News Alerts
SUBMIT FEEDBACK
Click Below to: