Boys and Girls Club fundraiser 'Dancing for the Stars' announces 2021 lineup

Originally Published: June 1, 2021 6:33 p.m.
Dancing for the Stars, an annual fundraiser for the Boys and Girls Clubs of Central Arizona, announced at a reveal party on Wednesday the dance teams who will be competing on Oct. 2.
The fundraising competition was canceled last year due to the COVID-19 pandemic. For the dance teams, local celebrities are partnered with a professional dancer or dance instructor.
BRENDAN MCDONOUGH/DAWN WILSON
Dawn Wilson, a former teacher at Arthur Murray Dance Centers, is a dance instructor who teaches line-dancing along with every form of ballroom dancing, including Latin, country, and swing.
"It's about 16 different dance rhythms that I teach both the lead and the follow, so he said good hands and he gets a bit pretty much what he wants to do," Wilson said. "Whatever he likes and whatever he looks good at doing."
Brendan McDonough, the lone survivor of the 2013 Yarnell Hill Fire, explained that he is eager to raise money to help the kids.
"I was in the same position as many of these young kids that are in the Boys and Girls Club. I grew up there at a young age," McDonough said. "I want to see them continue to flourish and grow as our community grows."
DR. LISA RHINE/DANIEL GARCIA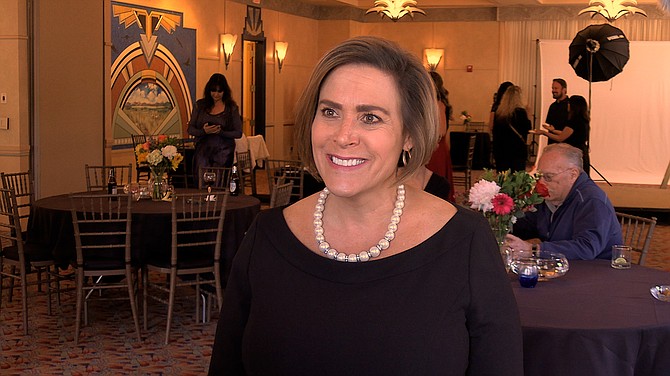 Yavapai College President Lisa Rhine, who will be dancing with Professional Dancer and Choreographer Daniel Garcia, explained that she was prepared to compete in last year's Dancing for the Stars before it was canceled.
"We were like 10 to 12 days out from performing and all of a sudden COVID hit, and so we were just so disappointed in the fact that we didn't get to celebrate and perform for everyone and take advantage of that opportunity, but so glad to have the opportunity again to do it.
KELL PALGUTA/JAMIE PROCKNOW
Jamie Procknow, a dance fitness instructor explained that she's passionate about contributing to children's programs. "I was a foster mom for eight and a half years, so I realize that what the Boys and Girls Club does for our families is just such an instrumental and critical part of supporting our community," Procknow said. "It makes complete sense to me that we would invest our time in programs like Boys and Girls Club to stabilize our families and our children."
Prescott Valley Mayor Kell Palguta explained that even though he doesn't see himself as a good dancer, he wouldn't turn down an opportunity to support the children of the community.
"Whether or not you're an amazing dancer or a terrible dancer," Palguta said, pointing to himself. "It's still a good opportunity for the community, raising money for a great cause."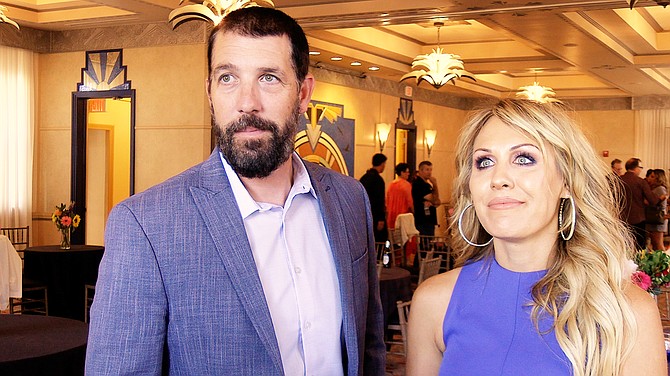 JEN JAMES MARTIN
Professional Dancer Jen James Martin, who will be dancing solo, explained that she's excited to participate in the competition shortly after moving back to Prescott from New York City.
"This is a very exciting thing to be involved in, with a community facing group that supports children, which I love," Martin said.
LUTHER KRAXBERGER/MARINA ROGOVA O'BRIEN
Professional Dancer Marina Rogova O'Brien, who is also a dance instructor at Yavapai College, explained that she switched to ballroom dancing after being a figure skater.
"I've been dancing since I was a little girl and I love it. It's my joy, happiness, passion, all of the above and I love to share my knowledge to benefit the children of this town.
According to Realtor Luther Kraxberger, this will be his first time dancing.
"I've never danced before and then I'm supposed to dance in front of people, so," Kraxberger said. "It'll be interesting."
MIKE NACHE/CARIE HUGHES
Professional Dancer Carie Hughes said that she plans to bring out her partner's best skills and show his talents.
"That's what makes a good teacher, is to bring out his very best for the performance and just have a good time and have fun," Hughes said. Mike Nache, a frequent performer at Prescott Center for the Arts and Yavapai College Performing Arts Center, explained that he sees the competition as a great opportunity to learn how to dance.
My wife and I have always wanted to dance, but we've always said 'we're going to do that someday,'" Nache said. "So immediately when I was offered this opportunity, it took me about 5 seconds to say yes."
JESS SAVOINI/RON HOWARD
Realtor Jess Savoini explained that she's glad to be a part of a fundraiser that helps children in the quad-city area.
"I love giving back to our kids of our community and I love that whatever we donate stays here in our community," Savoini said. "I mean they are our future."
Professional Dancer Ron Howard explained that he has been a member of Rapper MC Hammer's dance team since 1997.
"I've been all around the world with him," Howard said. "I just love kids. I just love giving back, especially for the kids of the community, just sharing my talent and just enjoying all the love."
"So, it's hammer time," Savoini added.
LESLIE HORTON/ZACH LEONARD
Yavapai County Public Health Director Leslie Horton sent Wendy Allen to stand-in for her at the reveal party. According to Allen, Horton is honored to participate in the contest this year after it was canceled last year.
"This is going to be much easier and much more joyful, and she loves the agency, the Boys and Girls Club, and she's very excited to fundraise for them," Allen said.
Professional Dancer Zach Leonard explained that he was originally inspired by his sister to start dancing at a young age. "I loved it so much, I picked it up too and then just kept going with it," Leonard said. "It was always a dream to maybe be a professional dancer one day, but living in Prescott I can certainly do that."
Leonard, who has participated in Dancing for the Stars in the past, added that he doesn't know what kind of experience to expect from his partner this year.
"I think I've really lucked out every year with every partner I've had. They've always had some degree of, you know, even high school cheer experience," Leonard said. "So, I think either way it's going to be a good time."
For more information about the 2021 Dancing for the Stars, visit www.dancingforthestars.net.
Jesse Bertel is a reporter/videographer for the Prescott News Network. Subscribe to youtube.com/CourierNewsroom for notifications of his videos. Follow him on Twitter and Facebook @JesseBertel, email him at jbertel@prescottaz.com, or call 928-445-3333, ext. 2043.
SUBMIT FEEDBACK
Click Below to: