Appointments at local vaccination sites rescheduled due to vaccine shipment delays

Originally Published: February 17, 2021 8:42 a.m.
Updated as of Wednesday, February 17, 2021 2:37 PM
Anyone who has a local appointment scheduled for the next few days at YRMC's Prescott Gateway Mall vaccination site or Spectrum Healthcare's Vaccination Station in Prescott Valley should watch for a new appointment date.
Extreme winter weather impacting much of the country has delayed this week's COVID-19 vaccine shipments to Arizona, the Arizona Department of Health Services (ADHS) said Tuesday night.
The state health department said it is in regular contact with federal and local partners to monitor the situation.
According to a Yavapai County Community Health Services press release Wednesday, the amount of vaccine ordered statewide is 1,395,300 as of the states's update on Tuesday, with 79% being utilized. More than 1.2 million doses of the coronavirus vaccine have been administered across the state.
The Biden administration said the weather was expected to disrupt shipments from a FedEx facility in Memphis and a UPS installation in Louisville, Kentucky. Both serve as vaccine shipping hubs for a number of states, including Arizona.
Yavapai County is expecting a shipment of 9,400 doses of the Moderna vaccine this week but has not yet received an update on when shipping will resume.
According to the ADHS Vaccine Administration Dashboard, Yavapai County has administered 47,893 COVID-19 vaccines with 43,216 first doses and over 4,850 second doses.
For those with appointments this week, please see the information below and the county's Vaccine Information page at www.yavapai.us/chs/Home/COVID-19/Vaccine.
YRMC'S PRESCOTT GATEWAY MALL POD
Dignity Health, Yavapai Regional Medical Center (YRMC) has been notified that a COVID-19 vaccine shipment expected this week will be delayed by severe weather across the country.
According to a news release, YRMC had enough vaccine to serve people who had appointments through noon on Wednesday, Feb. 17 at YRMC's Prescott Gateway Mall vaccination site. Those afternoon appointments were moved to the following Wednesday (Feb. 24) at the same appointment time as the original appointment time.
Thursday was scheduled to be a second dose clinic. All scheduled appointments will be moved to the same time on Thursday, March 4 at the Prescott Gateway Mall vaccination site. Email and text notifications will be sent to those who were scheduled.
"No decision has been made at this time about clinics scheduled beyond Thursday, Feb. 18," the hospital explained. "YRMC will continue to monitor the situation closely and will make adjustments as necessary based on vaccine availability."
YRMC encouraged anyone with an appointment to watch their email, including junk mail or spam folders, for additional instructions. Updates will also be posted to YRMC's Facebook community at: www.facebook.com/DignityHealthYavapaiRegionalMedicalCenter.
"This is a very fluid situation that may change by the hour...YRMC will make every effort to move anyone impacted by this situation to a new date once more vaccine arrives," YRMC stated.
An update on vaccine delivery for Yavapai County is expected by Thursday, Feb. 18.
SPECTRUM HEALTHCARE VACCINATION STATION
Spectrum Healthcare has also announced changes in appointments at its Vaccination Station sites in Prescott Valley and Cottonwood due to vaccine shipping delays caused by bad weather on the East Coast.
In addition, new appointments for receiving the vaccine are currently on hold.
"Until Spectrum Healthcare receives further commitments of vaccine, we have paused the online appointment portal," Spectrum stated on their website. "Due to shipping delays beyond our control, we have had to reschedule appointments from Wednesday and Thursday."
If you had a scheduled appointment on Feb. 17 or 18, your appointment is still in Spectrum's system and your vaccine will be administered as soon as their next shipment arrives.
"We appreciate everyone's patience and understanding as we adjust our schedules to accommodate for a delayed shipment of this week's allotment of the vaccine," Spectrum Healthcare CEO April Rhodes told the media. "All those who have a confirmed appointment for Wednesday or Thursday are asked to check our website for details about when we can potentially see them for their immunization. Those who have a scheduled second dose appointment can still receive their injection up to two weeks after their scheduled appointment and have the same level of protection as stated on the Moderna vaccine information sheet."
Spectrum's website can be found at www.spectrumhealthcare-group.com.
If the expected shipment of vaccine is delivered by noon on Thursday, February 18, Spectrum anticipates re-opening on Friday Feb. 19.
"This is subject to change if there are further delays in the delivery of the next vaccine shipment," Spectrum explained on their website. "We will communicate any further shipping delays, if any."
Spectrum vaccine patients affected by the closures can anticipate coming on the following dates to the corresponding locations:
Friday, Feb.19 - Findlay Toyota Center in Prescott Valley
Saturday Feb. 20 - 3001 Main St, Suite 1E, Prescott Valley
Sunday Feb. 21 - 3001 Main St, Suite 1E, Prescott Valley
"Please do not call us to reschedule. We will be able to pull up your appointment when you come in on Friday, Saturday, or Sunday," Spectrum said.
"We look forward to seeing you on Friday, Saturday or Sunday at the same time your original appointment was scheduled. You do not need to call us to reschedule," Spectrum stated.
Anyone with questions about their Vaccination Station appointment can call Spectrum Healthcare at 928-414-8884 between 8 a.m. and 4 p.m.
Both YRMC and Spectrum Healthcare apologized for any inconvenience this may cause their vaccine patients.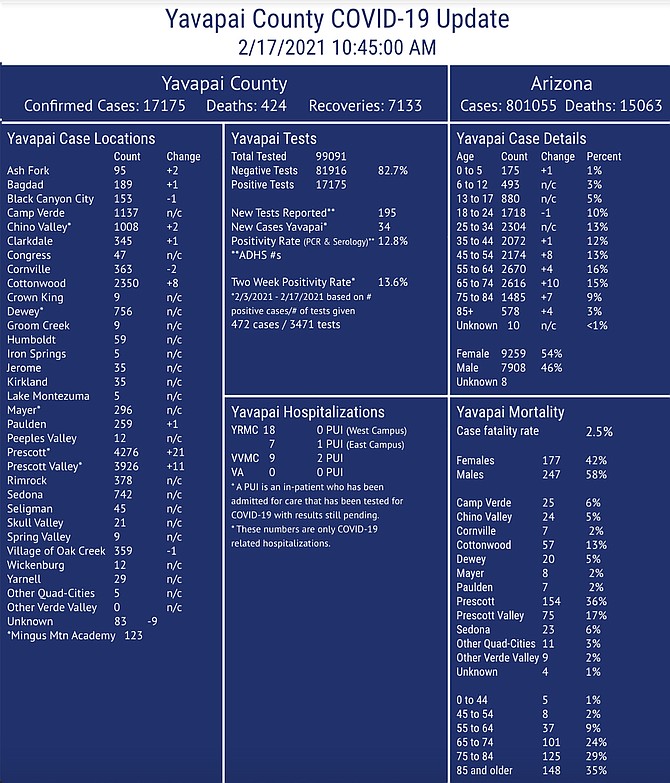 LOCAL COVID-19 INFORMATION
• For COVID-19 vaccine information and appointment availability, visit www.yavapai.us/chs/Home/COVID-19/Vaccine;
• Yavapai Emergency Phone Bank for COVID-19 Info, call 928-442-5103 – Monday through Friday, 8 a.m. to 5 p.m.;
• County COVID-19 data, testing sites, guidelines and resources, visit www.yavapai.us/chs; and,
• COVID-19 information en español: https://www.azdhs.gov/preparedness/epidemiology-disease-control/infectious-disease-epidemiology/es/covid-19.
SUBMIT FEEDBACK
Click Below to:
More like this story