Local group rescues dog lost in Grand Canyon for 2 weeks
Originally Published: February 11, 2021 6:20 p.m.
On Jan. 31, a woman named Amy Goodwin posted on social media that she had seen a dog that looked like a husky running loose and seemingly lost at Hermit's Rest up on the South Rim of the Grand Canyon.
Her post was widely shared and people were concerned about the dog's welfare in the cold and snowy environment created from the recent blizzard.
The local rescue group Yavapai Humane Trappers (YHT) immediately reached out to Teresa Schumann with Northern Arizona Animal Search & Rescue (NAASR) asking if she wanted to double team an effort to locate and help the dog.
"We immediately reached out to Amy and invited numerous others to our chat on messenger where there are always those willing to save an animal in need," said Katrina Karr, founder of YHT Animal Search and Rescue.
Those "others" included Sandy Macbeth, Leann Weber, Anet Abbott Jerry Harding, Trish Lukkasson and Eric S Neitzel with Fireground Drone Works & 3D.
"The best of the best," Karr exclaimed.
"We reached out to the Grand Canyon National Park and were transferred to Wildlife Biologists Brandon and Greg, who were absolutely amazing and welcoming," Karr said.
Karr and her team agreed to keep the park biologists updated on their progress as they searched for the Husky. "They made us agree that if we trapped something that can eat us we had to call them for help," Karr said.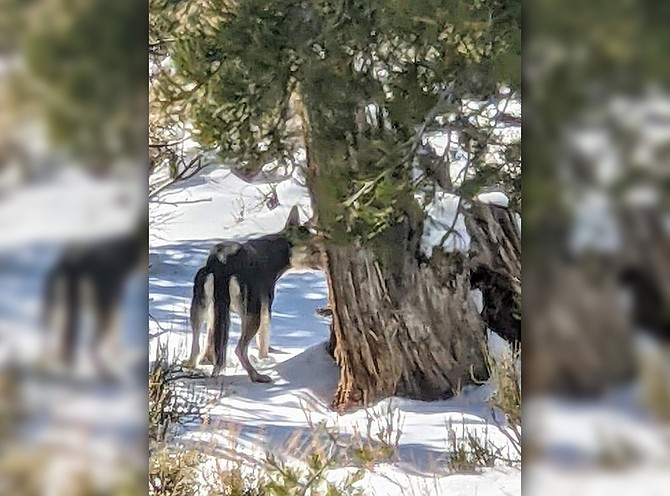 On Tuesday, Feb. 2, Anet with NAASR went to the area where the husky was last spotted. An hour into her search she located the dog.
"Anet only had food but was able to feed her and give her strength. Having no trap with her, she had to leave but didn't want to leave this baby," Karr explained.
The next day on Wednesday, two members of the team went back to the area but the dog was nowhere to be found.
On Thursday, armed with location information and determination, YHT's team returned and set up a cage trap and trail cameras at the location where the dog was last fed.
"Thinking this girl had no owners or may had been dumped, to our surprise we ran into a man who recognized us by our car magnets, claiming to be the owner," Karr said. "We learned her name is Sky and she had dug under her fence two weeks earlier and somehow survived the blizzard that came in that last week with freezing cold temperatures."
The owner explained that their family had been looking for Sky since she got under the fence. He was surprised to learn she made it all the way to Hermit's Rest.
"Sometimes we see that when a dog has been loose and gets fed it gives them strength to travel again, but most of the time they stay in the area," Karr explained.
About 5 p.m. Thursday evening Karr got a call from a community member saying Sky was spotted again.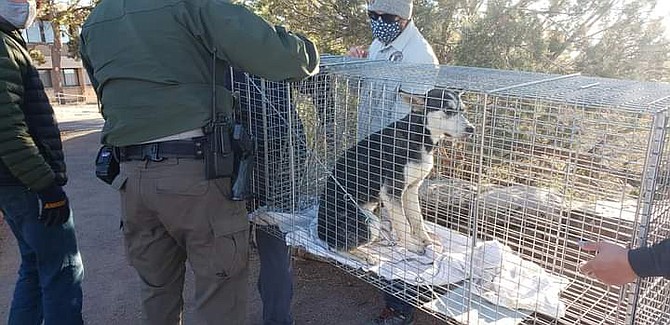 "We immediately went to area met with sighter and she pointed the way she ran. We got eyes on her and was hoping to be able to get her attention with food until a car going by ending up stopping trying to help and poor Sky took off again," Karr said. "We searched a few more hours but called it off when it was just too dark. We came in for the night to prepare for the next day."
The morning came and the teams got word that Sky was seen on the top of the rim sun bathing. Rangers tried to get her and she ran again, but remained on the rim.
"Poor girl most likely ran all night to keep warm and slept in the sun during the day and moved when she got hungry," Karr surmised.
She related the story as it unfolded. "We rushed to the area and walked the path. We noticed there was no way she could head east and get away. She could try but she would end up not making it, so we set the trap in a place that would be right on her way out. She would absolutely have to cross paths with it."
The teams were right. Sky started moving about 4 p.m. Team members caught glimpses of her below walking on an animal trail. Her nose hit on the aroma of the food waiting for her in the trap.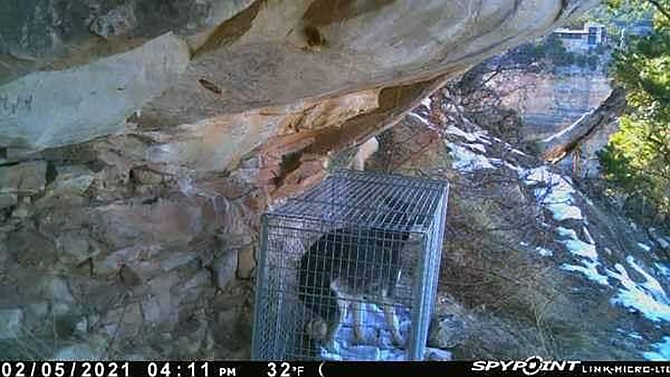 "We started watching our cellular trail cam for notifications and sure enough one came through with her at the trap site, then another one with her at the side of the trap, and a minute later the one we all were holding our breaths for, she was in the trap," Karr said.
The teams celebrated but now they had to transport Sky and the cage trap safely up to the top in rugged terrain.
"We let Brandon the biologist and the rangers know she was in the trap and they came along with Eric, who is certified in high level rescue. They made the hike down and were able to bring her up safely," Karr said.
The YHT team alerted the owners that Sky had been rescued. They came and happily transported her home.
"We cannot thank enough, everyone who had a hand in bringing this girl to safety, didn't matter how big or small, it all saved this girl's life," Karr said.
To join the Yavapai Humane Trappers Facebook group, visit facebook.com/groups/899011263623176.
Information provided by Yavapai Humane Trappers Animal Search and Rescue.
SUBMIT FEEDBACK
Click Below to: