2 children, 2 adults airlifted to Phoenix hospitals after Highway 69 collision; Man arrested for DUI

Originally Published: April 5, 2021 8:10 p.m.
Two adults driving in a sedan with two children were flown via helicopter to Phoenix-area hospitals after they were involved in a three-vehicle collision on Highway 69 in Dewey-Humboldt on Sunday night.
David Browne, 67, allegedly driving the vehicle that caused the collisions, was arrested and charged with DUI, according to Arizona Department of Safety (DPS) Media Relations Specialist Bart Graves on Monday, April 5.
WHAT HAPPENED
The collision occurred at approximately 6:47 p.m. Sunday evening, April 4, near Kloss Avenue on the highway and involved a Dodge Challenger, Kia Soul and Toyota Corolla.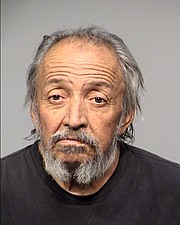 Graves said the preliminary investigation indicates Browne, driving the Dodge Challenger, possibly ran the stop sign where Kloss Avenue connects with Highway 69 and struck the Kia Soul, which spun out. The driver of the Kia Soul was left with no injuries.
Shortly after hitting the Kia Soul, Browne then hit the Toyota sedan head on, the preliminary investigation indicates.
Four people were in the Toyota sedan, including a 1-month-old infant girl and a 6-year-old boy.
Both children were flown to Phoenix Children's hospital. The 6-year-old boy has life-threatening injuries, while the infant has non-life-threatening injuries, Graves said. The 25-year-old female and a 27-year-old male in the Toyota were flown to a Phoenix hospital with non-life-threatening injuries.
It is unknown if the adults and children are related.
Response included four engines, one battalion chief, three Life Line Ambulances, an LLA Supervisor, four total air ambulances (two Native Air, one Guardian Air, one AirEvac), AZDPS, Arizona Department of Transportation, Yavapai County Sheriff's Office, and Central Arizona Fire and Medical Authority.
The roadway was closed from 6:47 p.m. until about 10:15 p.m. that Sunday evening, Graves said.
No other details were released. Watch The Daily Courier and dCourier.com for more.
Sign up for our e-News Alerts
SUBMIT FEEDBACK
Click Below to: