Haddad: The miracle of Easter has not been forgotten
Originally Published: April 3, 2021 5 p.m.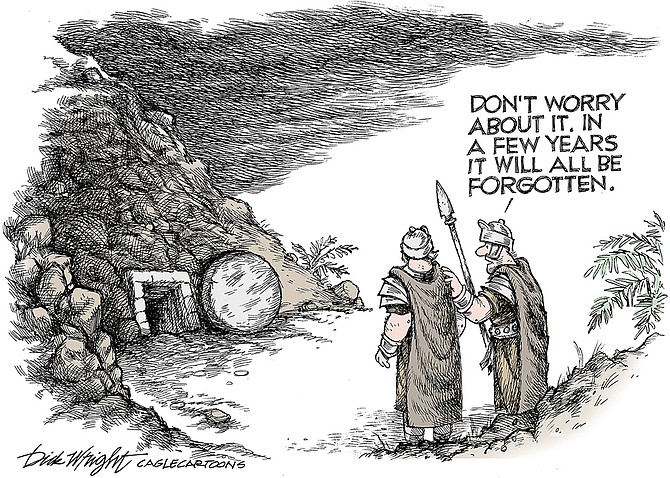 On this Easter morning Christians around the world celebrate what some hoped would be forgotten.
At the time of the Atonement and Resurrection of Jesus Christ, there were many who recognized and embraced the Gospel, the good news. But others, such as Herod the Great, king of Judea, were consumed by pride or power and rejected the message of redemption, forgiveness, healing and hope.
This past week we published an editorial cartoon that we felt captured this sentiment, which we've reprinted with this column. The cartoon depicts two soldiers standing outside the sepulcher with its great stone door rolled away, indicating it was empty and that they had witnessed a miraculous, unexplainable event, yet still worried about their welfare after seemingly failing at their charge to guard the tomb.
In the illustration, one soldier is trying to reassure the other and says, "Don't worry about it. In a few years it will all be forgotten."
According to some readers, the cartoon could have been interpreted in opposite directions.
We received an email from a faithful Prescott couple, which they have agreed to let us share, illustrating what they felt was a mixed message.
They wrote: "In Thursday's paper, a 'cartoon?' was in very poor taste. It made us sad to look at Dick Wright's cartoon depiction of the empty tomb. We believe Jesus Christ died and rose from the dead, so that our sins are forgiven and we will have eternal life. We believe the Resurrection will NOT be forgotten! It will be remembered and honored long after we are gone."
It was signed with their names.
I reached out to the couple and explained that it appeared they may have misread the cartoon's message. In my mind the cartoonist was using irony. The Romans, like so many others, felt the death of Jesus would put an end to his ministry. The cartoonist was sharing his opinion of how wrong they were. The fact is, Easter is celebrated throughout the world and the Resurrection is not only remembered, it is recognized as one of the most significant events in history that has changed the world and countless lives for eternity. The tomb was indeed empty and remains so, and this is the good news we believed the artist was sharing.
During our phone call the couple said they originally saw it differently, but explained that the reason they submitted the feedback was because they were concerned that too many people in the world have forgotten, or don't recognize the miracle given to mankind. The voice of the kind woman on the phone, with her husband in the background, did not sound judgmental or preachy. She instead conveyed a tone of genuine empathy, wanting, wishing, praying that more people knew and felt the peace, hope, joy and comfort that she and her husband had come to know — even through challenging trials — after a lifetime of living the teachings of the Savior. They also expressed worry for a world that seems to boil more with criticism and contention rather than cool with caring and compassion. This is why they wanted the message of Easter to be remembered.
I love Easter and springtime. They remind me that there is hope for me and humanity despite our faults, errors and weaknesses. They remind me that we are not alone, and that there is power to renew, restore, overcome and forgive — not only others but ourselves. It tells me there is joy to be found on this earth and in the eternities through a plan that was deliberately created out of love, and that death need not be final.
I wish you all a happy, hope-filled Easter.
Related Stories
SUBMIT FEEDBACK
Click Below to:
More like this story