COVID-19 Update: Yavapai County up 20 cases; Department of Health begins to track flu cases

Originally Published: September 28, 2020 2:19 p.m.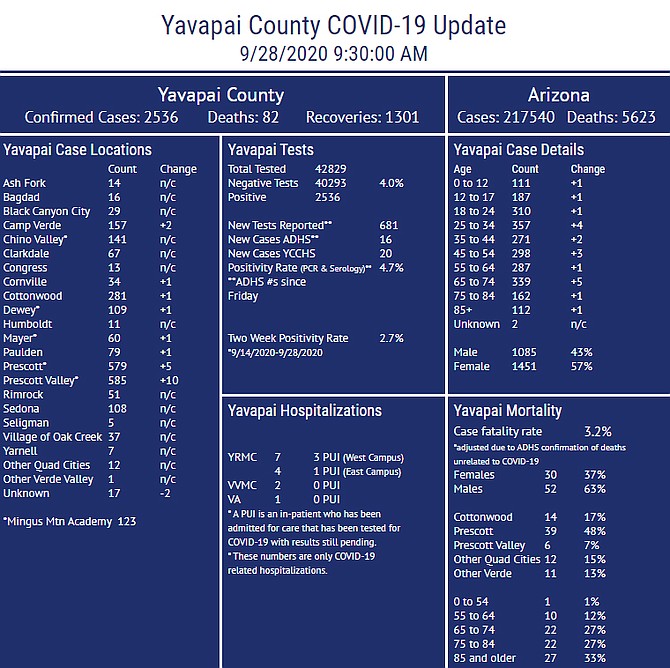 Yavapai County is up 20 cases of COVID-19 from this past weekend, according to a news release from Yavapai County Community Health Services on Monday.
Yavapai County has tested 42,829 residents with a total of 2,536 positive cases, 1,301 recovered and 82 deaths.
YRMC West in Prescott is caring for seven COVID-19 patients with three persons under investigation (PUI), the East campus in Prescott Valley has four COVID-19 patients and one PUI.
Verde Valley Medical Center reports two COVID-19 hospitalizations and no PUI.
The VA reports 1 COVID-19 patient, no PUIs.

STATE NUMBERS
A total of 1,740,990 Arizonans have been tested for COVID-19 with 217,540 positive results and 5,623 deaths.
FLU SEASON BEGINS
Flu Season officially began Sunday, Sept. 27, and the Arizona Department of Health Services has began tracking for the 2020-21 season.
While seasonal influenza (flu) viruses are detected year-round in the U.S., flu viruses are most common during the fall and winter. The exact timing and duration of flu seasons can vary, but influenza activity often begins to increase in October.
Most of the time flu activity peaks between December and February, although activity can last as late as May.
Flu vaccines protect against the three or four viruses (depending on the vaccine) that research suggests will be most common. The CDC reports as of Sept. 11, 66.6 million vaccine doses have been distributed.
Flu vaccination should be deferred (postponed) for people with suspected or confirmed COVID-19, regardless of whether they have symptoms, until they have met the criteria to discontinue their isolation.
While mild illness is not a contraindication to flu vaccination, vaccination visits for these people should be postponed to avoid exposing healthcare personnel and other patients to the virus that causes COVID-19.
When scheduling or confirming appointments for vaccination, patients should be instructed to notify the provider's office or clinic in advance if they currently have or develop any symptoms of COVID-19.
The best way to prevent seasonal flu is to get vaccinated every year.

Some of the symptoms of flu and COVID-19 are similar, making it hard to tell the difference between them based on symptoms alone. Diagnostic testing can help determine if you are sick with the flu or COVID-19.
FLU SHOTS
The First Community Flu Clinic will have flu vaccinations from 1 to 4 p.m. Wednesday, Sept. 30, at 690 Bell Rock Blvd. in the Village of Oak Creek.
A full schedule of rural community clinics is available at www.yavapai.us/chs. Click on the flu shot banner.
INFORMATION
• Call 928-771-3122 to make a flu shot appointment at YCCHS;
• County COVID-19 data, testing sites, school, business guidelines and resources: www.yavapai.us/chs;
• Yavapai Emergency Phone Bank: 928-442-5103 – Monday through Thursday, 8 a.m. to 5 p.m.;
• Local mental health resources: #YavapaiStrongerTogether – https://justicementalhealth.com/resources-support/#covid19;
• Arizona 2-1-1: A resource for all the time, not just during COVID-19: https://211arizona.org; and
• Information on influenza and flu shot locator, azhealth.gov/RollUpYourSleeve.
SUBMIT FEEDBACK
Click Below to: