Striking gold: Michigan native manages A&B Prospecting Supplies, relocates to bigger Prescott Valley location
Originally Published: November 28, 2020 12:55 p.m.
When Tim Swenor and his wife moved from Michigan to Mesa two years ago, Tim said a lifelong dream of his partially came true.
"We were traveling the country at the time, working for a natural-gas leak inspection company that had us running from the East Coast to the West and every place in between," Swenor added. "After many years of this, I decided it was time to look into the dream I had when I was in my early 20s and think about moving to Arizona."
Swenor remembers thumbing through Arizona Highways magazine when he was younger and how incredible the state was.
In an old computer, Swenor had kept some contacts from Arizona from when he once owned a metal detector and prospecting business in Michigan. He rolled the dice and called Ryan DeShon, owner of A&B Prospecting Stores in Mesa and Prescott Valley.
They had met each other during a gold prospecting show years earlier. Swenor asked DeShon if he happened to have a position opening at one of his stores. As it turned out, a few of DeShon's employees were retiring or pursuing other business opportunities.
And, so, last fall the Swenors made the leap, moving around the corner from the A&B Prospecting Store in Mesa.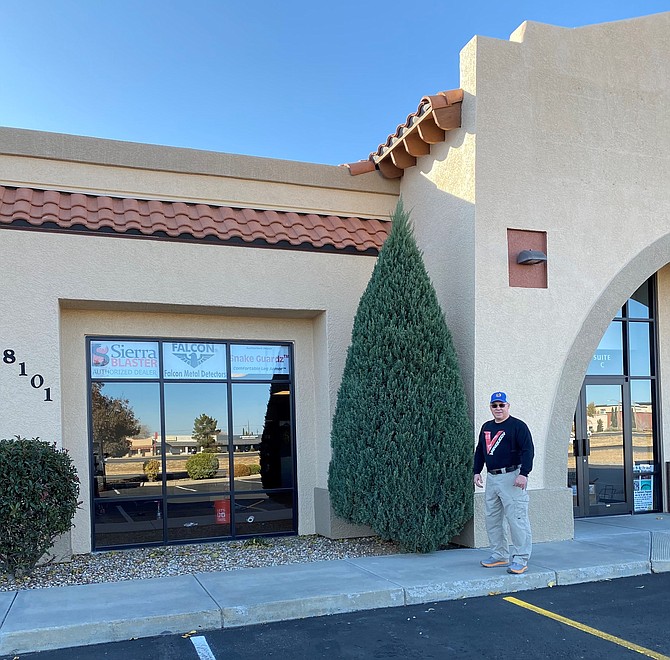 Six months later, the operator of the Prescott Valley store mentioned that he was retiring. The Swenors jumped at the opportunity to transfer to and run the store here.
"After all, we were always coming up here to go prospecting at Lynx Creek, Rose Creek or into the Bradshaw Mountains to find gold, so why not be only a few minutes from where we can prospect instead of a few hours away," Tim said.
THE PROSPECTING COMMUNITY
The Swenors moved to Prescott Valley on May 1, 2019. Tim said he soon fell in love with this area and the Prescott Valley store's customers.
"Every person has their own walk, but when it comes to prospecting and metal detecting they seem to be more down to earth and laid back," Tim said.
Tim added that many prospecting families live here "since they can all be out in the hills away from other people looking for treasures of all types."
During the COVID-19 pandemic, Tim said the Swenors' store has become an essential business because "many people rely on us to get their prospecting supplies."
"People are finding out that they can subsidize their loss of income due to this COVID-19 pandemic prospecting for gold," Tim added. "It is hard work to be a gold prospector, but the payoff can be quite rewarding if done correctly."
THE PROSPECTING BUSINESS
When gold prospectors are looking for specialized equipment, Tim said they should know how to use it first.
He added that he can teach you what you need to know if you were to buy equipment from an A&B store.
"How much is that worth to you?" he said. "Sometimes it is the difference between getting gold or not getting gold."
Since COVID-19 reached America's shores late this past winter, Tim says business has continued to get busier. The Swenors are currently in the process of moving their store to a bigger location east of the Denny's restaurant in Prescott Valley.
"With so many people relying on us for the equipment they need, we needed a bigger store to accommodate more new and used equipment," Tim added.
A&B's Prescott Valley store has been at its current location at 8508 E. Highway 69 since 2007, and it has had its Mesa store since 1979. On Dec. 2, A&B Prospecting Supplies will relocate to 8101 E. Highway 69 Suite C.
For more information, call Tim at 928-772-4319 or email him at: pvabpro@gmail.com.
Doug Cook is a reporter for The Daily Courier. Follow him on Twitter at @dougout_dc. Email him at dcook@prescottaz.com or call 928-445-3333, ext. 2039.
SUBMIT FEEDBACK
Click Below to: