Grieving parents sound alarm against illicit fentanyl in Prescott-area communities
Seek justice for children

Originally Published: November 14, 2020 8:57 p.m.
Ana Perez now sports a calligraphy style letter 'A' behind her left ear; her right shoulder bears a tattoo that reads "Alondra ~ Love" with a butterfly.
Mike and Sommer Cupp's living room is a shrine of family photographs — their middle teenage daughter Hannah Mae's face is a smiling beacon at the forefront of many from toddlerhood to her 17th year.
For these parents, such tributes are all they have left of their beloved daughters. The Perez and Cupps are now members of what is becoming less than an exclusive club of families forced to bury their teens and young adults after ingesting pills, or other substances, laced with synthetic fentanyl.
This potent, illicit street drug easily hidden in prescription pills, or even over-the-counter medications, has robbed Yavapai County of five teenage lives this year; eight since 2019, said MatForce Executive Director Merilee Fowler, the leader of the county's substance abuse prevention coalition.
In 2020 so far, MatForce's fatality review board has chronicled 33 fentanyl-related overdose deaths.
"It sickened me to hear of (14-year-old Alondra Valeria Salinas) … it tore me apart," lamented Mike Cupp over the Oct. 20 death of the soon-to-be freshman at Bradshaw Mountain High School in Prescott Valley, eight months after he buried his home-schooled daughter planning a career in cosmetology.
With his voice breaking, the area native who with his wife, Sommer, raised Hannah, 17, sister Kailee, 17, and sister Randi, 12, said he was heartbroken to hear that the night before Alondra's death she was packing her "backpack for the start of her freshman year."
"Why is this still happening?" the distraught father asked.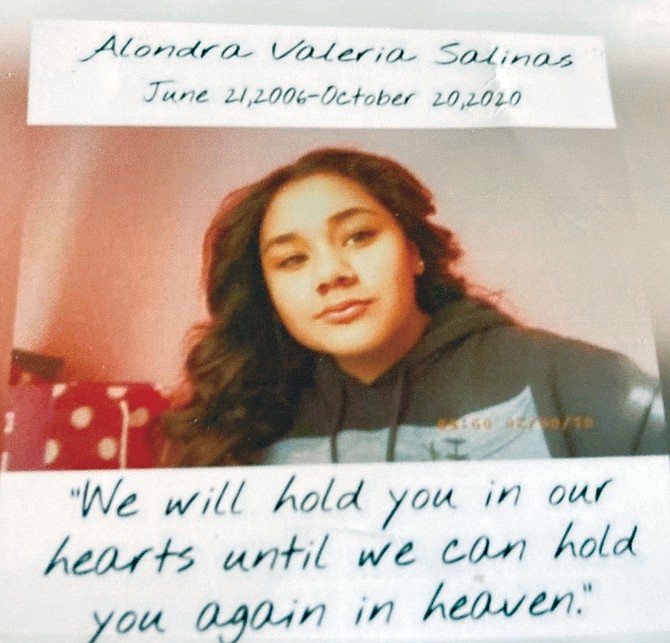 LAW ENFORCEMENT'S HEARTACHE
Area law enforcement, educators, counselors, civic leaders, and other parents ask the same questions and share the same fear that these will not be the last lives lost to this scourge — a counterfeit drug so potent it takes only a pinch disguised in an otherwise innocuous pill, or a candy rope, to kill.
"Our detectives are heartsick over these deaths in our community," Yavapai County Sheriff's Office spokesman Dwight D'Evelyn said. "Dealers can expect a visit."
The Perez and Cupp families are clear their daughters might have made some less-than-wise teenage choices when it came to trusting certain friends and, according to law enforcement, likely experimented with vaping, alcohol, and even marijuana, but neither was a drug addict.
"Hannah wasn't an angel, always," Sommer Cupp admitted.
Still, though Hannah and Alondra may have both bowed to peer pressure on occasion, Sommer and her husband, and Alondra's mother, said nothing suggested they were gambling with their lives. A trusted someone lied to them. Now the families will forever be shy one person at their holiday feasts, their family vacations or their popcorn and Netflix movie nights.
In both Hannah and Alondra's cases, the trusted someone may be the same individual. Yet, it is possible coinciding criminal investigations may not lead to an arrest.
POST-DEATH ARRESTS
In a news release this past week, D'Evelyn emphasized detectives have NOT yet traced a connection between the Oct. 26 drug-related arrests of Aaron Lundsford Schmit, 18, and Christopher Munsey, 18, of Prescott, as well as some other juveniles, to the deaths of these two girls.
Though the investigation into the girls' deaths prompted detectives with the Partners Against Narcotic Trafficking (PANT) taskforce to pursue the teens, and ultimately led to their arrests on separate drug possession and related charges, D'Evelyn said the two have not been criminally accused of providing the lethal pills. PANT has been "flooded" with information identifying the two and some other juveniles with providing fentanyl pills in the community, he stated in the news release.
Schmit was released and is now awaiting prosecution on those pending charges. Munsey is being held without bond in the Yavapai County jail as he is also facing unrelated drug charges in Prescott Valley.
Hannah's parents said their daughter was secretly dating Schmit and making trips with him to Phoenix prior to her death. Alondra's mother said her daughter was also spending time with Schmit and one of the arrested juvenile girls. Both parents said they advised their daughters to be wary.
A couple weeks before her daughter's death, Perez said her older son sounded the alarm about some of the people his sister was spending time with at the nearby skate park.
Alondra admitted she was suffering from some self-esteem issues over her weight, and Perez said she tried to comfort and assure her such comments were cruel and untrue. She even set up a counseling appointment with her daughter for Oct. 21 — the day after Alondra died.
She recalled about that same time Alondra became ill while spending time with a juvenile girl later arrested on drug charges. Perez said she suspected her daughter might have tried a pill to control her weight. Perez said she warned the girl if she caught her giving her daughter pills again she would call the police, adding that the girl denied it all.
Likewise, Cupp said he had a similar conversation with Hannah about her travels to Phoenix and her relationship with Schmit. Hannah assured she was just helping out a friend.
The parents said they could never have predicted the tragic consequences.
"The devil came knocking on my door, and I didn't know it," Cupp said.
SEEKING JUSTICE
Both sets of parents want justice for their daughters.
In their daughters' names, they want to rid this community of drug dealers capable of killing one of their friends or classmates.
"No one should have to go through this pain," Perez said as tears flowed down her cheeks.
The night before Alondra went to the local skate park, mother and daughter enjoyed a plate of barbecue ribs and rice, and laughed over memes they found on Facebook, Perez said. Alondra made sure her Vans black backpack and corresponding white skater sneakers were ready for school the next day.
At 11:30 p.m., Alondra headed for a shower and the two shared back-and-forth "I Love Yous," Perez reminisced as she cried.
Alondra asked her mother to wake her at 6 a.m. Those were the last words they shared — the girl who liked Tupac Shukar's rap music, delighted in butterflies, and loved fussing with her hair and makeup.
Standing before their living room tribute to Alondra, complete with the flower cross displayed at her funeral, Perez' sorrow was replaced with a steely resolve.
To all the parents out there, Perez said they need to be more assertive about knowing who their children are with, where they are going and if there is supervision, and tracking their social media.
Then she gulps back a sob. She shakes her head.
"But sometimes you just don't know," Perez whispers.
Silent for a moment, Perez again finds her voice. This time, she address her daughter's friends and peers.
"If someone gives you drugs, they are not your friends. If you see a friend is in trouble, or in a tough situation, speak up. Tell somebody," Perez insisted.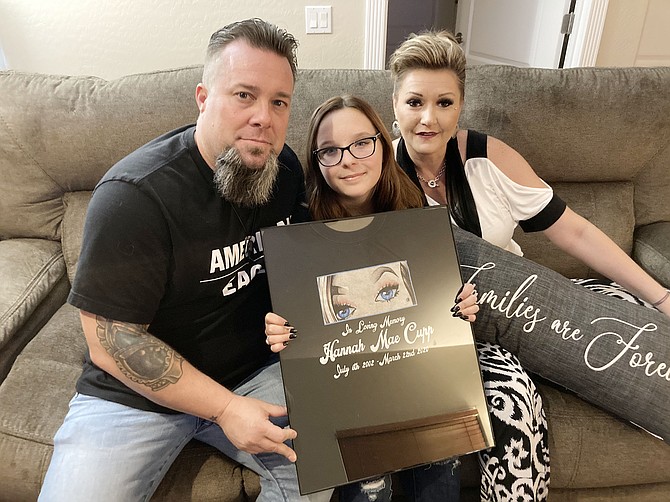 MOVING FORWARD
Prescott Valley Deputy Chief James Edelstein assured law enforcement and prevention advocates want to do everything possible to prevent future deaths, and offer justice to these and other grieving families.
From his perspective, Edelstein said he'd like to see the community market social media messages targeted to teens so they are able to repel those who would do them harm.
Fowler concurs.
MatForce is now looking at how to do a mass awareness campaign — the coalition has some 4,000 people on its email list — and also do on-the-ground education for teens and young adults who appear most susceptible to those who might tempt them with a potentially fatal drug.
"It's a SERIOUS problem," Fowler said. "You can't even take an aspirin someone hands you."
"You want to talk pandemic, these kids are dying," Sommer Cupp lamented.
"I'm going to keep fighting the good fight," her husband said with a determined tone. "This (synthetic fentanyl) is a death sentence."
Follow Nanci Hutson on Twitter @HutsonNanci. Reach her at 928-445-3333 ext. 2041.
Click HERE to view more about fentanyl and The Daily Courier's #StopFentanylNow series.
Share #StopFentanylNow
Sign up for our e-News Alerts
SUBMIT FEEDBACK
Click Below to: