Heiney: Staying connected, Prescott Chamber works to weather COVID-19
'Shop Prescott Start Here' and #YavapaiSafe Programs
SHERI HEINEY, President and CEO of the Prescott Chamber of Commerce
Originally Published: May 30, 2020 6 p.m.
Together we continue to confront COVID-19 and the day-to-day changes to our "new normal," as our businesses work on reopening safely.
The Prescott Chamber of Commerce has partnered with the Prescott Downtown Partnership, the City of Prescott and Yavapai County to ensure that safety is first for everyone.
We have two campaigns currently. The first is a continuation of "Shop Prescott Start Here," launched in 2017, but adapted to address the needs associated with the COVID-19 pandemic. We ask that everyone who chooses to support our businesses reopening, to please consider shopping locally and to move forward responsibly and respectfully.
To help us with this movement, Yavapai County Community Health Services Director Leslie Horton has been a tremendous resource to help all of us put safety first. Her support has included weekly meetings, creating guidelines for the reopening of businesses and being available to recommend additional resources.
We hope that with the support of our local organizations and programs such as this, together we can take responsibility to do what is best and we will do so respectfully as we enjoy our local businesses and the services they provide.
The #YavapaiSafe Program
There is no way to guarantee the absence of the coronavirus; however, following the Yavapai County Community Health Services (YCCHS) recommendations is the best way a business can ensure they are doing as much as possible to protect the health and safety of their customers.
Being #YavapaiSafe means that a business has self-certified that they have reviewed the applicable guidelines for reopening and operating their business in the age of COVID-19 and are making a good faith effort to adapt their business to practice the procedures and policies outlines in the YCCHS guidelines.
Businesses may self-certify by viewing the guidelines on the webpage, https://www.yavapai.us/chs/Home/COVID-19, then by requesting a decal through either the Prescott, Prescott Valley or Cottonwood chambers of commerce. Businesses that elect to participate in the #YavapaiSafe program should post the decal in a prominent, visible location.
Prescott Traditions Happening Responsibly
As Prescott begins to reopen you will see our traditions return. Starting with:
• Summer Concert Series in the Park on June 2 from 6:30 to 8:30 p.m. with Jazz — the Goodwin Street Gang;
• Territorial Days — June 13 and 14;
• Bluegrass Festival — June 27 and 28; and,
• The "World's Oldest Rodeo" and the Prescott Frontier Days events are moving forward with planning as well.
We strongly encourage everyone to practice personal responsibility and social distancing while enjoying these events.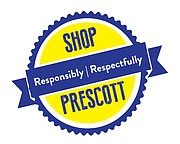 Visit Prescott.org for the most up-to-date information as things can change given the current environment.
Please confirm and call ahead should you have any questions about the status of an event, or policies and procedures in place considering the COVID-19 guidelines.
For more information about the Prescott Chamber of Commerce, please visit www.prescott.org or call us at 928-445-2000 or 1-800-266-7534, or stop by the Visitor Information Center located at 117 W. Goodwin St., Prescott.
On behalf of the Prescott Chamber of Commerce we want to wish all of our high school and college graduates a heartfelt congratulations on your well-deserved success.

And, please remember to shop local and support our businesses as it helps create jobs and sustains our community! Your dollar matters!
Sheri Heiney is the president and CEO of the Prescott Chamber of Commerce.
SUBMIT FEEDBACK
Click Below to:
More like this story