Business community in Quad Cities hopes to rally, with safeguards in place
#YAVAPAISAFE … from COVID-19
Originally Published: May 9, 2020 3 p.m.
As businesses in the Quad Cities and the rest of Yavapai County began to partially reopen, it seemed as though the time had come to be #YAVAPAISAFE.
During an hour-long Yavapai County Business Assistance Community webinar educating Yavapai County business owners on how to prepare to resuscitate their businesses amid the coronavirus pandemic on May 7, that new social-media hashtag stood out.
On May 4, retail businesses in Arizona resumed partial operations, including curbside delivery. But Gov. Doug Ducey's phased-in approach to reopening kicked into a higher gear on May 8, and it will continue tomorrow, May 11.
On May 8, salons and barber shops recommenced appointments, and retail stores began conducting partial in-person business on May 8. On Monday, restaurants and coffee shops will renew dine-in services with physical distancing.
The May 7 webinar focused on health and safety guidance, as well as communications and marketing advice, for business owners. Leslie Horton of Yavapai County Community Health Services (YCCHS) and Elaine Earle of ROX Media Group gave separate presentations.
What follows are some of Horton's and Earle's recommendations for quad-city area businesses that want to reopen.
HEALTH CONSIDERATIONS
Horton said she expects the numbers of COVID-19 cases in Yavapai County to continue to rise in the coming days, although she anticipates "minimal impact" to the communities at large.
Most of the new cases in the county have been teens and healthy young adults, she added, who have primarily shown a resistance to the virus, which has kept hospitalizations low.
"COVID-19's going to be here — it will not go away until there is a cure or a vaccine," Horton added. "We want protections for the most vulnerable or those at high risk. But we need to get everybody back to business."
Ducey's dates for reopening Arizona businesses do not include bars, gyms or swimming pools, she said.
"Restaurants will be limited capacity, and patio use is encouraged," Horton added. "Outdoors is better than indoors."
Residents of the quad-city area, like most people in America, are "on both sides of the fence with reopening" businesses, Horton said. So, she added, businesses that reopen should be aware of what customers see and what employees say.
YCCHS encourages posting educational signs about COVID-19, which the department has produced and include the #STOPTHESPREAD and #YAVAPAISTRONGERTOGETHER hashtags on them.
BUSINESS CONSIDERATIONS
Earle encourages businesses not to "slam on the brakes" or "wait and see" when it comes to staying engaged with customers during the pandemic.
"You could lose an opportunity or market share," she said. "Don't let your customers forget about your business and don't lose the momentum you built."
Earle also believes in continually investing in your business's marketing – whether it is email, social media (Facebook, Instagram, Twitter, etc.), or signage, among other things, so that current customers and potential future customers know you're still around.
"Be positive on social media, and don't share anything that's insensitive," she said. "…You will be rewarded for being professional in the marketplace on social media, and be sincere in wanting to help the community."
Two websites are currently in development to help businesspeople safely reopen their businesses, including yavapaisafe.com and facebook.com/YavapaiSafe.
POSSIBLE CONCERNS
Sen. Kyrsten Sinema, D-Arizona, a member of the Homeland Security and Governmental Affairs Committee, said during a Homeland Security Roundtable May 7 in Washington, D.C., that Kaiser Family Foundation data from May 5 indicated Arizona is the worst state for administrating COVID-19 tests per capita in the country.
"We all want the economy to open as quickly and safely as possible… but we all acknowledge that to reopen strong, we need to be safe and smart about how we do it," Sinema stated in a news release. "Moving too quickly or taking on too much risk will likely lead to a resurgence of the virus, a greater loss of life, and longer-lasting economic harm."
Sinema stated that the Trump Administration included contact tracing as one of the critical components in safely and slowly reopening localities.
Sinema also talked with a health expert about how Arizona can determine if its tracing model is robust enough, the news release added. 
In April, Sinema and Sen. Mitt Romney, R-Utah, urged the Centers for Disease Control and Prevention (CDC) to implement a contact-tracing system to protect Arizonans from the coronavirus and future pandemics.
For more information about the May 7 webinar, call the Yavapai College Regional Economic Development Center at 928-717-7232 or send an email to katherine.anderson@yc.edu.
WHAT CAN I DO?
Following are some important takeaways for business staffers and clients:
• Wash your hands with soap and water for at least 20 seconds, especially after eating, using the restroom, or picking up commonly-used items. Applying hand sanitizer with at least 60% alcohol works, too.
• Use disinfectants safely and correctly by following the directions on their bottles or canisters.
• Wear a facemask or cloth covering when you can't stay at least 6 feet away from someone.
• Physically distance yourself during the workday, and wear a mask during client or patient visits.
• Conduct COVID-19 symptom checks for employees, and prevent people with symptoms from working. Temporal thermometers work well. If you are feverish, you should not be allowed to enter the building. If you are sick, stay at home.
• If you test positive for COVID-19, you must tell your employer.
• Cover your cough into your arm, your sleeve or a tissue, not in your hand.
• Stay updated and informed by visiting: yavapai.us/chs/Home/COVID-19. You can print the county's COVID-19 educational signage on that website.
For more information, call the health department's phone bank from 8 a.m. to 5 p.m. Monday through Friday at 928-442-5103.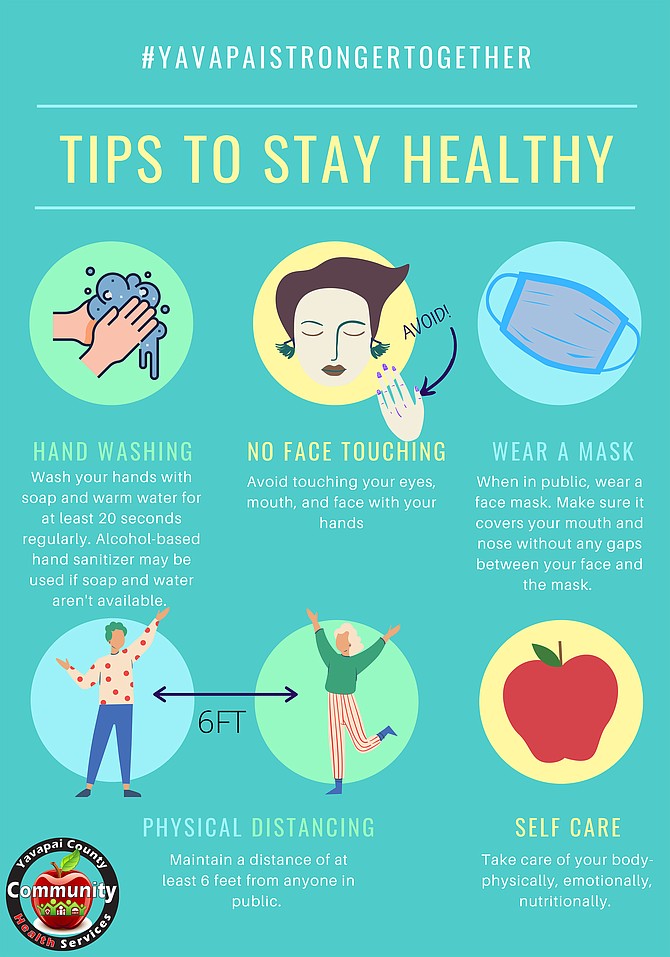 Follow Doug Cook on Twitter at @dougout_dc. Email him at dcook@prescottaz.com or call 928-445-3333, ext. 2039.
SUBMIT FEEDBACK
Click Below to:
More like this story