Prescott Costco develops orderly process for keeping business humming amid COVID-19 panic
By
Doug Cook
|
dougout_dc
Originally Published: March 21, 2020 7:44 p.m.
In the wake of the COVID-19 panic, big-box stores such as the Prescott Costco have gotten creative with how they're handling the huge crowds poring in to buy everything from toilet paper and bottled water to food and medicine.
Faced with a blitz on its large line of bulk products over the weekend of March 14 and 15, Costco's management believed that by the beginning of the week it had figured out a solution to the problem.
On St. Patrick's Day, March 17, the Costco at 3911 E. Highway 69 created its own form of "social distancing." Management limited the number of people inside the store to 300 at any one time. Simultaneously, the store formed single-file lines extending from the main entrance and around the side of the building.
As 40 people would leave the store, 40 people who were in line would be ushered inside. Pharmacy customers were exempted from waiting.
Costco also staggered the checkout counters, alternating open and closed lanes, which served to calm down the crowds. Managers were happy because they were able to keep paper towels, bottled water and toilet paper supplies from dwindling too low.
This is but one example of what surely have been many cautionary tales playing out in the American business world during the COVID-19 epidemic.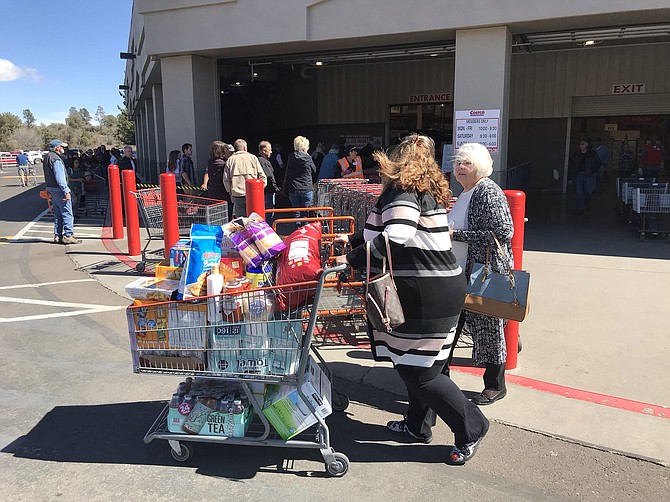 GOVERNOR ORDERS ALL RESTAURANTS' DINING ROOMS, BARS CLOSED
From Gov. Doug Ducey's office: Ducey has "signed an Executive Order requiring restaurants in Arizona counties with confirmed COVID-19 cases to provide dine-out options only, and that all bars in those counties close. This also applies to movie theaters and gyms.
"This builds on the previous guidance from the Arizona Department of Health Services (ADHS) to ensure one consistent policy across jurisdictions. It is effective close of business Friday, March 20.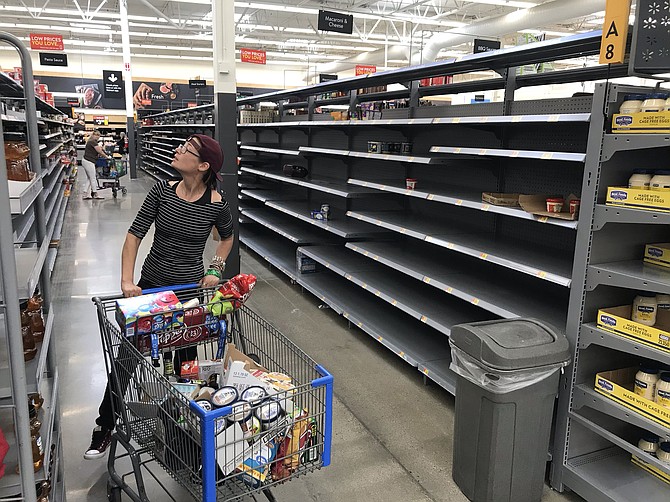 "To assist in mitigating the financial consequences of restaurant closures, the Executive Order also allows restaurants to deliver alcoholic beverages with the purchase of food.
"Additionally, the governor's directive allows manufacturers, wholesalers and retailers to buy back unopened products from restaurants, bars and clubs."
STEPS BUSINESSES SHOULD TAKE TO STAY SAFE
Following are some steps your businesses can take to ensure the health and safety of both staff and customers, as outlined by health and safety experts:
• For restaurants, grocers or food trucks, create complete meal packages patrons can order online or via phone and pick up at a designated curbside pick-up area.
• Sanitize pens with Clorox antibacterial wipes before each use and before presenting bills or invoices to patrons.
• Maintain at least 6 feet of social distance between yourself and your colleagues and patrons whenever possible.
• When wiping down furniture and equipment, use a different sanitary wipe for each piece of equipment. Otherwise, you are transferring germs from one item to another.
• If possible, let your staff work remotely from home and schedule a daily check-in via phone, Zoom.us or meet.Google.com.
• Publish on social media the steps your business is taking to keep your staff and patrons safe. This will help differentiate yourself and enable customers to choose your location over another.
• Make it possible for customers to pick up products at your door, whether it is food to go or office supplies or other products you provide.
• If you have the capability, offer a delivery service to drop off products or supplies to those who are homebound.
• Instead of laying off staffers, try to re-purpose their work into delivery positions to assist with product delivery.
GOVERNMENT-RELATED ONLINE RESOURCES ON COVID-19
• OSHA Guidance on Preparing Workplaces for COVID-19: osha.gov/Publications/OSHA 3990.pdf
• OSHA Guidance for COVID-19 Control & Prevention: osha.gov/SLTC/covid-19/controlprevention.html
• Centers for Disease Control (CDC) COVID-19 Updates: cdc.gov/coronavirus/2019-ncov/index.html
• World Health Organization (WHO) COVID-19 Outbreak Information: who.int/emergencies/diseases/novel-coronavirus-2019
• Global information regarding COVID-19: gisanddata.maps.arcgis.com/apps/opsdashboard/index.html#/bda7594740fd40299423467b48e9ecf6
INDUSTRY RESOURCES ON COVID-19
• National Restaurant Association COVID-19 Info & Resources: restaurant.org/Covid 19?inf_contact_key
• National Brewers Association COVID-19 Resource Center: brewersassociation.org/brewing-industry-updates/coronavirus-resource-center/?inf_contact_key
• Current Corporate Aide Form: uschamberfoundation.org/aid-event/coronavirus-covid-19?
DIGITAL RESOURCES
• Manage your Business Digitally: facebook.com/business/boost/resource?inf_contact_key
HOW TO REACH CHAMBERS OF COMMERCE IN THE TRI-CITIES
• Prescott Chamber of Commerce: prescott.org/our-team.html
• Prescott Valley Chamber of Commerce: pvchamber.org/staff and/or pvchamber.org/emergency-response
• Chino Valley Chamber of Commerce: chinovalley.or/member-center/chamber-ambassadors.html
SUBMIT FEEDBACK
Click Below to:
More like this story