Prescott Valley closes Civic Center to public
Originally Published: March 19, 2020 3:34 p.m.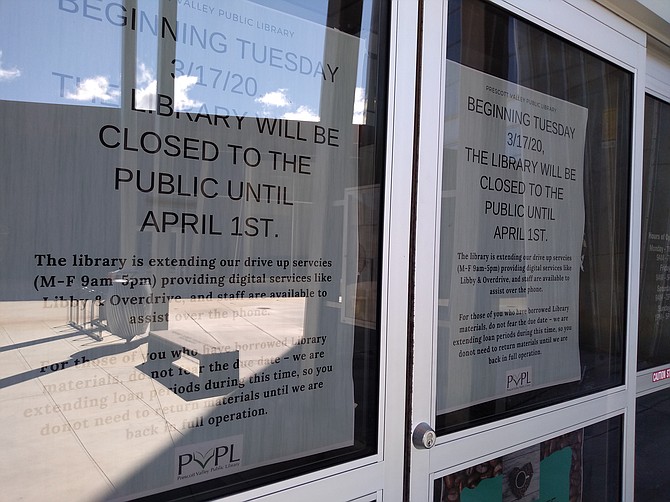 In efforts to minimize the risk of Coronavirus for citizens and employees, the Town of Prescott Valley closed the Civic Center at 7501 E. Skoog Blvd. to the public at 3 p.m. on Thursday, March 19, 2020. The Town has put in place processes to assist the public in completing Town business in the most efficient way possible. All departments will be available via telephone and email. The Staff and Department Directory can be located on our website at www.pvaz.net.
Community Development
• All Community Development Services may be accessed via the main phone at
928-759-3050 with the exception of inspections (see below).
• Code Enforcement Inquiries and questions can be addressed directly to the Code Enforcement Officers by appointment only.
• Permit Applications: Applications are available on our website. Any difficulty in locating the necessary documents please contact the Community Development Department.
• Permit Processing: Completed Permit Applications & Plans with clear contact information (Phone Number and Email) can be dropped in the Utility Payment Drop Box located in the parking lot at 7501 E. Skoog Blvd. For Large rolled plans curbside drop off is available, please call ahead.
• Permit Approvals and Payment: Once the Building Permit or Zoning Clearance Permit is approved, payment can be made via Credit Card over the phone or by Check.
• Permit Pickup: When your permit has been paid and you are ready to pick up your approved Building Permit, we will deliver your plans and permits via curbside pickup. In some cases we will email your approved permit.

• Inspections: All inspection requests must be called in prior to 6:30 a.m. for same day inspection to our IVR (Interactive Voice Response System) (928)759-3060. Inspections can be scheduled up to five days in advance. Instruction and brochure is available on our website.
• Appointment: On-premise appointments will be limited, and will be a case-by-case basis. Please contact us at the above phone number.
Magistrate Court
• The Magistrate Court has stopped walk-in traffic. If you have scheduled court proceedings you must contact the court at prescottvalleymagistrate@courts.az.gov or call 928-772-8277. Citizens may make court payments online at azcourtpay.com
• Orders of protection can be filled out at azpoint.azcourt.gov. Once the Protective Order has been completed call the court and the judge will talk with you by telephone for approval. Please be patient if phones are busy.
Utilities/Customer Accounts
• The second floor Customer Accounts Office is closed to foot traffic. All business will be handled by phone or online.
• Payments can be made electronically at the homepage link at www.pvaz.net or by phone at 928-759-3120, by mail, or via the green dropbox on the west side of the Civic Center parking lot.
• Staff will be available to answer questions 8 a.m. to 5 p.m. Monday through Friday at 928-759-3020 or email customeraccounts@pvaz.net.
Town Clerk
• Business License Renewals can be done online using our Click2Gov System, email at clerk@pvaz.net or mail to Town Clerk, 7501 E. Civic Circle, Prescott Valley, AZ 86314. Business license forms may be found online.
• Public Records Requests may also be completed online.
• For all other business please call 928-759-3135 or email clerk@pvaz.net

Police
• The Police Department Lobby is closed, however, a phone is available inside the lobby doors or outside on the north wall to contact dispatch.

• Public fingerprinting has been cancelled until further notice.
• Reporting Crime: We strongly encourage people to use alternative methods of reporting crime rather than coming to the police department in person. Options include online reporting via our website at www.pvaz.net/291/Police-Department as well as speaking to an officer by phone. Online reporting is limited to certain types of crimes so please look over the forms to see if the crime you are reporting qualifies for that type of reporting. As officers take information over the phone they will make the best decision as to the severity of the crime and solvability related to any on-scene follow up such as photographs or collection of potential evidence.

• Records: If you need a copy of a police report, you may call our Records Section, 928-772-9261, during regular business hours (8 a.m. to 5 p.m. Monday through Friday) to request the report. We will provide that report via email or standard mail. There is a charge for copies of reports; however, it can be processed over the phone by using a credit card.
• Property: If you have property that you need to retrieve from the Police Department we ask that you call the Records Section at 928-772-9261 and ask to speak with one of our Property and Evidence technicians to schedule an appointment to pick up your items. If you have medications or drugs to drop off, please wait until this crisis subsides.
• Prescott Valley Police Dispatch can be contacted at (928) 772-9267 for non-emergencies, 911 for emergencies.
Library
• The library is closed until further notice. The library will continue to provide digital services such as ebooks and audio books, and free access to magazines, newspapers, and more. The Ask a Librarian service can be accessed online or by phone at 928-759-3040.
• Borrowed Library materials do not need to be returned until the library is back in full operation. The library has a 24/7 drive-up book return and Drive-up Window services are available from 9 a.m. to 5 p.m. Monday through Friday.
• For all library information, visit www.pvlib.net or call 928-759-3040.
Information provided by the Town of Prescott Valley.
SUBMIT FEEDBACK
Click Below to: