Las Vegas man allegedly steals car from Findlay Toyota in Prescott, gets arrested in Prescott Valley
Suspect caught on video crashing stolen car through locked gate

Originally Published: March 10, 2020 3:15 p.m.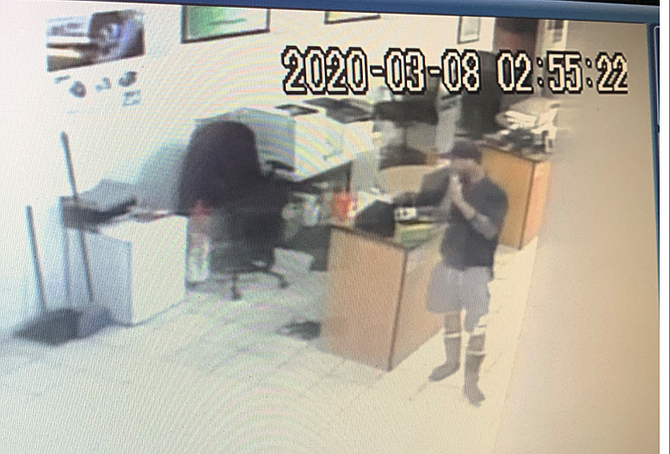 Police have arrested a Las Vegas man they believe stole a vehicle from Findlay Toyota in Prescott over the weekend.
The initial arrest took place at a Prescott Valley home in the 3500 block of N. Greg Drive on Monday, March 9.
Prescott Valley Police Department (PVPD) officers were called to the home at about 3:42 a.m. on report of a possible burglary taking place.
They found a 28-year-old man named Caleb Smith from Las Vegas in the garage, according to a PVPD news release. Smith reportedly knew the residents of the home, but had showed up unannounced.
While investigating, officers saw there was a 2020 Toyota Corolla in the garage with fresh body damage to the front bumper.
With assistance from the Prescott Police Department (PPD), it was learned the vehicle had been stolen from Findlay Toyota in Prescott early Sunday morning, March 8.
With this information, Smith was arrested by the PVPD for possession of stolen property and booked into the Yavapai County jail in Camp Verde.
While in custody, Smith admitted to stealing the brand new car after he found the car dealership's front door open at about 2:30 a.m., according Lt. Jon Brambila with PPD.
Surveillance video was recovered from the business and shows a man matching Smith's appearance walking around inside the building until about 2:55 a.m.

While inside, the suspect gained access to all of the keys to the vehicles on the lot, Brambila said. It wasn't until about 4:21 a.m. that video showed the suspect getting into the Corolla with a black trash can.
The suspect then crashed the car through a locked gate and was last seen on video driving northbound on Willow Creek Road, Brambila said.
With this additional evidence, the PPD also arrested Smith on charges of third-degree burglary, theft of means of transportation and felony criminal damage.
"At this time, this investigation is ongoing as we are unsure if Smith was acting alone or had assistance from another individual," Brambila said.
The surveillance video from Findlay Toyota has yet to be released by police.
Follow Max Efrein on Twitter @mefrein, email him at mefrein@prescottaz.com or call him at 928-445-3333 ext. 1105.
SUBMIT FEEDBACK
Click Below to:
More like this story