Prescott Valley in Brief: Town Council candidate webinar 4 p.m. Wednesday, June 24
Originally Published: June 23, 2020 12:12 p.m.
Town Council candidate webinar 4 p.m. Wednesday, June 24
Interested in learning more about your 2020 Prescott Valley Town Council candidates? A live candidate webinar is at 4 p.m. today, June 24. The webinar is free to the public and available to 500 virtual attendees, first-come-first-serve. You can sign up at: https://bit.ly/2ADqK5X.
To pose a question for the candidates, visit https://tinyurl.com/ybxabj3a.
Visit this link for introduction videos and bios of the 10 candidates.
Prescott Valley still planning on fireworks for Fourth of July
Join the Town of Prescott Valley for its annual fireworks display on Saturday, July 4, at Mountain Valley Park, 8600 E. Nace Lane. Town staffers say that they are encouraging social-distancing practices during the event, which will begin at 3 p.m.
Fireworks will start at 9 p.m., with live music planned from 6 to 8:30 p.m. A Kids Fun Zone will be set up from 3 to 8 p.m., which requires a $15 per person fee with a wristband. Food trucks and a beer garden are also planned.
For more information, call Prescott Valley Parks and Recreation at 928-759-3090 or visit pvaz.net.
Apply now for Prescott Valley Citizen's Police Academy
The Prescott Valley Police Department's (PVPD) Citizen's Police Academy is officially going to happen. This year's Citizen's Police Academy will run from Aug. 25 through Oct. 20.
Classes will be held Tuesdays from 6 to 9 p.m. Most of the classes will be conducted at the academy's new state-of-the-art training room at 7601 E. Skoog Blvd. in Prescott Valley. Two classes will be held at the Prescott Valley Public Library and one class will be held at the Northern Arizona Regional Training Academy (NARTA).
There is no charge for the Academy, and the public is invited. There will be no class on Oct. 6 in observance of National Night Out.
The eight-week Academy is an in-depth look at the mission, philosophy, and operations of the department, and the extensive training that our officers receive before and throughout their service to residents. An example of the subjects include: firearms training, special weapons and tactics, hostage negotiations, traffic and DUI enforcement, gang task force, volunteers in policing, and much more. Attendees will be up-close and personal with PVPD's K-9 officers.
Seating is limited to 25 in attendance and applicants must complete a background check. For information and an application, visit: http://pvaz.net/805/citizens-police-academy.
Night swimming at Mountain Valley Splash pool this summer
Enjoy night swimming at Mountain Valley Splash pool, 8600 E. Nace Lane, from 8 to 10 p.m. Fridays and from 6 to 9 p.m. Saturdays and Sundays this summer. Entry fees are $4 for youth younger than 18, $5 for adults, and $4 for seniors 60 and older.
For more information and/or to register, call Mountain Valley Splash at 928-775-3165 (pool@pvaz.net) or Parks and Recreation at 928-759-3090 (parks@pvaz.net).
Prescott Valley police warn residents about phony cop calls
Prescott Valley police reported in a news release June 9 that residents are still being called on the phone by an unknown suspect who is threatening them with warrant arrests if they do not pay him money.
The suspect identifies himself by using a legitimate name of an officer of the Prescott Valley Police Department, the news release states. He then tells the resident that there are multiple arrest warrants out for the resident, who can handle it in one of several ways, including: appearing in court to take care of the warrants, paying a specific amount of money to the caller, or bringing cash to the Police Department.
The caller will also leave a phone number that, should you call it, has been programmed to identify him as a member of the Prescott Valley Police Department. The department states in the news release that its officers will never call residents to solicit donations.
If you take a call from someone impersonating an officer, do not give the caller any personal information, including bank account numbers or credit card numbers. If you receive a call from someone at the Prescott Valley Police Department, it is OK to answer it, the news release adds.
"No harm can come from that," the release states. "However, once you determine that the call is not legitimate, simply hang up the phone. If you have any doubts about the legitimacy of the call, still hang up the phone and call the police station for further guidance." For more information, call the Prescott Valley Police Department at 928-772-9267.
Information provided by the Prescott Valley Police Department.
Community Garden renting out plots to help local food banks
The Prescott Valley Community Garden has been growing vegetables for food banks in the Quad Cities every year since 2010. To help its cause, the garden has a few plots available to rent for the 2020 growing season. Each plot is 4 feet-by-20 feet and it will be on a drip system, water included, and have been amended for growing. Plot rent is $60 with a $25 deposit for the season. Garden renters are encouraged to log 20 hours of volunteer time in the community area of the garden by planting, harvesting, pulling weeds, etc. If you don't have room in your yard, or you don't want to prepare a space, Prescott Valley Community Garden is the place to go. The garden is in a convenient location and there's nothing better than helping those in need. The garden is located on Lake Valley Road, due north of Liberty Traditional School. For more information, call Robin at 928-899-2652.
Town seeks volunteers to distribute Census 'party' door hangers
Census participation is crucial for the town in receiving federal government dollars to pay for Prescott Valley's services, such as police and fire protection, schools, library, transportation and more.
"An accurate count is more important than ever, as COVID-19 affects our economy," the town has reported on Facebook.
Town officials say that they are looking for individuals or groups of volunteers to help them distribute door hangers that remind residents to fill out their 2020 Census forms. The door hangers also have information about the town's Party on the Porch (POP) month in July. With POP, residents are invited to play host to a fun event to get to know their immediate neighbors.
These are outdoor events, which lend themselves to proper social distancing. If you would like to help the town distribute the door hangers — no knocking on doors or physical contact, simply placing the hangers on a door or gate — contact Deputy Town Manager Ryan Judy for hangers and a map at 928-759-3104 or email him at: rjudy@pvaz.net.
Parents should monitor their children's internet activity, police warn
As Arizona begins to reopen and the community begins to find its new normal, families may have a predator that has crept into their homes unnoticed, Prescott Valley police stated in a news release. With schools and other child-advocate agencies closed because of the COVID-19 pandemic, many children have relied on the internet for their education, social contact and entertainment.
For many of these children, using the internet is a new experience. With increased internet usage comes the risk of your child contacting an online predator, the release stated. These unknown, anonymous persons often pose as someone your child's age. They are savvy at obtaining information from children and convincing them to engage in inappropriate and often risky behavior.
Prescott Valley police state that they are encouraging parents to monitor their children's internet activity. It is OK to ask your children questions about who they are contacting online, what their topics of discussion are, and if anything or anyone has made them uncomfortable. Keeping the lines of communication open is key.
The Prescott Valley Police Department keeps internet-safety packets available at its station, 7601 Skoog Blvd., for parents who want more information about how to keep their children safe online.
In these unprecedented times, PVPD officials say they want to partner with parents and give them the tools to protect their children from those who would do them harm. Community service officers are available from 8 a.m. to 5 p.m. Monday through Friday to answer questions.
For information, call 928-772-9267 for non-emergencies and 911 for emergencies. Yavapai Silent Witness is also available at 1-800-932-3232.
School offers free meals on Monday, Thursday mornings
Prescott Valley School is offering free meals to any child in the local community 18 and younger. Breakfasts and lunches are available for pickup from 9 to 11 a.m. Mondays and Thursdays. Meals are available on the middle school side, 9500 E. Lorna Lane in Prescott Valley.
For information, call 928-772-8744 or send an email to: sdieu@pvschool.com.
Chamber supports #YavapaiSafe program for businesses
During the COVID-19 pandemic, following Yavapai County Community Health Services (YCCHS) recommendations is the best way for local businesses to ensure that they are doing as much as possible to protect the health and safety of their customers.
Being #YavapaiSafe means that a business has reviewed the applicable guidelines and agreed to follow them for reopening and operating a business in the age of COVID-19. It also means that a business makes a good-faith effort to practice safe procedures and policies. Businesses may self-certify by viewing the guidelines on the YCCHS webpage (yavapai.us/chs/Home/COVID-19) and subsequently request a decal through either the Prescott Valley, Prescott or Cottonwood chambers of commerce. Businesses participating in the #YavapaiSafe program should post the sticker/decal in a prominent, visible location.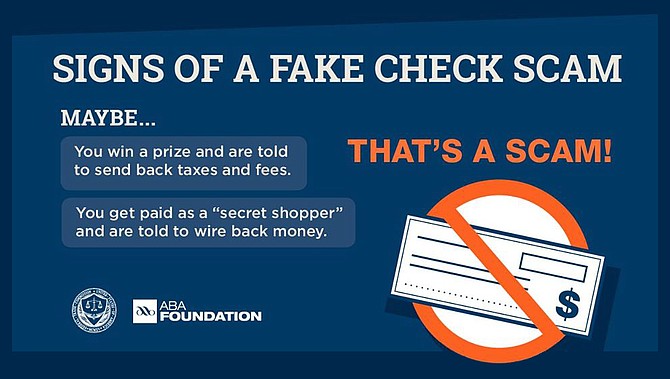 Prescott Valley police warn residents about fake-check scams
Fake-check scams take advantage of what we don't know about how banks handle check deposits, Prescott Valley police say. Scammers do know, and they trick people into sending them money before the bank spots the fake.
The Federal Trade Commission's (FTC) Consumer Sentinel Network database shows that people reported more than 27,000 fake-check scams in 2019, with reported losses topping $28 million, PV police add.
And the data suggests that fake-check scams disproportionately harm young adults, particularly those in their 20s.
For more information, visit: https://go.usa.gov/xwRyT.
Prescott Valley seeks applicants for boards, commissions
The Town of Prescott Valley is accepting applications from residents to serve on the following: Arts and Culture Commission, Board of Adjustment, Library Board of Trustees, and Parks and Recreation Commission.
• The open seat on the Arts and Culture Commission is for a non-voting member. This commission serves in an advisory role to the Town Council on visual and performing arts and culture in Prescott Valley. This volunteer position appointed by the council requires some experience and knowledge of arts and culture. The position requires someone who can lift, bend, and set up and tear down events. First priority for membership is given to those who live within Prescott Valley's town limits. However, persons who live outside of the town limits who are uniquely qualified for membership may be considered for appointment.
Applicants are required to attend at least one Arts and Culture Commission meeting before scheduling an interview.
• The town also is accepting applications from residents to serve on the Board of Adjustment. This is a volunteer position appointed by the Town Council and requires general knowledge of zoning concepts and town codes. Applicants must live in Prescott Valley. The board interprets and enforces town codes regarding zoning and code regulations.
• The opening on the Library Board of Trustees is a volunteer appointed by the Town Council, requiring general knowledge of library operations, policies and procedures. Appointees must live in Prescott Valley's town limits.
• For the Parks and Recreation Commission, which recommends regulations and policy for the administration, control and improvement of public parks, this volunteer position is appointed by the Town Council. It requires some experience and knowledge of Parks and Recreation programming, special events, and parks maintenance. Appointees must live within Prescott Valley's town limits.
Applications for these openings are available in the Executive Management Office on the fourth floor of the Civic Center, 7501 E. Skoog Blvd., from 8 a.m. to 5 p.m. Monday through Friday. For more information, call 928-759-3102 or send an email to: etaylor@pvaz.net. Applications will be accepted until the position is filled.
Tips for wearing face coverings in public, from CDC
The Centers for Disease Control and Prevention (CDC) recommends wearing cloth face coverings in public settings, such as grocery stores, where physical distancing is difficult to maintain. This can slow the spread of COVID-19 and help people who may not know that they have the virus from transmitting it to others. If you wear a face covering, here are some tips on how to wear one correctly:
• Cover your nose and mouth;
• Make sure your covering fits snugly, but comfortably;
• Wash your hands before and after wearing the covering; and,
• Clean your cloth mask regularly.
For more information, visit the CDC's website at: https://bit.ly/2ymxgwR.
Keep your children, pets safe from heat in vehicles this summer
As summer approaches, remember not to leave children or pets inside vehicles. The inside of a vehicle can get hot even after only a few minutes. A child or a pet can overheat quickly, leading to heat stroke, which can cause serious brain damage or death.
Though many states have laws about keeping children safe in vehicles, caregivers can play the most important role in preventing deaths. Most deaths in hot vehicles occur when a child was unknowingly left inside or had entered the vehicle on his or her own.
For more information on car safety, visit: https://bit.ly/3cbI6Dm.
Garth Brooks to play drive-in concert at Findlay Toyota Center
Country music artist Garth Brooks is set for a concert event at 300 drive-in theaters across North America, including the Findlay Toyota Center in Prescott Valley at 8 p.m. Saturday, June 27. 
The concert will be shown on a state-of-the-art HD LED video wall, which was created exclusively for this event, making this a once in a lifetime experience. The concert will be the largest ever one-night show to play at outdoor theaters across the United States and Canada.
The show will adhere to guidelines recommended by the Centers for Disease Control and Prevention (CDC) as well as all state and local health mandates.
Encore Live has partnered with leading health experts to establish procedures for staff and fans. These will include maintaining at least six feet of space between vehicles, the use of personal protective equipment by staff, leveraging contactless payment and ticketing systems, and limiting capacity in restrooms. Guidelines around concessions will also be enforced to abide by state regulations.
Tickets went on sale Friday, June 19, at Ticketmaster.com/garthbrooks. Tickets are general admission and of limited availability. They will cost $100, all-inclusive.  Each ticket will admit one passenger car/truck with a limit of six people per vehicle. The event will take place rain or shine.
SUBMIT FEEDBACK
Click Below to: