Rock out symphonic style Feb. 8

Originally Published: January 30, 2020 5:28 p.m.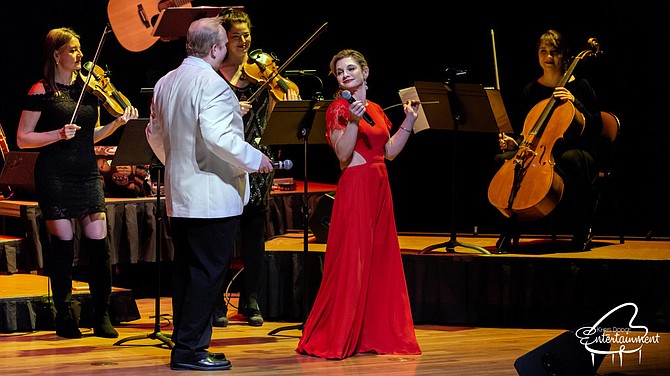 The mysterious and musical mind of Khris Dodge is bringing a show to Prescott that's a little bit of Mozart and Chopin mixed with Billy Joel and Dick Dale's "Miserlou" with "Symphonic Rock," according to a news release from Courtney Dodge.
Known for tribute shows such as "The Chicago Experience," "The Tapestry Album Live in Concert: A Tribute to Carole King" and the holiday favorite "In the Christmas Mood," show visionary and arranger Khris Dodge said he wanted to expand minds and introduce a new concept to audiences at the Elks Theatre and Performing Arts Center.
"My vision for the show is to take songs that people instantly recognize — be they classical offerings or songs that have permeated pop culture — and turn them into something completely different," Dodge said. "I've taken Mussorgsky's 'Night on Bald Mountain' and given it a rock feel. Conversely, Journey's 'Faithfully' will sound totally different when presented by a string quartet."
Blending traditional classical and operatic literature with current songs is like listening to them for the first time, Tamblyn said. Selections include songs from The Beatles, a symphonic treatment that melds Vivaldi's "Four Seasons" with Frankie Valli and the Four Seasons' "Can't Keep My Eyes Off of You," rock treatments of arias from "Carmen" and "Vesti La Giubba," a fusing of a Chopin prelude with Barry Manilow's "Could it Be Magic," unique treatments of the Bee Gees' "How Deep Is Your Love," and more.
Showing at the Elks Theatre and Performing Arts Center at 7 p.m. Saturday, Feb. 8, tickets are $25 for adults, $22 for seniors and $30 for opera box seats, available online at www.prescottelkstheater.com, by calling 928-777-1370 or at the door one hour prior to the performance.
Leading the show, which demands strong stage and vocal preens, are Liz Cracchiolo and Dennis Tamblyn who have shared the stage numerous times including most recently in Arizona Onstage Productions' "The Producers" and "Mamma Mia." The two of them have extensive theatre backgrounds, and Tamblyn has worked with Arizona Opera for 15 seasons.
It's exciting to have an opportunity to collaborate with each other on a show like "Symphonic Rock," Cracchiolo said.
"Khris and I have spent the better part of the last five years on stage together, but I can't wait for this show," she said. "I love giving some of my favorite tunes a new spin."
"Symphonic Rock" also features classical guitarist Gus Woodrow, bassist Dylan DeRobertis, percussionist Rylande Dodge and symphony and opera violinist Rose Tadoro. Tadoro leads a string section that includes her, a second violinist and a cellist as well.
The Elks Theatre and Performing Arts Center is located at 117 E. Gurley St. For more information, visit www.prescottelkstheater.com.

More like this story
SUBMIT FEEDBACK
Click Below to: