5 childhood stresses not to be ignored: Workshop at Yavapai College sheds light on issue
Free play and sleep are factors as antidotes

By
Nanci Hutson
|
HutsonNanci
Originally Published: January 21, 2020 9:43 p.m.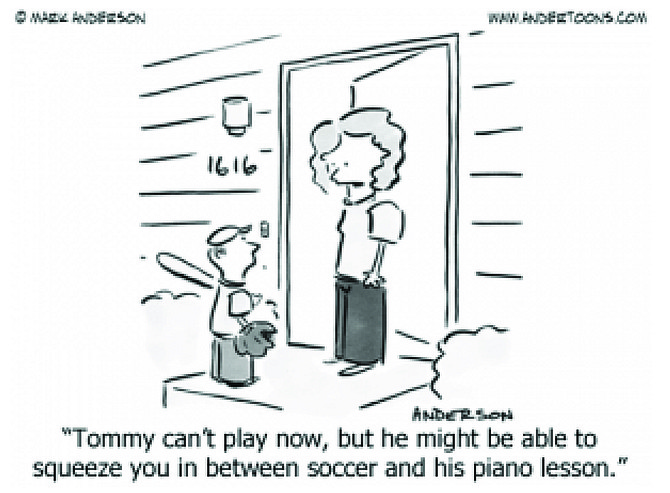 Childhood should be a carefree time, when the biggest worry is whether brother will get the last piece of pizza or Mom will discover the hole in a new pair of pants resulting from that romp on the school playground.
Childhood should not be fraught with fears over a parent's sobriety or worries that the family will be evicted because the breadwinner lost a job.
Yet in today's world children are bombarded with stresses and anxieties about everything from family strife to one's social media persona. Even kindergartners today are pushed to be academic stars, local child development experts and educators concur.
Local, state and national mental health experts and educators fear this generations' stresses are accelerating at such an unhealthy pace that they are on a faster track to physical and emotional illnesses able to derail their future.
Major stresors
• Family disruptions: birth of a sibling, death of loved one, a move or homelessness, financial difficulties, parental separation/divorce
• Preoccupation with social media and one's social media personality
• Academic/Athletic performance
• Peer pressure and bullying
• Body image
"Stress is a killer," declared Shana Malone, a two-decade, doctorate-degreed child development specialist and family therapist who has worked in criminal justice, the state health care system and now is director of Compass Evaluation and Research.
Malone was the keynote speaker at a recent MatForce Lunch and Learn program titled "Stress, Anxiety and Depression in Children" at Yavapai College. Some 65 people attended the live 90-minute workshop also offered through Zoom technology to other behavioral health leaders and educators in the Verde Valley.
STRESS EFFECT
With all her clinical and professional credentials, Malone said her motivations to take action live in her house: two daughters ages 6 and 9.
"I still get stressed out in parenting when my kids are stressed out," Malone emphasized. "It's what keeps me up at night."
How stressed are today's "kiddos?" Malone queried.
In national surveys, stress levels for even young children are surpassing those of adults, with 1 in 3 reporting feeling overwhelmed or depressed due to stress, according to Malone's PowerPoint presentation. Some 42 percent of children reporting stress admit they do little to nothing to manage that stress, according to statistics. Half of America's children will be diagnosed with a mental health disorder prior to age 18; the two most common are depression and anxiety, the presentation noted.
"Not all stress is bad," Malone assured.
Positive stress keeps kids competitive, inquisitive and motivated to take healthy risks, Malone said.
"We need some stress for survival," Malone said. "It's why you don't negotiate with a rattlesnake."
SIGNS OF UNRESOLVED STRESS IN CHILDREN
• Decreased appetite, other changes in eating habits
• Headache
• New or recurrent bed-wetting
• Nightmares
• Sleep disturbances
• Upset stomach or vague stomach pain
• Other physical symptoms with no physical illness
Emotional or behavioral symptoms:
• Not able to relax
• New or recurring fears (fear of the dark, fear of being alone, fear of strangers)
• Clinging, unwilling to let you out of sight
• Anger, crying, whining
• Not able to control emotions
• Aggressive or stubborn behavior
• Going back to behaviors present at a younger age
• No desire to participate in family or school activities
Troublesome, or toxic, stress is relentless upheaval and upset that children are unable to process alone, Malone said. Beyond defined traumatic experiences of abuse and neglect, Malone explained unhealthy stress as such things as multiple moves to new schools or peer pressure related to academic, athletic and social performance.
The first alert of an overstressed child is behavior, Malone said.
A normally even-keeled child or adolescent who erupts into the "Hulk" is screaming for help, she said.
"Every behavior serves a function — every single one," Malone insisted.
The impulse for the adult witness is to bellow, "What's wrong with you?" Malone suggested.
Truth: They can't answer because they don't know, Malone said. So as tempting as it is, she urged parents, teachers, coaches, even friends, against "poking the bear."
Malone's advice: whisper. Calm and repeated reassurance is what will lower the emotional temperature, she said.
To try and de-escalate such behavior in a confrontational manner is "like asking a velociraptor not to eat you," she said.
STRESS AWARENESS
No matter how silly or illogical a child might sound, Malone said, it is critical to offer an ear and a shoulder so the child can begin to sort out what's happening and then brainstorm how to make a change or fix a problem.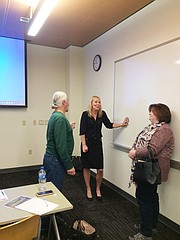 Prescott Unified Family Resource Coordinator Kelly Mattox said she appreciated Malone's advice. She said it is imperative that the adults children count on in their lives are helping them navigate childhood stress rather than creating that stress.
"Remember it's the child's experience and perception — they own it," Malone said.
STRESS SOLUTIONS
No-cost options to reduce stress include: a walk, a bedtime story, a belly laugh, cooking together a no-device-allowed family meal and a good night's sleep.
Children need time to simply be, with no expectations. Between soccer, spelling bees and AP chemistry, children and teens need time to sit and read a book, ride a bike, dig for worms or play a silly board game, Malone and other attenders agreed. This generation deserves a chance to listen to music without a requirement that they join the orchestra, they said.
"Kids do well when they can," Malone said.
SUBMIT FEEDBACK
Click Below to:
More like this story