Now Showing: Jan. 17-23, 2020
Originally Published: January 16, 2020 9:53 p.m.
(NEW) BAD BOYS FOR LIFE - Old-school cops Mike Lowery and Marcus Burnett team up to take down the vicious leader of a Miami drug cartel. Newly created elite team AMMO of the Miami police department along with Mike and Marcus go up against the ruthless Armando Armas. Stars Will Smith, Martin Lawrence, Vanessa Hudgens, Alexander Ludwig, Charles Melton, Paola Núñez, Kate del Castillo, Nicky Jam, Joe Pantoliano. R – crime, thriller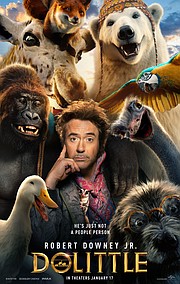 (NEW) DOLITTLE - Dr. John Dolittle lives in solitude behind the high walls of his lush manor in 19th-century England. His only companionship comes from an array of exotic animals that he speaks to on a daily basis. But when young Queen Victoria becomes gravely ill, the eccentric doctor and his furry friends embark on an epic adventure to a mythical island to find the cure. Stars Robert Downey Jr., Antonio Banderas, Michael Sheen, Emma Thompson, Rami Malek, John Cena, Kumail Nanjiani, Octavia Spencer, Tom Holland, Craig Robinson, Ralph Fiennes, Selena Gomez, Marion Cotillard. PG – fantasy, adventure
(NEW) WEATHERING WITH YOU - A boy runs away to Tokyo and befriends a girl who appears to be able to manipulate the weather. Stars Kotaro Daigo, Nana Mori. PG-13 – fantasy, disaster
Also showing:
1917 - During World War I, two British soldiers -- Lance Cpl. Schofield and Lance Cpl. Blake -- receive seemingly impossible orders. In a race against time, they must cross over into enemy territory to deliver a message that could potentially save 1,600 of their fellow comrades -- including Blake's own brother. Stars George MacKay, Dean-Charles Chapman, Mark Strong, Andrew Scott, Richard Madden, Claire Duburcq, Colin Firth, Benedict Cumberbatch. R – drama, action
UNDERWATER - Mysterious creatures terrorize crew members aboard a research station located seven miles below the surface of the ocean. Stars Kristen Stewart, Vincent Cassel, Jessica Henwick, John Gallagher Jr., Mamoudou Athie, T.J. Miller. PG-13 – drama, mystery
LIKE A BOSS - Best friends Mia and Mel run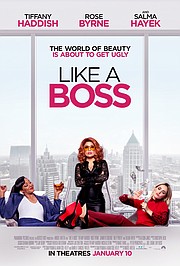 their own cosmetics company -- a business they built from the ground up. But they're also in over their heads financially, and the prospect of a buyout offer from an industry titan proves too tempting to pass up. The beauty business is now about to get ugly as the proposal puts Mia and Mel's lifelong friendship to the ultimate test. Stars Tiffany Haddish, Rose Byrne, Jennifer Coolidge, Billy Porter, Salma Hayek. R – comedy
JUST MERCY - After graduating from Harvard, Bryan Stevenson heads to Alabama to defend those wrongly condemned or those not afforded proper representation. One of his first cases is that of Walter McMillian, who is sentenced to die in 1987 for the murder of an 18-year-old girl, despite evidence proving his innocence. In the years that follow, Stevenson encounters racism and legal and political maneuverings as he tirelessly fights for McMillian's life. Stars – Michael B. Jordan, Jamie Foxx, Rob Morgan, Tim Blake Nelson, Rafe Spall, Brie Larson. PG-13 – drama, adventure
THE GRUDGE - After a young mother murders her family in her own house, a single mother and detective tries to investigate and solve the case. Later, she discovers the house is cursed by a vengeful ghost that dooms those who enter it with a violent death. Stars Andrea Riseborough, Demián Bichir, John Cho, Betty Gilpin, Lin Shaye, Jacki Weaver. R – mystery, horror.
SPIES IN DISGUISE - Super spy Lance Sterling and scientist Walter Beckett are almost exact opposites. Lance is smooth, suave and debonair. Walter is not. But what Walter lacks in social skills he makes up for in smarts and invention, creating the awesome gadgets Lance uses on his epic missions. But when events take an unexpected turn, Walter and Lance suddenly have to rely on each other in a whole new way. And if this odd couple can't learn to work as a team, the whole world is in peril. Stars Will Smith, Tom Holland. PG – Sci-fi, action
LITTLE WOMEN - Following the lives of four sisters, Amy, Jo, Beth and Meg, as they come of age in America in the aftermath of the Civil War. Though all very different from each other, the March sisters stand by each other through difficult and changing times. Stars Saoirse Ronan, Emma Watson, Florence Pugh, Eliza Scanlen, Laura Dern, Timothée Chalamet, Meryl Streep, Tracy Letts, Bob Odenkirk, James Norton, Louis Garrel, Chris Cooper. PG – drama
STAR WARS: THE RISE OF SKYWALKER - The surviving Resistance faces the First Order once more as Rey, Finn and Poe Dameron's journey continues. With the power and knowledge of generations behind them, the final battle commences. Stars Carrie Fisher, Mark Hamill, Adam Driver, Daisy Ridley, John Boyega, Oscar Isaac, Anthony Daniels, Naomi Ackie, Domhnall Gleeson, Richard E. Grant, Lupita Nyong'o, Keri Russell, Joonas Suotamo, Kelly Marie Tran, Ian McDiarmid, Billy Dee Williams. PG-13 – fantasy, sci-fi
JUMANJI: THE NEXT LEVEL - When Spencer goes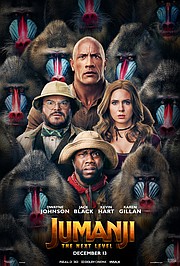 back into the fantastical world of Jumanji, pals Martha, Fridge and Bethany re-enter the game to bring him home. But everything about Jumanji is about to change, as they soon discover more obstacles and more danger to overcome. Stars Dwayne Johnson, Jack Black, Kevin Hart, Karen Gillan, Nick Jonas, Awkwafina, Alex Wolff, Morgan Turner, Ser'Darius Blain, Madison Iseman, Danny Glover, Danny DeVito. PG-13 – fantasy, action
RICHARD JEWELL - American security guard, Richard Jewell, heroically saves thousands of lives from an exploding bomb at the 1996 Olympics, but is unjustly vilified by journalists and the press who falsely report that he was a terrorist. Stars Sam Rockwell, Kathy Bates, John Hamm, Olivia Wilde, Paul Walter Hauser. R - drama
UNCUT GEMS - A charismatic jeweller makes a high-stakes bet that could lead to the windfall of a lifetime. In a precarious high-wire act, he must balance business, family and adversaries on all sides in pursuit of the ultimate win. Stars Adam Sandler, Lakeith Stanfield, Julia Fox, Kevin Garnett, Idina Menzel, Eric Bogosian. R – crime, mystery
KNIVES OUT - A detective and a trooper travel to a lush estate to interview the quirky relatives of a patriarch who died during his 85th birthday celebration. Stars Daniel Craig, Chris Evans, Ana de Armas, Jamie Lee Curtis, Michael Shannon, Don Johnson, Toni Collette, Lakeith Stanfield, Katherine Langford, Jaeden Martell, Christopher Plummer. PG-13 – drama, thriller
A HIDDEN LIFE - Austrian farmer Franz Jägerstätter faces the threat of execution for refusing to fight for the Nazis during World War II. Stars August Diehl, Valerie Pachner, Matthias Schoenaerts. PG-13 – drama
FROZEN 2 - Elsa the Snow Queen and her sister Anna embark on an adventure far away from the kingdom of Arendelle. They are joined by friends, Kristoff, Olaf, and Sven. Stars Idina Menzel, Kristen Bell, Jonathan Groff, Josh Gad. PG – drama, fantasy
FORD V FERRARI - American automotive designer Carroll Shelby and fearless British race car driver Ken Miles battle corporate interference, the laws of physics and their own personal demons to build a revolutionary vehicle for the Ford Motor Co. Together, they plan to compete against the race cars of Enzo Ferrari at the 24 Hours of Le Mans in France in 1966. Stars Matt Damon, Christian Bale, Caitriona Balfe, John Bernthal, Tracy Letts, Josh Lucas, Noah Jupe, Remo Girone, Ray McKinnon. PG-13 – drama, sport.
A BEAUTIFUL DAY IN THE NEIGHBORHOOD - Lloyd Vogel is an investigative journalist who receives an assignment to profile Fred Rogers, aka Mr. Rogers. He approaches the interview with skepticism, as he finds it hard to believe that anyone can have such a good nature. But Roger's empathy, kindness and decency soon chips away at Vogel's jaded outlook on life, forcing the reporter to reconcile with his own painful past. Stars Tom Hanks, Matthew Rhys, Susan Kelechi Watson, Chris Cooper. PG – drama
DARK WATERS - A tenacious attorney uncovers a dark secret that connects a growing number of unexplained deaths to one of the world's largest corporations. While trying to expose the truth, he soon finds himself risking his future, his family and his own life. Stars Mark Ruffalo, Anne Hathaway, Tim Robbins, Bill Camp, Victor Garber, Mare Winningham, Bill Pullman. PG-13 – drama, legal thriller
SUBMIT FEEDBACK
Click Below to:
More like this story