Amazing Places: Calf Creek Canyon in Utah has wonderful waterfalls

Originally Published: January 4, 2020 7:32 p.m.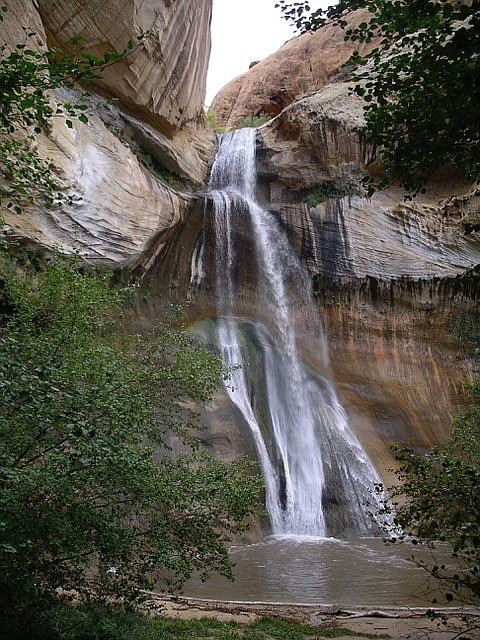 In thinking about my first column for 2020, the idea I came up with could be considered a New Year's Resolution, but I only realized that later. I have a number of incomplete columns in the pipeline, which are awaiting more research on my part, or input from friends. So I've decided this one and the next will be simple for me to write, based on my visit there over a decade ago.
These places are not close to Prescott but in southeast Utah, so fairly close to the border with our great state of Arizona. They are definitely worth a visit, mainly for the scenery, and they don't require driving on dirt roads. I'm confident they will be new to most of you. However, I don't want you to think I have run out of Amazing Places closer to home, so bear with me for January.
Water is always magic, and these two columns will focus on waterfalls, both in Calf Creek Canyon. The first photo shows the scenic canyon, with the hiking trail that leads to the lower falls. The distance is about three miles one-way, and fairly flat so not a strenuous hike. This area was settled by the Mormons. The owner of the land could let his cattle and their calves safely feed on the lush grass there – hence the name. It was a box canyon with the waterfall at the end of the box, as you can see in the second photo. When you get close, you can hear the roar of the falls, and you will get a few tantalizing glimpses. The falls are magnificent with a 125-foot drop – the water cascading down in different streams over the cliff into the pool at the bottom.
When my friend, Bill, visited these falls a few years later he was surprised to find three young ladies cavorting in the pool in their bikinis. He thought the natural scenery was impressive, but he also enjoyed the human scenery. On my visit, there was lots of wildlife. I saw some deer as well as a few turkeys hiding among the trees, and a raven by the pool. However, my best view was at the end of the hike when we started to drive back from the trailhead to the main road. The third photo shows five confident turkeys, strutting their stuff, with the male at bottom left looking after his harem. In my next column, I'll tell you how to get to these two falls along Utah12, designated as a scenic byway.
I'd like to mention a presentation I will be giving for OLLI at Yavapai College in Prescott on Thursday, Feb. 13, from 12:30 to 2 p.m. This particular program is called Lunch and Learn – you bring your own food if you wish. I will be showing lots of photos of Amazing Places – some past, some future. If you want to attend, search online for "OLLI, Yavapai College" and look at the Spring Schedule for all of the relevant info including a map. Call OLLI at 928-717-7634 with questions. You'll need to register in advance for my presentation (and others) but Lunch and Learn is free. The room is limited to 90 people so plan to register early.
Nigel Reynolds, nigelaa@commspeed.net, was born in England and has lived in Arizona for 40 years, and in Prescott for over 20 years. "Exploring is in my blood," he says. To see today's or previous columns with the photos in color, visit dCourier.com and enter "Amazing Places" in the search-bar at top right – you'll need to be a subscriber.
More like this story
SUBMIT FEEDBACK
Click Below to: