177 additional COVID-19 cases, 6 confirmed deaths in Yavapai County overnight
Originally Published: December 22, 2020 12:59 p.m.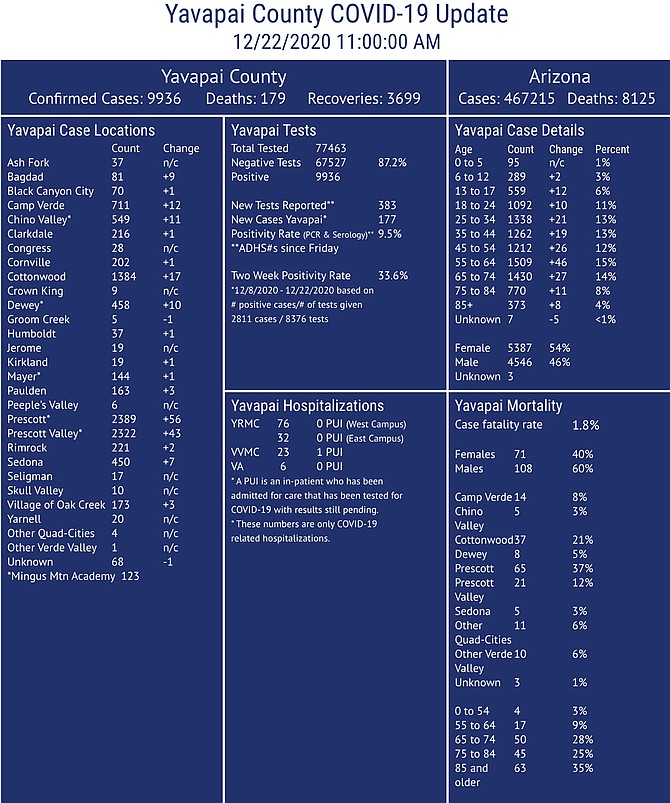 Yavapai County Community Health Services (YCCHS) reported 177 new cases of COVID-19 and six more confirmed deaths since yesterday, according to a news release Tuesday morning, Dec. 22.
Yavapai County has cumulatively tested 77,463 residents with 9,936 positive cases, 3,699 recovered, and 179 deaths.
YRMC West has 76 COVID-19 patients, YRMC East is caring for 32 patients. Verde Valley Medical Center in Cottonwood reports 23 COVID-19 hospitalizations. The Prescott VA reports six COVID-19 patients.
STATE NUMBERS
Arizona Department of Health Services reports 15,254 COVID-19 tests statewide overnight, with 5,859 positive results and 153 deaths. The state has recorded 467,215 confirmed cases and 8,125 deaths since the start of the pandemic.
COVID-19 VACCINE TIMELINE
Arizona just entered Phase 1A of the COVID-19 Vaccine Prioritization where healthcare workers and healthcare support occupations, emergency medical services workers and long-term care facility staff and residents will be receiving vaccine, YCCHS said in the release.
The county's first shipment has been received and allocated per the CDC prioritization recommendations to the hospitals for vaccination of front-line medical staff. State hospitals and many providers have onboarded through Arizona Department of Health Services to receive and administer vaccine.
"More vaccine is expected in the coming weeks," YCCHS said in the release. "So if your facility wishes to receive and administer vaccine you will need to onboard with ADHS using the online REDCap onboarding tool at, https://aipo.myabsorb.com/?KeyName=PandemicProviders."
The tool requires each provider to submit valid credentials. The AIPO team reviews each provider's submission for accuracy and completeness.
The Yavapai County Community Health Services website now has a link to the vaccine order forms for healthcare providers and first responders who have onboarded, or for partner agencies to provide contact information and estimated vaccine needs for their staff. See the form at, https://www.yavapai.us/chs/C19Vax.
INFORMATION
•For a COVID-19 test at Community Health Center of Yavapai, call 928-583-1000. For a flu shot, call 928-771-3122.
• Yavapai Emergency Phone Bank for COVID Info: 928-442-5103 - Monday-Thursday, 8 a.m. to 5 p.m.
• County COVID-19 Data, Testing Sites, School & Business Guidelines & Resources: www.yavapai.us/chs
• New ADHS website for Healthy Kids, Open Schools: https://azdhs.gov/healthyschools
• COVID-19 information en español: https://www.azdhs.gov/preparedness/epidemiology-disease-control/infectious-disease-epidemiology/es/covid-19
Information provided by Yavapai County Community Health Services.
SUBMIT FEEDBACK
Click Below to:
More like this story