Quad-city first responders ramp up COVID-19 response protocol

Originally Published: April 1, 2020 7:11 p.m.
A recent 911 call from a quad-city area resident suspected of having COVID-19 went as well as first responders could hope for.

The resident called from his home north of Chino Valley and said he had traveled overseas and was exhibiting severe symptoms indicative of the virus. The resident had already been tested for COVID-19, but his test results — which still take several days on average to verify — had not come back yet.
All of this information allowed firefighters to take the necessary precautions before responding to the scene.
"Everyone was fairly confident going in, so our personnel had full, appropriate PPE (personal protective equipment) on; because as long as you've got that, there's no exposure," said Scott Freitag, fire chief for the Central Arizona Fire and Medical Authority (CAFMA).
At the time, a paramedic with Life Line Ambulance who also responded didn't have all of the appropriate PPE, so CAFMA provided him the gear, Freitag said.
The resident was transported to Yavapai Regional Medical Center (YRMC), where he received immediate medical attention. The very next day, the resident's wife called CAFMA to let them know her husband was confirmed to have the virus.
A big part of what made the experience go smoothly was the screening that took place prior to the response.
In recent weeks, all public safety entities in the Quad-Cities have introduced and expanded specific screening and response protocols for all emergency calls.
It started with 911 dispatchers asking a series of questions to determine each caller's potential for having the virus.
These questions include asking if the caller is feeling short of breath, has a fever, is coughing or has traveled recently.
Prescott Fire Department (PFD) then decided to add an extra layer of vetting on March 20 by assigning a 24-hour duty medic to each shift for as long as the virus poses a threat to the community. CAFMA followed suit a week later by devoting personnel to serve in the same capacity.

Each of these medics has a cellphone linked directly to dispatch. If dispatch receives a call for someone who answers yes to any of the initial screening questions, the call is transferred to the on-duty medic for triage.
If the person sounds critical, a fire truck and ambulance are dispatched immediately prior to transferring the call.
If the person is not critical, the on-duty medic takes time to answer any of the person's questions and talk about what the options are. Depending on the case, the medic may also talk directly with a YRMC nurse or doctor for additional guidance.
The recommendation may end up being that the person get tested — which requires a doctor's expressed permission — or it may be that the person simply self-quarantine at home.
In Haskell's experience so far, most of the calls he has fielded have resulted in callers deciding they don't actually need fire or medical crews to respond.
"The majority of them have been information-type calls," he said.
If emergency personnel do respond, they only send one responder into the scene initially. That responder assesses the patient, the scene itself, and places a mask on the patient before deciding whether or not additional responders are needed to assist. This is to both limit the exposure to first responders and their use of PPE, which is in short supply worldwide.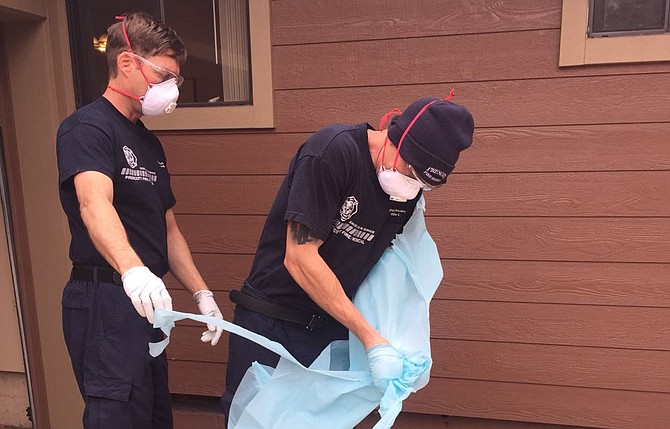 "The masks and the gowns are what we've been having a hard time getting," Haskell said.
Another concern has been the lack of expedited testing for first responders. However, that has just been resolved locally said Kenneth Boush, director of marketing and communications for YRMC.
Starting today, Thursday, April 2, first responders who are showing symptoms of the virus have access to a drive-through testing clinic set up by YRMC PhysicianCare in Prescott.
The goal is for these tests to be prioritized so the results can be available within 24 hours.
"We want to keep our first responders safe, healthy and on the front lines to protect us and our loved ones," Boush said.
Though first responders are taking all of these additional steps to protect themselves and the people they serve, they wish to emphasize that none of these safety protocols will limit peoples' access to the emergency services they rely on.

"We want the public to know that if they call 911, they're still going to get help," Haskell said. "Nothing is changing in that sense. We're just wanting to limit our exposure and protect our citizens, because we could be potentially carrying it."
Follow Max Efrein on Twitter @mefrein, email him at mefrein@prescottaz.com or call him at 928-445-3333 ext. 1105.
SUBMIT FEEDBACK
Click Below to: