Northern Arizona Suns tap Stovall VP of business operations
Succeeds Presson; plans more 'brand awareness' for NBA G League team
By
Doug Cook
|
dougout_dc
Originally Published: September 28, 2019 7:55 p.m.
Updated as of Saturday, September 28, 2019 11:04 PM
About 10 years ago, Northern Arizona Suns Vice President of Business Operations Ashley Stovall remembers meeting former Arizona Sundogs hockey general manager Chris Presson for the first time at the Hampton Inn & Suites in Prescott Valley.
It was merely a coincidence. Stovall had worked at the hotel on North Glassford Hill Road where Presson happened to be staying, and she was interested in a cashier's job in the Sundogs team shop at Findlay Toyota Center.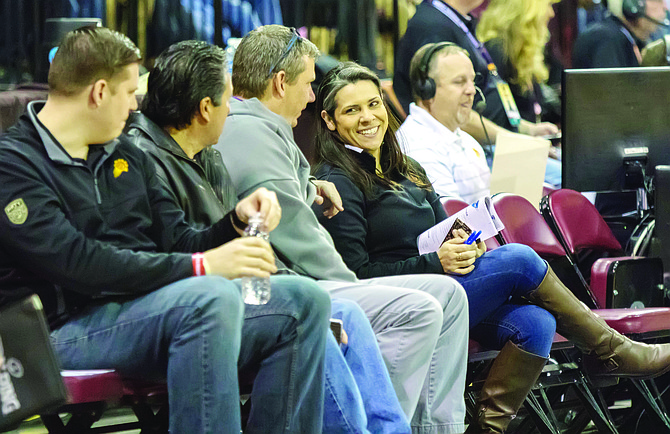 "I said, 'You know what? This would be a great position to get my foot in the door, keep myself occupied,' " Stovall recalled Sept. 24. "And then when I went and interviewed with Chris, he was like, 'You can't have the team shop position but here are two other positions that I think you're more qualified for.'
"And so I kind of got my foot in the door being a game operations assistant the first year I was with the Sundogs. That first year I worked both for the hotel and for the Sundogs. I was putting in crazy hours, but I was excited."
Stovall had never been involved in sports before.
"After my first year with the Sundogs, I went to Chris and I was like, 'I loved it. What can I do? I want to do more,' " she said.
Stovall subsequently left the hotel business for good and transitioned full-time to the Sundogs.
"I haven't really looked back since then," she added.
PRESSING ON
Stovall told Presson about her interest in advancing into the Sundogs' management chain. It didn't take her long, eventually becoming Presson's assistant GM and learning game operations.
In 2014, the Sundogs folded and Stovall followed Presson to work for the Indoor Football League's Arizona Rattlers in Phoenix for the next five years.
However, in 2016, Stovall earned another opportunity at sports management in Prescott Valley when the NBA G League's Northern Arizona Suns, the Phoenix Suns' affiliate, moved in as the new sports tenant at Findlay Toyota Center.
Presson had served simultaneously as the Rattlers' president and the Northern Arizona Suns president for the past three years until he resigned over the summer to accept a position as president and CEO of the Canadian Football League's Edmonton Eskimos.
On Monday, Sept. 23, the Northern Arizona Suns named Stovall, a former team executive, as Presson's replacement, although her title will be vice president of business operations. She'll continue working for the Rattlers, too.
"I've been fortunate enough over the last few years – I've been in sports now probably eight or nine years at this point," Stovall said. "This position's relatively new still, but the transition so far is easy and one that I can certainly handle. … I had always been honest with Chris about my career goals and aspirations. Making this move has always been one of those things."
GROWING INTO VP
These past few years, Stovall's gained experience in handling merchandising, marketing and ticket sales, grooming her for the VP role.
Stovall said her first priority is to build "brand awareness" of the NAZ Suns and maintain her relationship with fans.
"Sometimes we'll be out at different community events or we'll be talking to people that may have only been in the community for six months or so," she said. "Sometimes what we hear is, 'We didn't know that we have a basketball team. Where do you play at?' "
Over the next few weeks, the NAZ Suns organization plans to hang banners throughout Prescott Valley, including on its street poles. Increasing the fan base at games and keeping ticket prices reasonable are other goals.
Stovall said she's going to announce two new single-game ticket packages and change Saturday tip times from 7 p.m. to 5 p.m. in hopes of drawing bigger crowds to Findlay Toyota Center.
With her promotion, Stovall said she's tasked NAZ Suns media relations director Jake Withee with more responsibilities. Karra Labombarde, who's been with the franchise for three years, assists with all business operations.
"Moving into this year, I've really relied on him a lot more on expanding into marketing and advertising with us," she added. "He'll be involved in conversations as it relates to our brand identity out in the market. So, most every project that I do will have him involved in some capacity so that he can learn and grow as well."
PAST SHAPES PRESENT
Stovall was born in Southern California, but she grew up with her mom, dad and brother on the Big Island of Hawaii, where she lived for about 16 years. She worked for about a decade in hotels and hospitality before switching gears.
"I had always seen my mom working and, so, I became kind of a workaholic, if you will," she said. "I started working at 14-1/2 years old. By the time I was 17 or 18, I was in a supervisor role and then I oversaw three different departments in vacation ownership."
Stovall said she's not looking back, though, and wants to continue growing into her career in sports management.
"I'd like to see what that next level is – continuing with these teams in this position or, if I'm fortunate enough, to move on to an NBA team," she added.
More like this story
SUBMIT FEEDBACK
Click Below to: