Library cards are ticket to better reading skills, life
New to town or not, September is the month to get a card

Originally Published: September 23, 2019 10:17 p.m.
Updated as of Tuesday, September 24, 2019 10:49 AM
Editor's Note - this article has been updated with a newer, expanded version.
Need to know facts about getting a library card
• Show photo identification and proof of residency.
• 15 and younger need parent or guardian signature.
• They are free.
• Can be used at any Yavapai Library Network library.
It's true – using a library card means patrons develop better reading skills and more knowledge, which can lead to better paying jobs and a higher quality of life.
The American Library Association and libraries nationwide have declared September as Library Card Sign-up Month, and area libraries are eager, willing participants. Libraries have joined with the ALA to "remind parents, caregivers and students that signing up for a library card is the first step towards academic achievement and lifelong learning," the ALA website states.
PRESCOTT PUBLIC LIBRARY
Martha Baden, library manager public services, said library continues its library card campaigns in the area. She said the number of cards issued by the library has held steady over the past few years averaging about 4,380 new users per year.
"Currently, we have 25,690 cardholders, from babies to older adults," she said.
The library averages between 1,200 and 1,600 people per day who use the facility. Use of electronic materials, however, increased by 20% this past fiscal year. "While physical visits to the library may be slightly lower, circulation of physical items remains steady and robust year after year with 693,000 physical items circulated in FY2019," Baden said.
Librarians have been busy issuing cards to new teachers at the Prescott Unified School District Convocation and with the launch of the Prescott Area Imagination Library. Several Rotary clubs and the Friends of Prescott Public Library support the new Dolly Parton's Imagination Library, which mails a free age-appropriate book every three months from birth to a child's fifth birthday.
Prescott Public Library information and hours can be found at prescottlibrary.info or by calling 928-777-1500.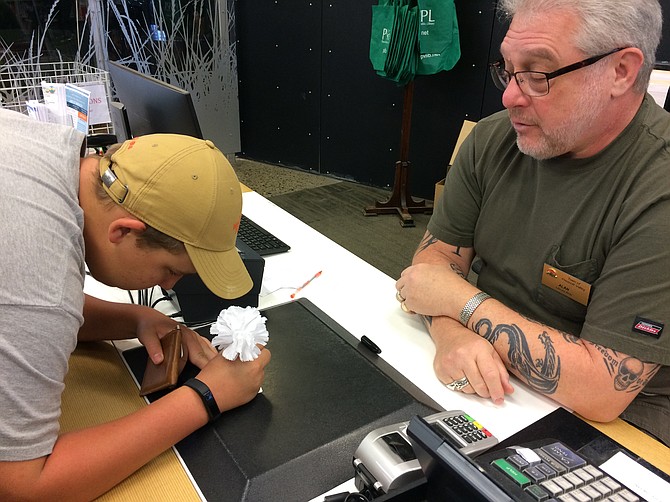 PRESCOTT VALLEY PUBLIC LIBRARY
Prescott Valley Public Library already offers active, comprehensive library programs for children, teens and adults. This month, Children's Librarian Lynette Christensen and her staff have developed a program working with charter schools and the Humboldt Unified School District to issue every first-grade student a library card.
It rolls out in October when teachers meet with parents at parent-teacher conferences. Parents fill out a form right then for a library card for their child. The librarians visit the classrooms with the children's cards and "make a big deal out of it," Christensen said. A graphic artist designed the special cards, and the library will also give prizes to first-time users.
"Research shows kids in third grade who are not reading on grade level will have more difficulties in life," she said. Studies link poor reading skills to greater high school dropout rates and lower earning potential.
Library usage tends to fluctuate dependent on the time of year, said Joslyn Joseph, library manager for cataloging and circulation. In the last fiscal year, PVPL averaged 261 library cards issued per month, and an average of 22,504 patrons each month. Since July 1 this year, the average patron count has increased to 24,644, and an increase in cards issued to 338.
"On average, we have seen an upward trend in both obtaining library cards and patron usage," Joseph said.

A second pilot project, Building Bright Futures, benefits the youngest of "readers." Parents receive a book for their child in which they keep track of the titles of books they read to their child. The goal is 1,000 books by the time the child enters kindergarten.
With a minimum of reading one book per night at bedtime, this can be achieved in less than three years, Christensen said. Add a visit each week to Toddler Time (11 a.m. on Thursdays) where she reads three books, that adds 152 more books per year.
Prescott Valley Public Library hours and information are listed at pvlib.net or call 928-759-3040.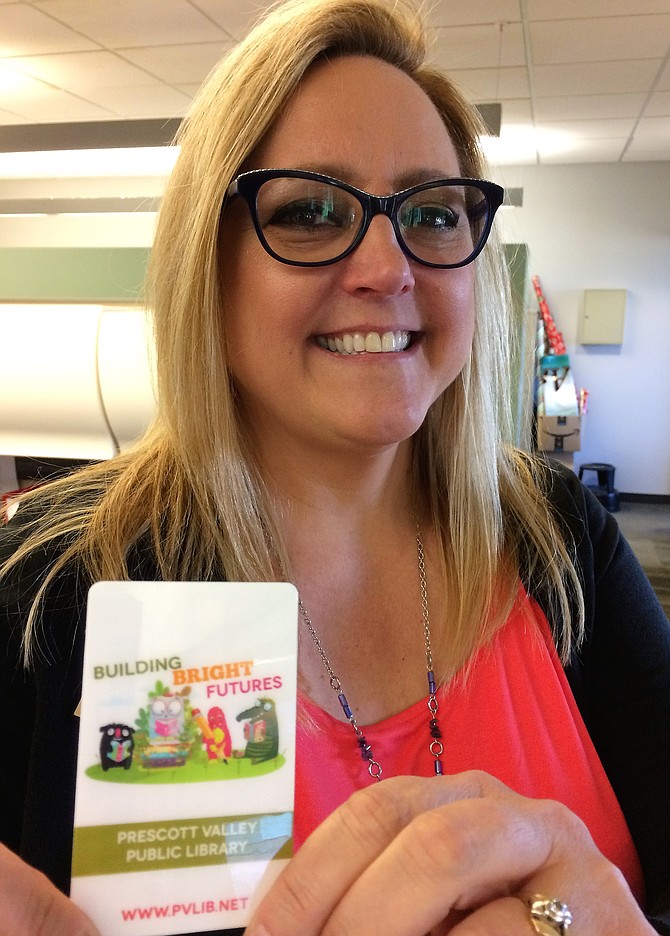 CHINO VALLEY PUBLIC LIBRARY
Director Scott Bruner said an influx of people moving to Chino Valley has increased the issuance of library cards the past few years. Some are retirees, some are younger and raising families.
Bruner said he likes to ask how the newer residents learned of the town. "They searched online or know somebody or have driven through it," he reports.
"The first thing they want to do is get a library card. When getting acclimated with the community, the library is the best place to go," Bruner said.
The Chino Valley Town Library requires a minimum age of five years old to get a card. Bruner said he highly encourages a card to catch the next generation of readers. Social media can't compete with the one-on-one interaction youngsters have with a librarian, he said.
"Every library has children's programs. We don't have to go out and get them (children), they come to us. This is a typical small community that people love and embrace."
For hours and information, visit chinoaz.net/214/Library or call 928-636-2687.
DEWEY-HUMBOLDT TOWN LIBRARY
Dewey-Humboldt Town Library offers programs for children, teens and adults, whether patrons have a library card or not. Movie Nights, Wii events, Arts & Crafts for Kids, and Read to Me are all free and open to the public.
The newest program for adults, An Introduction to SoulCollage workshop, takes place on the first Tuesday of the month from 1 to 4 p.m. beginning Oct. 1, to help people discover their essence and energy in a safe and supportive environment. Space is limited to 10 participants. Call 704-909-9581 to register.
A second workshop, Old Salts and Sages, meets every third Thursday from 10 a.m. to noon, beginning Oct. 15. Experience the art of storytelling through writing, oral stories, or other methods of expression, in a small group setting.
In addition, Friends of the Dewey-Humboldt Town Library host a Used Book Sale on the fourth Thursday of the month from 12-4 p.m. that offers some of the best deals around.
Find library hours and information at yavapailibrary.org/dewey or call 928-632-5049.
Follow Sue Tone on Twitter @ToneNotes. Reach her at stone@prescottaz.com or 928-445-3333, ext. 2043.
More like this story
SUBMIT FEEDBACK
Click Below to: