Update: Missing Prescott man found alive on Peavine Trail

Originally Published: September 19, 2019 4:16 p.m.
Updated as of Thursday, September 19, 2019 6:49 PM
A Prescott man who was reported missing Wednesday, Sept. 18, was found at about 3:30 p.m. Thursday, police said.
Paul Richards, 67, was located on Tree House Loop on the Peavine Trail in Prescott, according to a Prescott Police Department news release.
Though in need of medical attention, Richards was alert and talking when first responders made contact with him, PPD reported.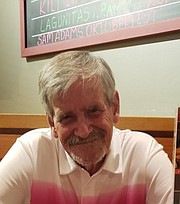 "He had been in that location for two days and two nights, with little to no provisions," Prescott PD spokesperson Jon Brambila said in a statement.
The Prescott Fire Department had personnel at the nearby training center, who were able to use a side-by-side utility vehicle to drive down the trail to the search team which located Richards.
"They provided immediate medical attention," Brambila said.
An Arizona Department of Public Safety Ranger helicopter was dispatched from the north Phoenix area and was able to land in close proximity to the area where Richards was found.
"He was airlifted to a local hospital for treatment," Brambila said. "His family was immediately notified and they responded to the hospital."
Prescott PD reminded those who utilize hiking trails in the community to always be prepared by taking plenty of water, bringing a full charged cell phone and letting people know where you are hiking, and when you'll return.
"This incident is an excellent example of the cooperation and dedication of our public safety personnel in our area and the state of Arizona," Brambila said. "We are very happy to have found Mr. Richards and hope for a quick recovery."
More like this story
SUBMIT FEEDBACK
Click Below to: