Unhappy Granville residents show up to oppose rezoning, General Plan amendment
Plans to fix flood plain, build 56 homes south of school property

Originally Published: September 17, 2019 8:05 p.m.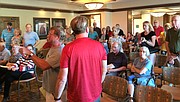 Granville developer Joe Contadino maintained a calm, if at times exasperated, demeanor as he faced a room full of Granville residents who frequently interrupted him during the community meeting Sept. 10 on a rezoning and General Plan amendment request that will complete the final build-out of the development.
The request to the town is for a zoning map change from PL (Public) to R1L-10 PAD (low density residential) on three acres, and from R1L-10 PAD to C2-PAD (commercial) on two acres. The General Plan Amendment request is to change three acres from Public-Quasi-Public to Low Density Residential and 12 acres from Open Space to Low Density Residential.
The property, located on the north side of Santa Fe Loop Road east of Glassford Hill Road, abuts Granville Elementary School. Contadino stressed that the rezoning request would not increase the approved density of 3,400 units by adding more homes. He is looking to build 56 homes on this property within Unit 15.
Contadino led off by asking who in the audience of about 100 residents were of a group who wanted to hear about the project and who were of the group opposed to growth and any development. About three-quarters of the audience representing the latter stood up commenting loudly.
Contadino responded by saying he had been reading social media comments by Granville residents that call him amoral, unethical and just out to line his pockets. He explained that development is occurring everywhere, and listed Jasper and Deep Well projects as two that will bring several thousand more homes to the area, in addition to the opening up of state land.
"If you don't like growth, this is not the place to live," he told the unhappy crowd.

The Granville development began 21 years ago, approved by the town in 2001 for 3,400 units. About 200 to 400 are under construction or remain to be built. As part of the town agreement, the developer gave 20 acres early on to the Humboldt Unified School District to build Granville Elementary School, some of which falls within a flood plain south of the campus.
The developer's plan is to use excavated dirt from the construction occurring in Granville west of Glassford Hill Road to fill in low ground in the flood plain areas and build a 10- to 12-foot stormwater channel.
Preliminary discussions with the school district indicates the district may provide two acres for the project in exchange for Contadino building a roadway that will connect to Santa Fe Loop Road. This will drastically decrease the number of school buses traveling through Granville neighborhoods to access Glassford Hill Road at the northern end of Granville Parkway.
"Having another access point into and out of Granville would be very beneficial with regards to the flow of traffic during drop-off and pick up times, the amount of traffic in general within the school parking lot, and the amount of traffic within the immediate Granville neighborhood," said Dan Streeter, HUSD superintendent, adding that research into specific details is ongoing.
Construction continues in Units 11 and 12, and about 200 more homes are going up in Unit 13, Contadino continued. A further 48 acres between Spouse Drive and Tuscany Way does not lend itself to single-family residential homes.
He noted that in the beginning, about 30% of the development was in the flood plain. Through engineering and creating the flood channels, the Army Corps of Engineers issued letters of map revision that removed the parcels from flood plain designation. A disgruntled resident loudly challenged him, saying she must pay flood insurance.
Contadino said no properties in Granville exist in a flood plain, and in the past 20 years, those channels have not been breached.
He noted that the planned roadway will be a "wet crossing" with no bridge. At times during wet weather, drivers will not be able to use that road.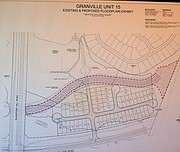 Another resident brought up an issue with an extra $5,000 lot premium she paid for a view that overlooked state land and a flood plain. Contadino replied that he never makes a commitment to maintain views, and that development is coming to state land. From 2008 to 2010, the developer did not require lot premiums and also had no sales. Since then, there have been lot premiums on every lot sold.
Another man argued that Contadino was being untruthful when he claimed to have 50 years in the construction field, pressuring the developer several times until Contadino, 77, stated his age.
Some were disgruntled that portions of the Iron King Trail were paved; Contadino said he, too, would have preferred a dirt trail, but it had to be maintained at the grade and width of the former railroad. The town didn't want dust, and he provided a half million dollars' worth of concrete pavement.
In answer to another shouted complaint, Contadino said the dirt for the project will come from construction within Unit 13. Dirt is being removed in sections where the town's water tanks don't have the required elevation for water suppression below. He stated that he had lots of opportunities to get rid of the dirt, "This is just one of them."
Many people had left by the time Contadino ended the meeting an hour later to applause from the remaining participants.
The matter may come before the Planning and Zoning Commission at its Oct. 14 meeting.
More like this story
SUBMIT FEEDBACK
Click Below to: