City launches changes at Whiskey Row signal

Originally Published: September 10, 2019 11:53 a.m.
Updated as of Tuesday, September 10, 2019 8:50 PM
Interest was high Tuesday morning as Prescott Public Works workers put the finishing touches on the sign and traffic-light changes needed for Prescott's first "pedestrian scramble."
Several-dozen people were on hand at the Whiskey Row intersection of Gurley and Montezuma streets to see the 10 a.m. Sept. 10 launch of the new traffic configuration.
Although city officials plan to watch to see how the concept works over a two-week trial period, early reactions were mostly positive.
Local residents Linda and Richard Thompson, who were on hand to walk through the intersection Tuesday morning, were optimistic about the change.
"I think it's a great idea," Linda Thompson said. "People just have to get used to it."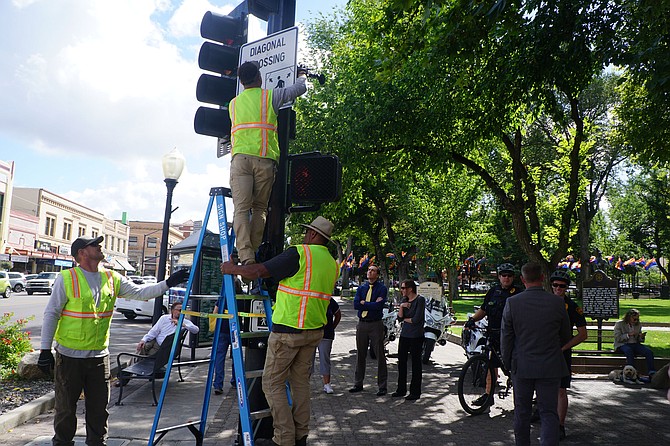 Prescott resident Doug Reed had a similar reaction. "I think it's very interesting," he said after crossing diagonally across Gurley Street. "It's a great concept for flow and for future growth."
Prescott Community Outreach Manager John Heiney said a Monday night reminder about the pending change on the city's Facebook page had generated significant activity.
By Tuesday morning, the item had been viewed 17,500 times, and had been shared 5,000 times, Heiney said, adding, "It got 170 comments, and the ratio was two-to-one in favor."
The decision to try the pedestrian scramble occurred earlier this summer in an effort to move traffic more efficiently on Whiskey Row.
One of the issues for the city has been a bottleneck of northbound traffic on Whiskey Row as right- and left-turning cars wait for pedestrians crossing from one side of Gurley to the other.
In July, the city's Pedestrian, Bicycle and Traffic Advisory Committee recommended a trial run for the pedestrian scramble at the busy Gurley/Montezuma corner.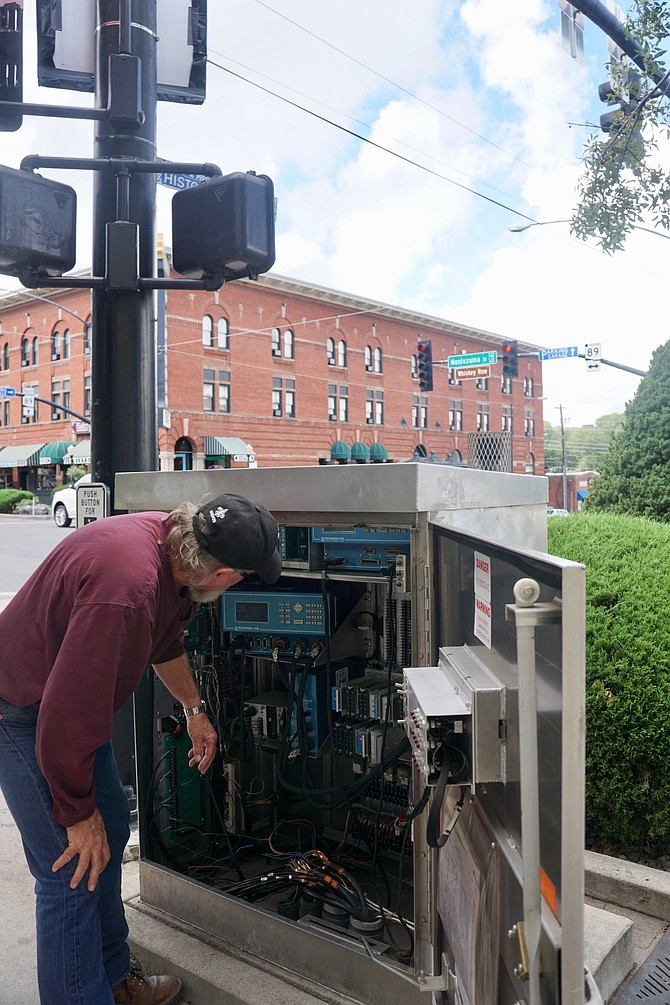 The concept involves periodically stopping all vehicular traffic for 30 to 35 seconds, allowing pedestrians on all four corners of the intersection to walk at the same time — diagonally, as well as across the street.
The exclusive pedestrian-crossing time alternates with times of a minute to minute and a half, during which only vehicular traffic is allowed.
The concept does not allow for mixing of pedestrian and vehicular movement.
For instance, vehicles are prohibited from making right turns on red, and pedestrians are not allowed to cross with the flow of vehicular traffic.
Prescott Traffic Engineering Ian Mattingly and Traffic Signal Supervisor Kenny Sarvis were on hand early Tuesday morning to program the control box at the intersection with the desired changes.
"Initially, there will be seven seconds to walk, and then 28 seconds of pedestrian clearing," Mattingly said, explaining that the "walk" signal will show for the first seven seconds, after which the pedestrian signal will count down in red.
Technically, Mattingly said, pedestrians should not start to cross after the first seven seconds. "That equates to 'yellow,'" he said.
The longer "pedestrian clearing" time is allowed because it takes longer for pedestrians to cross diagonally than it does for them to simply cross the street.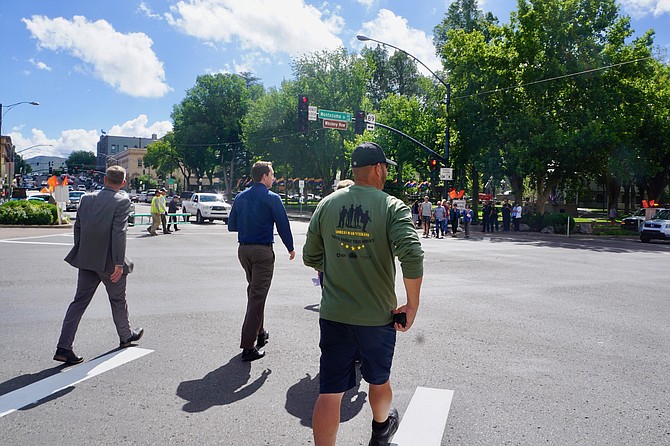 Mayor Greg Mengarelli, who took the first diagonal trip across the intersection, said afterward that traffic appeared to be flowing well.
"For pedestrians, it will be a little longer wait," Mengarelli noted. But he and other city officials pointed out that the diagonal-crossing option should save pedestrians time.
A number of Prescott Police officers were on hand Tuesday morning to patrol the corner, and said they would be keeping an eye on violations.
During Tuesday afternoon's Prescott City Council meeting, City Manager Michael Lamar stressed that the change is being done on a trial basis.
"If it works, we'll keep it; if it doesn't, we'll stop it and move on," Lamar said.
Mattingly said the scramble is expected to be in place for two weeks.
Follow Cindy Barks on Twitter @Cindy_Barks. Reach her at 928-445-3333, ext. 2034, or cbarks@prescottaz.com.
SUBMIT FEEDBACK
Click Below to:
More like this story