P&Z to vote on preliminary development plan at NE corner of highways 69, 169
Meeting scheduled for 5:30 p.m. Sept. 9 at Prescott Valley Public Library
By
Doug Cook
|
dougout_dc
Originally Published: September 3, 2019 8:44 p.m.
Prescott Valley's Planning & Zoning Commission on Friday, Sept. 9, will vote on whether to consider submitting a preliminary plat to the town council that calls for 197 apartments and thousands of square feet of commercial space on the northeast corner of highways 69 and 169 near Dewey.
At 5:30 p.m. Sept. 9 in the Prescott Valley Public Library Auditorium, 7401 E. Skoog Blvd., commissioners will discuss Scottsdale-based Cavan Opportunity Fund's preliminary plat application for the property, referred to as Prescott Valley Crossing.
Any final development plan for Prescott Valley Crossing would require town council approval.
Cavan's requesting a zoning map change from commercial to residential on about 17 acres of that corner. In addition, Cavan wants plat plan approval to develop 12,000 square feet for commercial spaces and, in the future, to develop another nearly 30,000 square feet for commercial/office space on about 8 acres.
A Prescott Valley Staff Report written by planner Joseph Scott dated Aug. 16 states that the property would offer "diverse housing, commercial, office and employment opportunities for people working or living in the vicinity of the Highway 69 Corridor and to serve the neighborhoods and surrounding communities." Rental apartments would include one-, two- and three-bedroom units.
Wastewater collection and a municipal water system would serve the development, the report adds.
The preliminary development plan also calls for an extension of Village Way south from Bradshaw Mountain Drive to Highway 169. If this occurs, the Arizona Department of Transportation (ADOT) is proposing that Dunivin Lane no longer connect to 169 at its current location, although that would require an approval process.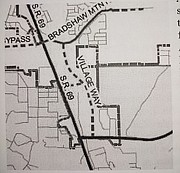 During a neighborhood meeting April 8 at Prescott Valley Town Hall, several residents expressed concern about traffic congestion and wanting to preserve access to 169 via Dunivin Lane if the plan were approved in its current form.
Large-scale development plans for this corner date to January 2007, when Cavan first submitted a request to the town for a zoning-map change on about 25 acres at the northeast intersection of highways 69 and 169. At the time, plans called for building a commercial center with a potential for 200,000 square feet of retail, office and service uses.
Although the town council had approved an ordinance in April 2007 to help pave the way for the development, the project was subsequently scrapped because of the Great Recession and other matters at the time.
IN OTHER BUSINESS, THE COMMISSION PLANS TO:
• Consider a request from Thomas Marty for a reversionary plat that would combine four lots into one lot for a moving business at the northeast corner of Grizzly Bear Drive and Valley Road, between Florentine and Valley roads.
More like this story
SUBMIT FEEDBACK
Click Below to: