Prescott man arrested for allegedly operating steroid lab
Suspect on probation now held without bond

By
Max Efrein
|
mefrein
Originally Published: October 17, 2019 4:31 p.m.
A Prescott man has been arrested for allegedly operating a steroid laboratory at his home in the 2500 block of W. Granite View Circle.
A search of the home on Oct. 7 found that the suspect, 27-year-old Tanner Farr, had been purchasing precursor steroid chemicals from the "Dark Net" and combining them with carrier oils in order to sell them online and locally as his own brand, 'Augments from Odin,' according to a Yavapai County Sheriff's Office (YCSO) news release.
This wasn't the first time Farr had been caught with such substances. Detectives with Partners Against Narcotics Trafficking (PANT) first arrested Farr in mid-July after finding him with numerous forms of steroids and a liquid solution of fentanyl inside a hotel room on Sheldon St. in Prescott, the release states. Farr was able to post a bond for release at the end of July and was placed on active probation.
In September, PANT detectives developed information that Farr intended to receive fentanyl from Canada through the mail, the release states. Detectives then learned on Oct. 6 that Farr was currently in possession of illegal steroids and drugs inside his home.
The next day, detectives got a search warrant, according to the release. No one was home, so they forced entry. During the search, they found several hidden compartments inside tables, books and a clock that contained illegal powders. They also found a laboratory set up in one of the bedrooms that Farr had been allegedly using to mix various solutions to create his illicit products.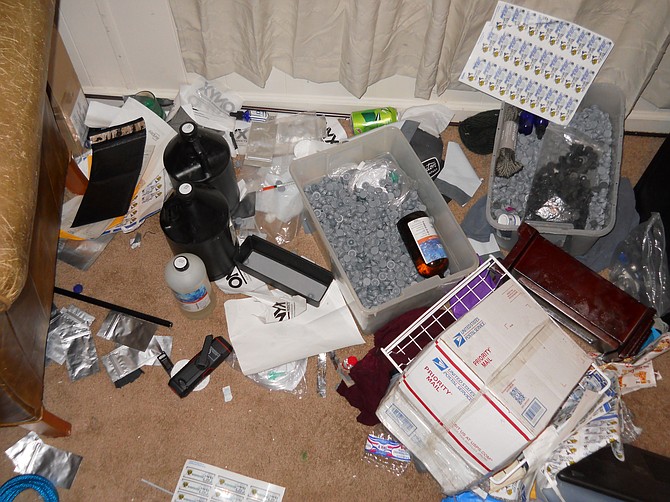 Among the items found were beakers with solutions on hot plates used to heat the solutions. There were also numerical temperature heater mixers used to heat and/or mix solutions as they are warmed; a Brother brand heat sealer; an expensive sterilization unit used to clean unmarked glass vials and prepare them for solution; several hundred vial labels pre-printed; rubber caps; plastic bags; bubble mailers; un-used postal boxes; and large bags of precursor chemicals including about two pounds of uncut testosterone. Also seized were numerous vials containing prescription drug powder and liquids.

About an hour into the search, Farr was stopped while returning home and arrested, the release states. He was booked into the Yavapai County jail in Camp Verde and is being held without bond.
His charges include ten counts of possession of dangerous drugs for sale, five counts of possession of prescription only drugs for sale, possession of narcotic drugs (fentanyl), 11 counts of possession of drug paraphernalia, use of electronic device during a drug offense, and using a building to manufacture dangerous drugs.
Follow Max Efrein on Twitter @mefrein, email him at mefrein@prescottaz.com or call him at 928-445-3333 ext. 1105.
More like this story
SUBMIT FEEDBACK
Click Below to: