Maria Muldaur to play at Elks Theatre on Oct. 20

Originally Published: October 17, 2019 6:18 p.m.
Revered folk and blues singer Maria Muldaur, best known for the song "Midnight at the Oasis," is coming to Prescott with her Red Hot Bluesiana Band for a performance at the Elks Theatre and Performing Arts Center.
The Grammy-nominated singer, who put out her 41st album in 2018, said her earliest musical influence was country music, and she grew up listening to early R&B and rock and roll as a teenager. As the 1950s rolled on, that music started getting watered down, but that was right around the time of the American folk music revival, Muldaur said.
"It was a time when a lot of people in the urban north were discovering and exploring various forms of American roots music, which they called folk music," she said. "Growing up in Greenwich Village, where there were a lot of coffee house and folk clubs, I got exposed to it and fell in love with it."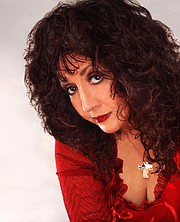 She began her recording career in 1963 with the Even Dozen Jug Band and shortly after, joined the popular Jim Kweskin Jug Band, touring and recording with them throughout the 1960s.
Tickets for Muldar's Sunday, Oct. 20, performance, presented by the Folk Sessions, are $35 for adults, $30 for seniors, $50 for VIP and $55 for opera box seats and are available online at www.prescottelkstheater.com, by calling 928-777-1370 or at the door one hour prior to the performance.
It's a joyful thing to make music and make people happy, Muldaur said. Her 41st album, "Don't You Feel My Leg: The Naughty Bawdy Blues of Blue Lu Barker," is a tribute to Barker who originally recorded the song "Don't You Feel My Leg," she said. In the 1940s, Barker and her husband recorded a lot of bawdy, tongue-in-cheek tunes that were risqué for the day, Muldaur said. The album was nominated for a Grammy Award in the Best Traditional Blues Category.
In September, the Americana Music Association awarded Muldaur the Lifetime Achievement Americana Trailblazer Award for her lifelong work of covering the depth and breadth of American Roots music and for being one of the pioneers who laid the groundwork for what we've come to call "Americana Music." Muldaur said she doesn't consider herself a trailblazer but a follower of the great pioneers of the music that's now a big part of the American musical heritage.
Having been to Prescott once before and finding it to be a sweet, cool little town, Muldaur said she is looking forward to coming back.
"People can expect to hear their old favorites from some of the earlier recordings that they may remember and love, but also a lot of stuff from my more recent recordings," she said.
For more information about the performance, visit www.folksessions.com. The Elks Theatre and Performing Arts Center is located at 117 E. Gurley St.
More like this story
SUBMIT FEEDBACK
Click Below to: