Marge and Chuck Goeser celebrate 60 years of marriage
Originally Published: October 12, 2019 7:45 p.m.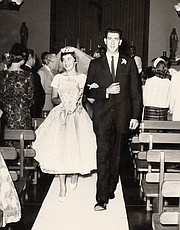 Marge and Chuck Goeser celebrated their 60th anniversary with a private family gathering in Scottsdale. It was a togetherness occasion that included their two surviving children: their son, Christopher, a physician who lives in Salem, OR and his wife Cyndi and their son; and their daughter, Teresa Goeser Van Galder, a police homicide detective, in law enforcement and her husband, Rick, four children and three great grandchildren added to the gathering. Their daughter-in-law Valerie and granddaughter were missed as they were unable to attend.
Marge and Chuck met at a College Newman Club meeting in the San Fernando Valley in California. Chuck was President and Marge, attending her first meeting, was impressed with the way Chuck wielded his gavel. She told her mother, upon returning home that night, she had met the man she was going to marry; and she did, one year later. They remained in the San Fernando Valley, in CA, until his retirement in 1995. Upon his retirement, they proceeded to travel throughout the United States all the time wondering if "this" would be a good place to settle in retirement. It wasn't until they found their way back West and decided, at the insistence of their friends Caryl and Gordon Aarud to stop at Prescott. They soon realized this was the place. Prescott had everything—weather, great people, and a culture one had to love. This year they are celebrating 20 years in Prescott to cap off 60 wonderful years of marriage.
More like this story
SUBMIT FEEDBACK
Click Below to: