Dewey-Humboldt has admirable nominees for yearly award
Donovans selected as 2018 Volunteer of Year

Originally Published: October 8, 2019 7:57 p.m.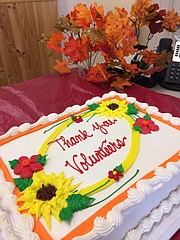 Many residents of Dewey-Humboldt are deserving of the town's 2018 Volunteer(s) of the Year award. Eight people made the short list, and two, husband and wife, Mike and Ronnie Donovan, gravitated to the top.
The Dewey-Humboldt Town Council celebrated the volunteer nominees before its regular meeting on Oct. 1 with cake and juice. Not all could make it to the ceremony or to the actual awards during the meeting.
Here are the nominees and reasons why they have made and continue to make a difference in the town.
Leigh Cluff, a member of the Country Town Volunteers, arranged a cleanup of private properties in May 2018. Cluff also was instrumental in locating a property owner willing to donate land in order to access two lots on Cranberry Road where the new water tanks are located.
Ken Dolan and Tom Mallette, also members of the Country Town Volunteers Group, participated in debris cleanup and rebuilds on fire-damaged properties, snow removal and drainage repair.
The late Paul Manganella had the foresight to see the need for fire suppression in the Upper Blue Hills area of town. "It was a once-in-a-lifetime opportunity for the fire department to accept his donation," said Vice Mayor Vicki Wendt. Manganella donated the property and well on which the water tanks now stand.
Denise Rogers, former councilwoman, designs and edits the town's newsletter, which takes a great deal of work, Wendt said.
Jeffrey and Karen Whitman donated land for access onto the water tank property now owned by the Central Arizona Fire and Medical Authority.
Staff and community members on the Volunteer of the Year committee selected Mike and Ronnie Donovan to receive the 2018 award.
"I see them so many times walking the roadways picking up trash and debris," Wendt said, adding that the Donovans also volunteer with the Firewise Community efforts in the town.
"A volunteer doesn't necessarily have time, but they have the heart and passion to do the work," Wendt, acting mayor in Terry Nolan's absence, said before reading a definition of "volunteer."
The Donovans' names are added on the Volunteer of the Year plaque that hangs in the Town Hall. They, and all nominees, received a certificate of appreciation from the council.
More like this story
SUBMIT FEEDBACK
Click Below to: