Need2Know: Former Native Grill & Wings sold to new owners in Prescott Valley; Whiskey Row Pub rebranded '1881 Spirits'
By
Doug Cook
|
dougout_dc
Originally Published: October 5, 2019 8:02 p.m.
One-time Native Grill & Wings sold to new owners in Prescott Valley
The former Native Grill & Wings restaurant, 5533 E. Highway 69, has been sold to new ownership, Town of Prescott Valley Community Development Director Richard Parker confirmed to The Daily Courier Oct. 2.
Parker added that the town has received a business license for the space, which is located in the Crossroads shopping center south of the highway.
Prescott Valley Economic Development Coordinator Ben Hooper said via email that he is planning to touch base with the new owner before revealing the name of the business.
Watch this space for more information in the coming weeks.
Former Whiskey Row Pub rebranded '1881 Spirits'
The bar at 144 S. Montezuma St., in the middle of Whiskey Row in Prescott, has undergone more than a few name changes over the years.
It has been called Western Bar, Billy's Western Bar, Moctezuma's and, most recently, Whiskey Row Pub.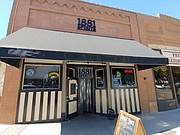 However, toward the end of June, new co-owners Chad Newberry and Jacquelyn Bendig renamed it "1881 Spirits." They've added more varieties of whiskey and more deals on different drinks. They also sell 1881 Spirits T-shirts, beer cozies and shot glasses.
But what's behind the new name, you ask?
"It was the year the town was incorporated," Newberry said of the year 1881, which, incidentally, was the same year of Phoenix's incorporation.
Newberry, who has worked in the bar for the past 20 years, started there when it was Moctezuma's. He and Bendig bought the bar in January. They've freshened up the historic brick building's façade and made it look more inviting.
"There's a lot of changes happening," he said. "I love this bar. I love what I'm doing. It's a dream to run."
To submit items for the Courier's Need2Know, email editors@prescottaz.com; for legal advertisements, email ssialega@prescottaz.com.
More like this story
SUBMIT FEEDBACK
Click Below to: