Granite Peak UU Congregation has new pastor
Rev. Patty Willis' humor, artistry and open approach to social ministry embraced

By
Nanci Hutson
|
HutsonNanci
Originally Published: October 5, 2019 7:35 p.m.
Above a closet in her corner office at the Granite Peak Unitarian Universalist Congregation is The Rev. Patty Willis' illustration of a bejeweled dark blue whale against a sea blue background with shades of yellow.
The painting speaks to more than the artistic whimsy of the congregation's new full-time minister. It speaks to a heart that beats for the misunderstood and seeks understanding of motives behind actions.
"We have such amazing roles to play in each other's lives," declares Willis who accepted the congregation's appointment for a full-time pastor in August. Willis' wife of 21 years, Mary Lou Prince, is the society's new music director. "I use painting and poetry to work things out."
This particular, smile-inducing whale she conjured from reflection on a not-so-sunny memory of the one time she was spanked while attending a British school. She crumpled up her first drawing of a whale. The teacher, a World War II survivor, saw her wastefulness as an affront to sacrifices in war times.
This hindsight perspective is something the 63-year-old strives to bring to her ministry.
Raised in a Mormon family with ancestors who came from Scotland and England on the Mayflower, Willis lived most of her youth in South America and the Middle East. Those experiences have evolved into a belief that acceptance of alternate viewpoints on everything from culture, faith tradition, lifestyle choices, and social engagement is an open ear, open mind and appreciation that no one choice suits all.
"There is no creed about how we treat one another, and because we are human that is an endless source of development," Willis said. "We want to have conversation that reaches over the divide … I have experienced deep in my bones that the way we treat each other can transform."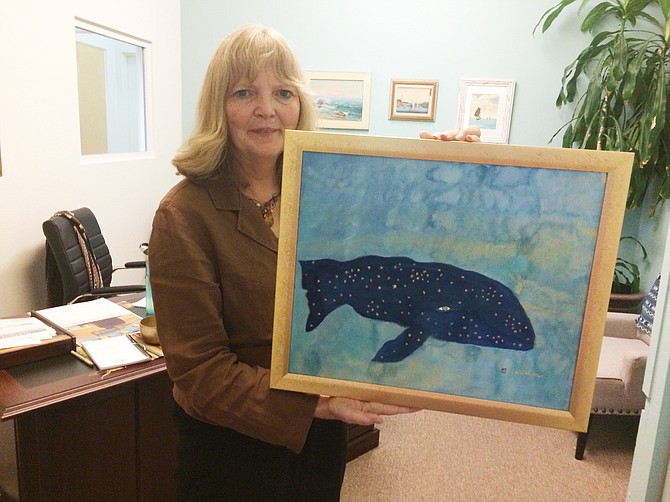 A French and Spanish undergraduate major who then earned a master's degree in medieval French, Willis ended up in her college years teaching French in Paris. She fell in love – but same-sex relationships in the couple's religious backgrounds was taboo.
The two separated, only to be reunited five years later. Still, cultural mores forced them to hide and "be afraid."
So they accepted an opportunity to form a theater company focused on social justice issues in Japan where they lived for 24 years.
Together, the couple wrote a dramatic musical, "Man from Magdalena," a story of a migrant worker who gives up his chance for a life in America to save the life of a young white boy. Through performance proceeds, the couple was able to start a micro-loan program that has now enabled them to donate $160,000 to charities seeking to resolve poverty issues in Central American and Mexico.
ROAD TO MINISTRY
Willis' journey to the ministry started with a study of Buddhism that then led to three years of travel around the world to explore religious theology: Hindu, Islam, Judaism and Christianity.
In 2007, the couple bought 10 acres in southern Arizona. There they visited a Unitarian Universalist congregation. They realized they had found their spiritual home.
"The wisdom of world religions and people, and the wisdom of nature, seemed like a natural way for me to be whole," Willis said.
A year after joining, Willis earned a scholarship to the Quaker-sponsored Earlham School of Religion in Indiana.
While there, she penned a story titled, "Dancing Bird's Apprentice," about her pioneer midwife ancestor Patty Bartlett Sessions. She adapted that into a play titled, Midwife." Proceeds were used to support the Northwest Band of the Shoshone's Language program for children.
"The truth must be told before there can be reconciliation," she said of her exploration of the rival pioneer settler and Native American experience.
Prior to this job, Willis served six years at the Southern Valley Unitarian Universalist congregation in Salt Lake City and a year in Virginia where she embarked on a study of slaves. That resulted in a yet-to-be published work titled, "Lamentations at the Wall."
Solutions to the divisive social issues that divide people in this nation today, such as immigration and equality for people regardless of gender identity, sexual preference or cultural and religious traditions, rest in "an understanding of history," Willis said.
Willis brings to her new role a "very strong social justice consciousness in addition to her amazing pastoral presence, great sense of humor and inspirational leadership skills," said Granite Peak UU Congregation President Marianne Erickson.
"Rev. Patty is inspiring, extremely supportive and very smart!" Erickson said. "We, at Granite Peak UU Congregation are tremendously honored that she chose to serve us and the quad city area through her ministry."
"For My Whale"
(A sample of Rev. Patty Willis' poetry)
"Where is that teacher who hit me in front of our class?
I was eight or nine and you (I don't remember your name) found my botched painting of a whale stuffed in my desk away from your sight.
I wanted a more perfect whale on a new piece of paper and you wanted perfection right away but more than anything you couldn't stand the waste.
When you were a student in war torn England, paper had been rationed as it should always be: one piece per pupil per week.
I was a Yank, the daughter of the chief geologist who sang in the Mexican band, a tenor in a red cummerbund for dance parties by the community pool where you let your hair down and smoked cigarettes.
I needed to learn the value of paper:
Spare the rod and spoil the child.
You remembered American soldiers marching through your ravaged neighborhood handing out chocolate like alms for the poor ….
I wish you had told me the story you held in your heart.
I would have smoothed the paper in my desk and staring at the ill drawn whale, I would have seen something else that could emerge, at the very least a large grey ball, the head of a cat.
Eyes opened in the belly of that whale Jonah looking out invisible to the naked eye.
You could have recounted the nights of your childhood spent in bomb shelters, of cats turned into cows and then to nights.
Anything could become a starry sky, you would tell me, and together we would make stars over Jonah and the whale would grow until he became the sky."
More like this story
SUBMIT FEEDBACK
Click Below to: