Local creativity: 9 Chino Valley, Paulden artists take part in studio tour
Originally Published: October 1, 2019 8:56 p.m.
Nine Chino Valley and Paulden area artists are set to open their studios to the public this weekend for the 12th annual Prescott Area Artist Studio Tour.
One of those artists is Jane Heckel of Jane Heckel Studio, 1640 W. Grasshopper Lane, who works with jewelry and will be demonstrating jewelry design, kumihimo and wire wrapping. This is her eighth year doing the tour and she started making jewelry as a nurse to have something to go along with new outfits she'd buy, Heckel said.
"I started to make jewelry and then people started asking me to make jewelry for them," she said. "I started wanting to learn more and more different things. I taught myself kumihimo, which is a Japanese braiding, and then I went into wire wrapping."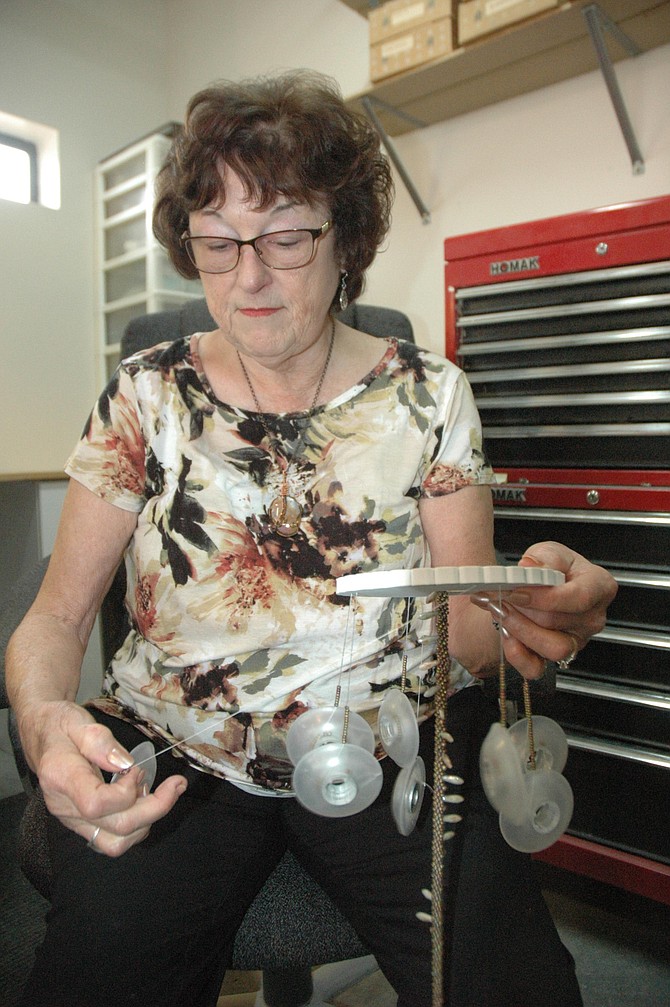 More than 100 people showed up at her studio for last year's tour, Heckel said. She enjoys being able to show them and demonstrate how her work is done because there are things that go into jewelry design and wire wrapping that people don't really think about, she said, adding it takes a variety of different things to do it well.
Heckel said she remembers seeing glass artist Patty Lindsey on the tour nine years ago. Her path toward being on the tour came after winning Lindsey's drawing, Heckel said.
"She came out and delivered the platter that I won and she saw what I did, she saw what he did," she said referring to her husband Pete Heckel who has also been involved in past tours. "We got a few of the other artists in it."
This year's free and self-guided tour features 75 artists in 51 private studios along with 26 artists at three art centers. All studios and art centers are open from 10 a.m. to 4 p.m. Friday through Sunday, Oct. 4-6. A full list of artists and their locations can be found online at www.prescottstudiotour.com.
Lindsey said she's excited that there's a strong group of artists in Chino Valley and Paulden who are taking part in the studio tour. Her Glass Goons studio, located at 4455 N. Juniper Dr., was the first Chino Valley studio to have ever been featured in the tour and this year is her 11th year doing it. She will be demonstrating pulling glass from a Vitrigraph Kiln and freezing and fusing glass.
Lindsey, who has been working with glass for decades, said she enjoys meeting people and having them see her imagination.
"It's just the rapport with the people and showing what I do," she said. "People don't understand why the cost of stuff is so expensive, which it is, glass is expensive and it just keeps going up higher and higher and higher. I just want them to understand how it's made."
She also teaches classes and loves introducing people to her style of art, Lindsey said. She even has students who keep coming back and their imagination keeps growing, she said.
Jeweler and mixed media artist Adriene Buffington will be a guest in the Glass Goons studio as well and she will demonstrate torch work bead making and melting, shaping and blowing glass.
Other Chino Valley and Paulden artists involved in the tour this year include: Roger Harlow of Whims & Fancies Wood Creations, 863 Maple Lane, Kellogg Patton of Flying Flamingo Refuge, 2950 W. Stampede Dr., with guest Dori Hatton, Richard Kerrell of RMK Designs – Fine Furniture Woodworking Studio, 1520 S. Robin Lane, Therese Stonehart of Stonehart Art on Stone, 21315 N. El Rocko Lane, Sheri Oriona of Sheri Oriona Studio, 21030 Old Highway 89, Michael Brown of LizardHill Pottery, 2125 N. Navajo Place, and Denise Incao of Denise Incao studio, 450 W. Gina Marie Blvd.
There is a free and open to the public Gala Pre-Tour Reception from 5 to 8 p.m. Wednesday, Oct. 2, in the third floor ballroom of the Elks Theatre and Performing Arts Center, 117 E. Gurley St.

For more information about the 12th annual Prescott Area Artists Studio Tour, visit www.prescottstudiotour.com.
More like this story
SUBMIT FEEDBACK
Click Below to: