Lake Valley principal, staff and volunteers honored
Making a difference to students and families

By
Nanci Hutson
|
HutsonNanci
Originally Published: November 16, 2019 8:05 p.m.
Lake Valley Elementary Principal Aimee Fleming was eager to spotlight to Humboldt Unified School District leaders some of the folks she credits with making such a difference at her school.
And she did.
Then Fleming was feted by a long-time parent and staff member Kim Stamper who took to the podium at the Governing Board meeting Tuesday night. She praised Fleming as a "brilliant" educator who in her four-year tenure has reinforced and promoted a culture such that every child and faculty member is valued and treated for who they are and the talents they have to share.
"She brought something we didn't have before," Stamper said.
Fleming eschews all accolades, Stamper said. Yet Stamper said Fleming is the force behind the school's rising success — Lake Valley scored just four points below an A on the recent state A-F report card for district and charter schools.
She and other administrators credit Fleming with creating a collaborative spirit among the grade levels to benefit students, and giving a voice to every faculty and staff member.
"She's a brilliant principal who has created a family so thick that we don't ever want to leave," Stamper concluded.
MONTHLY AWARD WINNERS
The Humboldt Unified School District Governing Board rotates their monthly meetings between the district's nine elementary, middle school and high schools. This offers school leaders to highlight their students, faculty and staff and promote their vision and various programs offered to benefit students.
Fleming's selections for this month are as follows:
Teacher of the Month Derek Evans:
Kindergarten through third grade special education with expanded duties this year to assist the fourth to sixth grade special education team.
Evans was described as "one of the most dedicated, caring and hardworking individuals you will ever meet."
"He always puts students first in his decisions and leads with his heart," the nomination read.
Evans supports students in big and small ways, "even singing a song to help calm a student."
"His dedication is never in question and his drive to support students shines out of his day-to-day hectic schedule … He does this with a smile on his face and the true heart of a teacher."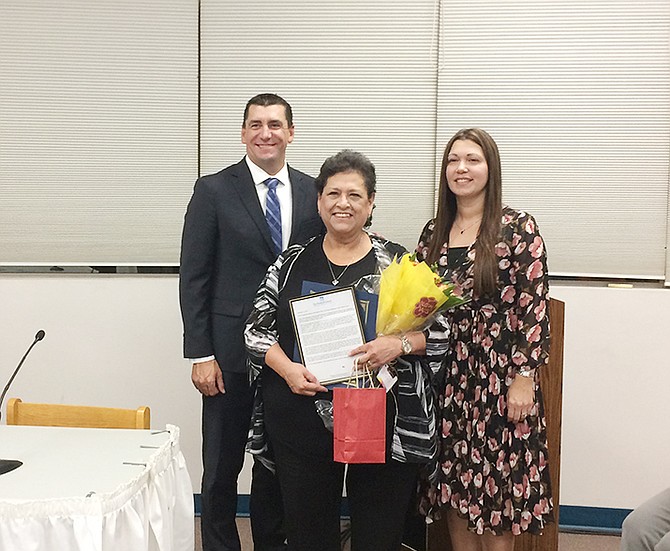 Classified Staff of the Month: Attendance Clerk Rebecca Perez
Perez is well-respected for treating all-comers to the school, students, parents and visitors, as valued members of the Lake Valley community.
At Lake Valley, Perez is the first line of communication, and she greets all so that they feel welcomed and valued. She is bilingual, and often serves as a translator with parents to break down any barriers. Behind-the-scenes, Perez works to assist students and families with any needs they might have, including collecting gift certificates to buy shoes.
Perez is described as someone with a "kind heart" able to "connect with all."
Volunteers of the Month: Larry and Carol Henson
The Hensons are a "dynamic duo" who not only volunteer themselves, but organize other volunteers to offer support in all Lake Valley classes.
The Hensons volunteer at book fairs and dances, and also donate their time to work one-on-one with students.
"They truly make a difference ... building relationships with students and staff."
The couple was credited with a "passion to help others."
More like this story
SUBMIT FEEDBACK
Click Below to: