Florian Floral's Casillas to decorate Rose Parade floats in Pasadena
Prescott florist's passion, skill resulted in a Jan. 1 invite
By
Doug Cook
|
dougout_dc
Originally Published: November 16, 2019 7:43 p.m.
Posted inconspicuously in clean white letters with a square border on a side window of Florian Floral Design & Events at Prescott's Gateway Mall, Aileen Casillas displays a fitting quote from Lady Bird Johnson: "Where Flowers Bloom, so does Hope."

Casillas, the owner of a corner store at 3250 Gateway Blvd. Suite 300, intends to spread that message to a much wider audience when she represents her adopted hometown at the 2020 Tournament of Roses Parade from 9 a.m. to 1 p.m. Wednesday, Jan. 1, in Pasadena, California.
Ironically, the theme for the 2020 parade is "The Power of Hope."
Phoenix Decorating Co. of Irwindale, California, hired Casillas to join a group of gifted florists who are decorating the floats for the famous parade.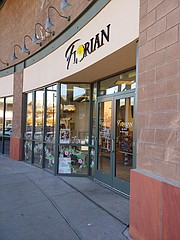 The company has been involved in the Rose Parade for 20 years, Casillas said, and is in charge of building 20-plus floats.
Casillas has been assigned to a team working on the floats for Lions Club International, Lutheran Hour Ministries, the Shriners, and the Sikhs of Los Angeles.
She heard about Phoenix Decorating Company's work with the Rose Parade because of her ties as a former student at the Floral Design Institute in Portland, Oregon. The institute had done a post, asking for florists interested in working the parade to send an email.
"I kept in touch [with the institute] and followed them on Facebook," Casillas said from her shop Nov. 11. "They trained me."
Casillas thought she had nothing to lose. After all, she has a daughter enrolled at Loyola Marymount University in L.A. and thought it might be a good time to visit her.
So she tried contacting Phoenix Decorating about a position, but she didn't hear back right away.
What Casillas didn't know is that the company had been researching her qualifications. One day, she received an unexpected phone call.
"They said, 'We hired you because you'd be a great fit for our team,'" Casillas recalled about the conversation with Phoenix Decorating. "I was like, 'Wow.' It's a huge opportunity."
DREAM COME TRUE
A Southern California native, Casillas grew up watching the floats roll by at the Rose Parade.
"But to work on them is a major privilege," she said. "I had to keep it quiet for a while."
During fall break, Casillas and her sons visited the Phoenix Decorating Co.'s warehouse in Irwindale, "where they do all the magic," she said. She saw the floats on which she and her fellow florists would be working.
Casillas produced a short video on gramho.com using the social media hashtag #FloriansHope (https://gramho.com/explore-hashtag/florianshope) to share her initial experiences.
"It's a journey of me doing this for the first time, and what it's like for a florist to do that," Casillas said.
Several teams of florists are assigned to build different groups of floats. Each team has a crew chief and a crew chief assistant working alongside the florists. When each team's assigned floats are complete, the teams break up to work on the rest of the parade's floats together.
Each float starts with a concept before transitioning to the building stages, which includes fashioning rebar rods into shapes that serve as a float's skeleton.
The florists, who are blocked off into their own areas, later perform the more elaborate, intricate work of blanketing the floats with multi-colored flowers.
"If I like it [working the Rose Parade], they've invited me to come back in subsequent years," Casillas said.
FOLLOW YOUR HEART
Casillas has been a florist since 2005, although she served as a firefighter and an EMT for a while to better make financial ends meet for her family.
"I wanted to be an artist," she said. "I had been into ceramics before switching to flowers. I always wanted my own shop."
In 2017, Casillas returned to the floral industry. She developed a home business at first. However, it was going so well that in less than six months she opened Florian at Gateway Mall in August 2018.
And she has help. After divorcing, Casillas met John Bowers, a former firefighter turned Life Line paramedic who's Casillas' boyfriend and assists Casillas at the shop when he's not on duty.
SHE SHALL RETURN
Casillas, who will be in Pasadena over the holidays, says, despite her absence, she's still accepting holiday orders at Florian Floral through Sunday, Dec. 22.
The weekend before Thanksgiving is Florian's Open House Days. From Friday, Nov. 22, through Sunday, Nov. 24, customers can meet and chat with Casillas and other artists whose work she hosts. Floral arranging demonstrations and other activities are also planned.
For more information, call the shop at 928-778-2755 or visit florianfloral.com.
More like this story
SUBMIT FEEDBACK
Click Below to: