Now Showing: Nov. 8-14, 2019
Originally Published: November 7, 2019 5:08 p.m.
Updated as of Tuesday, November 12, 2019 4:24 PM
(NEW) MIDWAY - US soldiers and pilots change the course of World War II during the Battle of Midway in June 1942. The US and Imperial Japanese naval forces fought for four days. Stars Dennis Quaid, Aaron Eckhart, Luke Evans, Patrick Wilson, Woody Harrelson, Ed Skrein, Nick Jonas and Mandy Moore. PG-13 - Drama/Action
(NEW) THE CURRENT WAR - Thomas Edison and George Westinghouse — the greatest inventors of the industrial age — engage in a battle of technology and ideas that will determine whose electrical system will power the new century. Backed by J.P. Morgan, Edison dazzles the world by lighting Manhattan. But Westinghouse, aided by Nikola Tesla, sees fatal flaws in Edison's direct current design. Westinghouse and Tesla bet everything on risky and dangerous alternating current. PG-13 — Drama/Historical period drama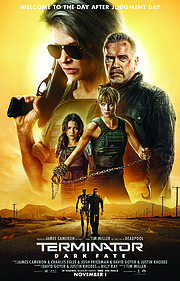 TERMINATOR: DARK FATE - Sarah Connor and a hybrid cyborg human must protect a young girl from a newly modified liquid Terminator from the future. Stars Linda Hamilton, Arnold Schwarzenegger, Mackenzie Davis, Natalia Reyes, Gabriel Luna, Diego Boneta. R – fantasy, sci-fi.
MOTHERLESS BROOKLYN - A lonely private detective afflicted with Tourette's syndrome tries to solve the murder of his mentor and only friend. Stars Edward Norton, Bruce Willis, Gugu Mbatha-Raw, Bobby Cannavale, Cherry Jones, Alec Baldwin, Willem Dafoe. R – drama, crime.
COUNTDOWN - When a nurse downloads an app that claims to predict exactly when a person is going to die, it tells her she only has three days to live. With time ticking away and a figure haunting her, she must find a way to save her life before time runs out. Stars Elizabeth Lail, Anne Winters, Charlie McDermott, Peter Facinelli, Talitha Eliana Bateman. Tom Segura, Jeannie Elise Mai, Jordan Calloway. PG-13 – horror, thriller
MALEFICENT: MISTRESS OF EVIL - A formidable queen causes a rift between Maleficent and Princess Aurora. Together, they must face new allies and enemies in a bid to protect the magical lands which they share. Stars Angelina Jolie, Elle Fanning, Chiwetel Ejiofor, Sam Riley, Ed Skrein, Imelda Staunton, Juno Temple, Lesley Manville, Michelle Pfeiffer. PG – fantasy, action
Click HERE for the review.
ZOMBIELAND: DOUBLE TAP - Zombie slayers Tallahassee, Columbus, Wichita and Little Rock square off against the newly evolved undead. Stars Woody Harrelson, Jesse Eisenberg, Abigail Breslin, Emma Stone, Rosario Dawson, Zoey Deutch, Luke Wilson. R – action.
THE ADDAMS FAMILY — Members of the mysterious and spooky Addams family — Gomez, Morticia, Pugsley, Wednesday, Uncle Fester and Grandma — encounter a shady TV personality who despises their eerie hilltop mansion. Stars Oscar Isaac, Charlize Theron, Chloë Grace Moretz, Finn Wolfhard, Nick Kroll, Snoop Dogg, Bette Midler, Allison Janney. PG – fantasy, horror
JOKER — Forever alone in a crowd, failed comedian Arthur Fleck seeks connection as he walks the streets of Gotham City. Arthur wears two masks — the one he paints for his day job as a clown and the guise he projects in a futile attempt to feel like he's part of the world around him. Isolated, bullied and disregarded by society, Fleck begins a slow descent into madness as he transforms into the criminal mastermind known as the Joker. Stars Joaquin Phoenix. R — drama, thriller
Click HERE for the review.
SUBMIT FEEDBACK
Click Below to:
More like this story