End of an era for Chino Valley High School's top grads
Chino Valley High School seniors graduating Wednesday night

Originally Published: May 20, 2019 4:51 p.m.
The end is nigh.
At least it is for Chino Valley High School seniors who graduate Wednesday night, May 22. As they gather at the Findlay Toyota Center for the 7 p.m. commencement, it will be the final time they're all in the same place together.
Among them are Jacob Akans, this year's valedictorian, who said he is planning to attend Embry-Riddle Aeronautical University to major in aerospace engineering. However, he got his foot in the door early when it came to college, attending the Joint Technological Education District (JTED) and worked on his associate's degree, Akans said. He has only a couple more classes to finish before receiving it, he said.
Akans said he spent all four years of high school at Chino Valley High School, though it wasn't until he was in the middle of eighth grade when he entered into the school district. Looking back on what helped him the most throughout high school, he said scheduling was a big help.
"Scheduling is an important thing to get down," Akans said. "Work with counselors and get a schedule that you want."
This year's salutatorian is Josh Bowen, who said he also started college early with JTED, beginning it during his sophomore year in high school. As of the beginning of May, he said he had two classes left to finish his automotive associate's degree and, after graduation, he will be heading out into the workforce.
Bowen also spent all four years of high school at Chino Valley High School, though said he started attending schools in the Chino Valley Unified School District halfway through sixth grade. He said he's proud to be the salutatorian for this year's graduating class.
"(It) feels good to be acknowledged for what (I've) accomplished in 13 years of school," he said.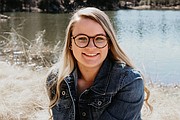 Akans and Bowen are two of about 150 seniors who are graduating. That number also includes Rebecca Ballard, who said she's planning to attend Northern Arizona University for a degree in nursing.
Looking back, Ballard said her participation in Unified Sports was amazing and she made some great friends through it. If she could impart advice on incoming freshmen, she said it would be that they shouldn't be afraid to put themselves out there.
"We have tons of clubs on our campus and there's something for everyone," Ballard said. "We've got tons of sports and arts and robotics, and it's really endless."
The final grade point averages (GPAs) for the valedictorian and salutatorian were not available at press time.
SUBMIT FEEDBACK
Click Below to:
More like this story