Bradshaw Mountain's 'Godfather' stepping down due to health issues
Prep Sports
By
Doug Cook
|
dougout_dc
Originally Published: May 19, 2019 12:02 a.m.
PRESCOTT VALLEY — George "The Godfather" Ponte can still speak clearly, but his short- and long-term memory fades in and out like a weak radio signal, much to his chagrin.
It's frustrating for Ponte, a Queens, New York, native who has taught high school students for the past 41 years.
The tables have turned, and now he is the one in need of guidance.
After spending the past 27 years teaching social studies and serving as the excitable public address announcer for varsity athletics at Bradshaw Mountain High School, Ponte is retiring.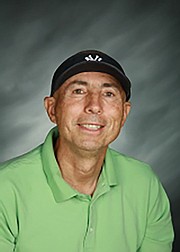 Ponte, affectionately known as "The Godfather," partly because of his thick New York/Italian accent and his pull-no-punches personality, became an instant fixture among students, fellow teachers and administrators at the high school's Prescott Valley campus, 6000 E. Long Look Drive.
"I said, 'I'm The Godfather, but not the intimidating one,' " Ponte recalled of an early conversation he had at the school about his moniker at Bradshaw.
This may not be a fitting end at the school for Ponte, though. He has endured serious health problems the past several years, with his latest setback being the most significant.
Before spring break in March, Ponte, who has long struggled to walk because of ailing knees, suffered a stroke brought on by his enlarged heart, forcing him to miss the remainder of the 2019-20 school year.
Bradshaw history teacher and close friend Larry Haese said the stroke occurred at Ponte's home.
"I teach early bird, so I'm dressed at a quarter to 4 [a.m.]," Ponte remembered. "I was dressed and everything started moving fast. Then, BOOM! I fell on the floor. I didn't remember anything until the attendants put me on a stretcher. It felt like one minute I was on the stretcher and the next minute I was on a helicopter to the hospital."
Ponte couldn't move or speak. Air evacuated to Phoenix, he spent the next month in the hospital undergoing tests.
STARTING OVER
On May 16, Ponte sat at home with his wife of 41 years, Susan, when he received a phone call asking how he was doing.
Ponte's response? "Lousy."
Due to the stroke, Ponte can't read well and he lost his peripheral vision. He walks with a cane.
"I had to retire," said Ponte, adding that he had planned to do so in two years, when Susan turned 65. "I looked at letters like they were a foreign language."
Over the past 2½ months, while a sub was teaching his students, Ponte was thumbing through children's books. It was so hard. He had never missed school.
"I can read at the fourth- or fifth-grade level," said Ponte, who remembers his students only if he sees their faces. "Every day I read for hours."
When he is in public, he covers his heart with a life vest, which he calls a "pain in the a--." Nevertheless, he is grateful for Susan, whom he calls "tremendous" and "invaluable," and his brother, who lives nearby.
The worst part for Ponte is that he can't sit still. It has always been that way.
From age 5 through his teenage years, when he wasn't in class, Ponte was playing basketball on the asphalt courts in New York.
A shooting guard at Richmond Hill High School in Queens, Ponte made varsity as a senior. His lone role was to shoot. His coach was blunt about it.
"I thank God I'm alive," Ponte said. "I always wondered if playing basketball with an enlarged heart might kill me. It finally struck at age 70. I got my share of time, though."
INSTANT IMPACT
Ponte relocated to Arizona from New York when his daughters, Jessica, Christine and Marissa, were young. They attended Bradshaw, and Ponte taught them.
Today, Jessica, 35, Christine, 31, and Marissa, 26, remain in Arizona.
Ponte, who taught for 14 years in inner-city New York, was an assistant coach for Haese during the latter's seven-year stint as Bears varsity boys basketball coach in the 1990s and early 2000s.
"I hit it off with him," Ponte said. "He tells you straight, and he loves basketball. I do, too."
Haese fondly recalls Ponte's "sometimes unorthodox methods" in coaching.
Early on at Bradshaw, Ponte coached the Bears' freshman team. Before a game at River Valley High, Haese said Ponte was determined to teach a squad that lacked talent and experience about the game.
"They came out for the opening tip-off and lined up incorrectly, so George took a timeout before the opening tip to go over how to line up correctly," Haese said. "I'd never seen that before or since."
Recalled Ponte, "I said, 'Guys, we worked on this all week!' They weren't ready to go, but they were well-coached and they were smart."
Haese has taught and coached at Bradshaw for the past 29 years. Other than his wife, Bears softball coach Sharon Haese, Haese has had no closer friend here than Ponte.
Ponte specializes in teaching history, including college-level elective courses on the Civil War and Medieval history. He has also taught economics, long proctored SAT and ACT tests on Saturdays, and worked the sidelines and in the booth at Friday night football games, among other things.
"He wasn't there for pay — he's been there for the students and for helping us become better people," Bradshaw senior Parker Bennett said. "He was there for us, and not for himself, which was pretty awesome."
OH, THOSE NICKNAMES!
Ponte is a huge sports fan who loves his New York Knicks, Giants and Yankees. For decades, Ponte has been the P.A. announcer for Bradshaw's varsity home games. He excels at boys and girls basketball, and he is well-known for the nicknames he assigns to student-athletes.
From Logan "Ice" Chilton and Lance "the Knight" Jacobs in the 2000s to Parker "The Hawk" Bennett and Delanie "AC" Clark in 2019, Ponte's spunk is ingrained into the fabric of Bradshaw culture.
Clark, a post player whose older sister Dacie "DC" Clark (or Acie Dacie; AC/DC) played for the Lady Bears five years ahead of her, said Ponte showed he cared about all students by constantly supporting and remembering them.
"He was a legend at our school — everybody loved him, everybody respected him," said Delanie, a senior. "And being part of the sports teams, the biggest honor from him was getting your nickname.
"So, when you were a starter, he would announce you and he would give you that nickname on the first home game of the season, and that's what you were known by him all four years when you were walking in the hallways."
Bennett, a senior, said Ponte "made our home games our home games."
"I have friends that I played with in Flagstaff when I was growing up, and playing against them when they would come here, they would always talk about the announcer and how they love him," Bennett added. "I honestly loved him. I loved how he did the nicknames. He was always positive for both sides."
Ponte's meticulous about those nicknames, too. First, you earn one by making varsity. Ponte comes up with many of them, and yet parents and students are welcome to share their thoughts.
"They'll tell me, 'Here's a name the kid likes,' " Ponte said. "The mother or father will come to me with a name, and I'll check with the kids to see if it's OK with them. I don't just give them one."
In a cruel irony, since his stroke, Ponte can't recall any of his nicknames. You must tell him to jog his memory.
"I'm bad with names, but I know faces," Ponte iterates.
NEVER GIVE IN
Ponte's motto in life is "Always Kick 'A,' " which he says means doing the right thing at the right time all of the time. Now, more than ever, he must heed those words.
If Ponte can learn to read at an advanced level again, he wants to instruct part time at Bradshaw. That means teaching his two elective classes. He refuses to sub.
Without Ponte, his current students, even the ones at the school who haven't taken a class from him, have felt holes in their hearts. Ponte's may be even bigger.
"I miss them more than they miss me," Ponte said.
Bennett and Clark would disagree. Bennett didn't take a class from Ponte, but he would walk past Ponte's classroom each day to chat.
"He would always sit in front of his classroom and he would just always say hi and ask me how my day was — and just to anybody who would walk by," Bennett said. "He would get to know everybody, too, and have that little smile. But without him there it's been different. It's a different feeling."
When the Class of 2019 graduates Thursday night, May 23, Ponte won't attend. Instead, he will look for the seniors' faces, even if he can't remember their names, during the 8 a.m. rehearsal at Findlay Toyota Center and try to live in the moment.
"I don't want to be a distraction," Ponte said. "They know I will see them at practice — just the students and me."
Doug Cook is a reporter for The Daily Courier. Follow him on Twitter at @dougout_dc. Email him at dcook@prescottaz.com or call 928-445-3333, ext. 2039.
More like this story
SUBMIT FEEDBACK
Click Below to: