Early inspiration leads to career in classroom
Teacher of the Year says educators ignited passion for learning

By
Nanci Hutson
|
HutsonNanci
Originally Published: May 18, 2019 10:57 p.m.
Growing up in a single-mother household as the youngest of five children, Prescott native Lori Markham found great comfort in her downtown neighborhood elementary school — Washington Traditional.
Beyond introducing her to the fundamentals, the 2019 Yavapai County Education Foundation Teacher of the Year credits those early educators as her inspiration for becoming an elementary school teacher.
From the start to the finish of her undergraduate school years in Prescott, the 1986 Badger said she absorbed the staffs' approach into her soul — she was stirred to be curious, creative and cooperative. Her instructors — be it classroom teachers, librarians or cafeteria workers – created an educational cocoon where she said it was safe to stretch one's imagination and explore emerging talents.
Thanks to their tutelage, the almost quarter-century Abia Judd Elementary teacher was inspired to pursue education as her professional career, one she loves as much today as she did when she first arrived at the school as a student teacher finishing her bachelor's degree at Northern Arizona University. She intends to finish her career at Abia Judd when the time comes.
"I had just amazing teachers who knew our family, and were always there for me," said the 51-year-old who with husband, John, has three adult children — Britnie Hornsbey, 31, a physical therapist with a 14-month-old son, Wes; J.T., a United States Army Black Hawk helicopter pilot; and Madalyn, 22, an electrical engineer who just graduated from Embry-Riddle Aeronautical University. All three of her children attended Prescott schools beginning at Abia Judd Elementary.
"We were like a family. I always loved that and wanted to do that. And I always loved kids so it was sort of a natural path for me," Markham said.
Markham's classroom is both fun-filled and structured, with Markham able to manage 25 children without skipping a beat, be they working together as a class on a punctuation lesson or writing their own sentences on their individual computer screens. She fosters an environment of respect, setting clear boundaries for children that combine behavior consequences with second chances.
"I make sure the kids I teach know I love them, and that I have high expectations for them," Markham said.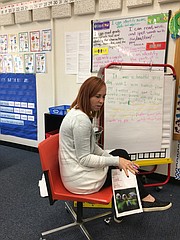 She holds students accountable, yet she never wants a child to go home saying they had a "bad day." She informs them they may have had a "bad moment" but everyone makes mistakes "and moves on."
She emphasizes with students in her class that they are family, and even though they may have disagreements they care about one another and must treat each other in that fashion.
"I tell parents that my goal is to teach children to love to learn, and to be motivated to learn," Markham said. "Everything else will fall into place."'
In the words of fellow students, colleagues and administrators, Markham is an educational rock star.
"She's a great teacher who put me on the right track," declared one of her students in a video shown at the annual Teacher of the Year banquet on May 3.
Still another student declared that Markham makes her classroom a second "home."
Not only does Markham work in her classroom to help children read, write and solve math problems, she is hailed or collaborating with colleagues at a school and district level on ways to enhance learning for all. She is always searching for best practice policies to enhance the academic experience for all students at the elementary grade level.
Markham most recently was part of a group that selected a new handwriting curriculum for elementary grades.
"She makes an impact in every way she can," declared Abia Judd Principal Stephanie Hillig.
District Superintendent Joe Howard concurred.
"She is so passionate," Howard said. "Her kids are always on task, but they're having fun. She is just a classy human being."
For Markham, teaching is not what she does, it is who she is. She said she never tires of being in a grocery store and running into a former student whose name she might not recall "but who remember me."
"To know I'm building lifelong learners, and giving back to society kind people who will be our doctors, lawyers, teacher, police officers, firefighters …. That's pretty amazing," she concluded.
More like this story
SUBMIT FEEDBACK
Click Below to: