Businesses invited to sponsor travel information signs
An effective way of marketing, Chino Valley Chamber of Commerce director says

Originally Published: May 18, 2019 8:43 p.m.
Updated as of Sunday, May 19, 2019 12:12 AM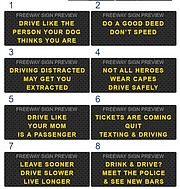 The Arizona Department of Transportation is offering Arizona businesses an opportunity to reach potential customers similar to the blue signs with their logos along freeways near their locations.
A program that creates a unique branding opportunity for qualifying companies while also promoting the 511 Arizona Traveler Information program, the "511 Logo Signs" program will allow businesses to sponsor informational signs reminding drivers to call 511 for travel information with a horizontal sign listing the name of the sponsoring business at the bottom, according to a news release from ADOT.
"This new program provides a unique opportunity for Arizona companies to gain exposure 24 hours a day along our state's highways, said Kelly Mero, chief executive officer of the organization's Grand Canyon State Logo Signs in the release. "With just one sponsoring business on each sign, '511 Logo Signs' will increase brand awareness and enhance the image of sponsoring companies."
Businesses eligible to take part in the program include food, gas, lodging, camping, attractions and 24-hour pharmacies. The signs will be 60 inches wide by 18 inches high and the cost for the 12-month program is $4,325 paid in advance for the first year. That equates to about $360 per month, and the package includes a one-year lease, fabrication and installation. Proceeds from the signs will go to the Arizona State Highway Fund, which pays for highway maintenance and repairs around Arizona.
A business can choose any available location for its sign, and the signs will be located primarily in the greater Phoenix and Tucson areas with additional markets to be announced in the near future.
If a local business chooses to participate in the program, it's an opportunity for them to have their business name seen anywhere in the state rather than just the local area, said Prescott Valley Chamber of Commerce CEO Marnie Uhl.
Chino Valley Chamber of Commerce Director Lorette Brashear said she thinks it's a great and effective way of marketing.
"Any time that you can advertise your business, we tend to jump on it," Brashear said. "It's a very unique way of advertising."
As for Prescott, any kind of promotion and signage that's available to promote the Prescott area will definitely help with the city's branding image, said Prescott Chamber of Commerce President & CEO Sheri Heiney. Additionally, with the Prescott Chamber of Commerce being a state-designated visitor information center, it gets signage through the state for that designation which helps give recognition to promoting the area, Heiney said, noting that a business taking part in the program could be another step in promoting Prescott and Prescott's businesses.
The City of Prescott Tourism Office does a lot of advertising in the Phoenix area and some in Tucson, and those are the city's No. 1 and No. 3 visitor markets, Community Outreach Manager John Heiney wrote in an email.
"I commend ADOT for thinking out of the box for sponsorship dollars," he said. "Since it's a new program, without actual results to report, it's difficult to say if this will drive business to Prescott."
For more information about the "511 Logo Signs," visit www.511LogoSigns.az.gov. The Arizona Department of Transportation's traveler information website is located at www.az511.gov.
Business owners are also invited to contact program representatives at 855-712-4500 to discuss their needs and potential signage solutions.
More like this story
SUBMIT FEEDBACK
Click Below to: