Heritage Center celebrates opening, city's Western history
'Finally, a Western Heritage Center on Whiskey Row'

By
Cindy Barks
|
Cindy_Barks
Originally Published: May 17, 2019 10:34 p.m.
Ladies in Victorian dress mingled with gentlemen in Roughrider-era uniforms this week – all in the interest of promoting Prescott's rich Western heritage.
While Whiskey Row has long been steeped in Western heritage, a new showcase center now celebrates that history.
About 250 people – many in period costume from Prescott's earlier eras – packed the historic building at 156-C S. Montezuma St. on Thursday evening, May 16, for the ribbon-cutting of the highly anticipated new Western Heritage Center.
Raucous cheers were the order of the day as Dennis Gallagher, founder and president of the Western Heritage Foundation, introduced the project and prepared to cut the ribbon.
With a tip of his hat to the many people who turned out, as well as the countless sponsors and volunteers, Gallagher said, "This is an unbelievable turnout. This is major milestone for our foundation. There's many donors here tonight and supporters in this room that helped make this possible."
Others referred to the appropriateness of the center's location.
"Finally, we get the Western Heritage Center on Whiskey Row," said Joe Howard, superintendent of the Prescott Unified School District and a member of the Prescott Chamber Foundation Board.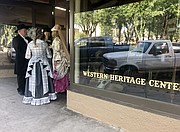 Howard and Gallagher were among the host of Western heritage supporters who gathered at the back of the long storefront space on Whiskey Row to participate in the ribbon-cutting.
Representatives of the City of Prescott, Yavapai County, and the Prescott Chamber of Commerce also voiced their support for the effort.
"The Prescott Chamber of Commerce celebrates with you, this day, your grand opening of this unique heritage showcase," said Leland Moreno-Hilburn, a Prescott Chamber of Commerce Ambassador, who served as master-of-ceremony.
Prescott Mayor Pro Tem Billie Orr commended Gallagher and Foundation Vice President Robert Greninger for their efforts.
"We've come a long way, baby," Orr said to the cheers of the crowd. "This is so awesome. Probably a week after I was on the council, Dennis came into my office and said 'Billie, let me tell you about something we want to do.'"
Of the center, she added, "What a gift to our city. It was your thought, and you have made it work."
Yavapai County Supervisor Rowle Simmons added the county's support for the center.
"Representing Yavapai County, we believe in you, and we're really proud of all of you," he told the organizers.
And of the success of the opening night, Simmons said, "I might say, I'm not at all surprised. When you guys tackle something, you do it right, and you've done this first-rate. It's a great job."
As of this week's opening, Greninger said the center's displays are about 60 percent complete. Still to come — to join the already in-place history on Yavapai County law enforcement, cowboy poets, and rodeo cowboys — will be exhibits by Sharlot Hall Museum and the Phippen Museum.
Greninger said displays to come will include the history of ranching, mining, and the railroad. In addition, he said, the center will add a display on early-Prescott's Walker Party, which will be sponsored by the City of Prescott.
The Western Heritage Center occupies the building that initially housed the Sam Hill Hardware Company, and most recently served as the space for The Rancher's Wife home furnishings store.
Gallagher and Greninger have pointed out that the center would not serve as a visitor center or a museum, but would rather be a "showcase" for what the museums and other history-focused organizations have to offer.
Organizers estimate that as many as 12,000 people will visit the center, and Greninger said that is a conservative number.
Throughout the summer, the center will be open from 10 a.m. to 6 p.m. on Fridays and Saturdays, and from 10 a.m. to 4 p.m. on Sundays.
Volunteers will staff the center, and the center's volunteer coordinator Gayle Meltzer said about 55 volunteers are already on board. But, she added, "We are always looking for more."
Anyone interested in volunteering is urged to either visit the center's website at https://www.visitwhc.org/, or stop by the center at 156-C S. Montezuma St., and fill out a volunteer card.
More like this story
SUBMIT FEEDBACK
Click Below to: