Farmers tops True Value for city title, completes 2nd straight unbeaten season
Little League
By
Doug Cook
|
dougout_dc
Originally Published: May 17, 2019 11:18 p.m.
PRESCOTT — There wasn't much suspense in the Prescott Little League Majors City Championship Tournament title game on Friday, May 17, and yet top-seeded Farmers and third-seeded True Value tried to make things interesting.
With Farmers unable to field its team at the Tournament of Champions (TOC), which starts May 31 in Chino Valley, True Value advances by default. However, Farmers had the edge on this night, registering a 7-1 victory over True Value to nab a second consecutive city title at Lower Bill Vallely Field.
Farmers finished its season with a perfect 15-0 record under manager Terry Magnett. The squad was unbeaten in 2018, too.
"It was a complete team effort, from the players to the coaches," Magnett said. "The boys all bought in early and played for one another all season long. I feel honored to have coached them this year."
At the dish for Farmers, first baseman Zane Gaul led the way, going 2 for 3 with three RBIs and a run scored, while Cooper Magnett went 2 for 3 with an RBI and two runs scored. Amyr Singh added a triple and two RBIs, and Rawly Huddleston was 1 for 2 with a double and a run scored.
Photo Gallery
Prescott Ll Majors Championship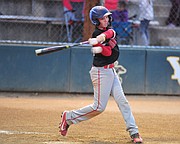 On the mound, Cooper Magnett started and pitched 4-1/3 solid innings, allowing one run (unearned) on one hit, striking out eight and walking two, for the win. In relief, Ethan Warren pitched 1-2/3 shutout innings.
True Value was headed to the TOC no matter the result on Friday because four Farmers players who compete for the 12U Prescott Rebels Club ball team are traveling to play in Cooperstown, New York, from June 1-8. They include Warren, Cooper Magnett, Gaul and Jacob Patterson (See related story, 1B).
"The kids are much improved from last year," True Value manager Dorian Sanderford said. "But Farmers has been the team to beat the last two years. We gave them our best shot on Friday."
Sanderford was most pleased that his defense didn't commit any errors.
"They did what they were supposed to do, but we didn't hit well," he added. "These two teams know each other well, and I've got nothing but love for those kids [on Farmers]."
And as for what True Value might be able to accomplish at the TOC?
"Our kids will compete and they will do their best to represent the Prescott area," Sanderford said.
MINORS
Prescott City Championship
#7 PDBA 12, #8 Grand Highland 1 (5)
Seventh-seeded Process Driven Baseball Academy (PDBA) cruised past No. 8 Grand Highland in the Prescott City Championship Minors Tournament final Friday night, May 17, at Lower Vallely Field to qualify for the Arizona District 10 Tournament of Champions.
At the plate for PDBA in the run-ruled five-inning win, Nick Poynor blistered an inside-the-park home run and first baseman Dylan Patterson laced a triple. Quinton DelPrato scored the go-ahead run.
Photo Gallery
Prescott Ll Minors Championship
On the mound, Poynor and Karson Frost pitched effectively for PDBA.
"It was a great season, and we focused on teamwork," PDBA manager Brian Patterson said. "We had a dedicated coaching staff with Brandon Frost and Paul Campuzano. Our team motto is, 'The Ball is Always in Play.' We look forward to the TOC."
UP NEXT
Prescott's city champions from the majors and minors tournaments automatically qualify for the Arizona District 10 Tournament of Champions, which will be played Friday, May 31, through Sunday, June 2, in Chino Valley.
Doug Cook is a reporter for The Daily Courier. Follow him on Twitter at @dougout_dc. Email him at dcook@prescottaz.com or call 928-445-3333, ext. 2039.
More like this story
SUBMIT FEEDBACK
Click Below to: