War on the Table: tabletop gaming, popularity touches Prescott

Originally Published: May 16, 2019 11:46 p.m.
The words "tabletop gaming" can bring about different thoughts to different people, whether it's recalling a favorite board game or reminiscing about their favorite "Dungeons and Dragons" adventure.
Some might bring out the miniature figures they've built and talk about the most recent wargame they've played. A number of wargames exist that use miniature physical models, such as "Warmachine," "Bolt Action," "Star Wars: Armada" and "Megablitz." However, there's one specific game that people play more than any other, said Game On Manager Jeff Tallon.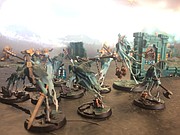 "'Warhammer' is by and far the most popular," Tallon said, noting that for the companies that sell these games the "hardest thing is getting people into a new game … you need somebody else to play against."
Those companies do make starter sets, said Matt Buchholtz, owner of the new Warhammer store in Prescott. Those starter sets come equipped with a hardcover rule book and two armies for $100, Buchholtz said. By pricing it out, you'll essentially get an army for free.
Warhammer has two main variants: "Warhammer Age of Sigmar," which is the successor to the original "Warhammer Fantasy Battle," and "Warhammer 40,000," which has a futuristic science-fantasy setting. For people getting into the hobby for the first time, Buchholtz said he helps them get introduced to the game through building and painting a model and using it by playing a game of whatever their preference is so they can get a feel for what it's all about and see if it's something they'd like to do.
It's a very social game too, he said. The moment someone walks in with a slightest interest, they have something in common with everyone there, Buchholtz said.
"Rather than just begin behind your computer talking to somebody through a microphone … you actually have somebody across the table from you," he said. "There's a real good sense of community within the gaming community."
Further, having been in the hobby for about 15 years, Buchholtz said he's been doing it for so long that if someone has a question, heis a resource to help them. There are some things he's learning too. The game has side games and recently, Buchholtz said he was learning how to play a new one called Kill Team, a side game for "Warhammer 40,000" that pits two to four players against each other in a fast-paced skirmish involving close-range firefights and melees.
Not everyone who gets involved with the hobby has to use the miniatures to fight, Buccholtz said. Some people like to build the models and paint them without taking part in the battles, he said. That's fine because it gives anyone who's interested in doing that a great way to do it, Buccholtz said.
"One of the most important things to recognize with hobbies is we do these things for fun," he said. "There's no right or wrong way to do the hobby."
For more information about "Warhammer," visit www.games-workshop.com/Warhammer.
Game On, located at 3250 Gateway Blvd. Suite 428, can be reached at 928-227-2000.
Warhammer, located at 377 S., Montezuma St. Suite A109, can be reached at 928-445-0733.
More like this story
SUBMIT FEEDBACK
Click Below to: