Fulbright scholarships inspire Prescott educators to give students global connections
District officials sensitive to the need for everyone to be informed residents

By
Nanci Hutson
|
HutsonNanci
Originally Published: May 16, 2019 11:15 p.m.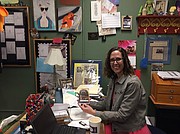 Prescott is an idyllic, picturesque frontier town with lots to boast about for those who opt to live, work and play here, according to residents and officials alike.
Local educators are delighted when they hear people are eager to move into the city, or graduates want to stay and raise their families here.
Yet these same people are sensitive to the need for everyone to be informed residents with a global consciousness.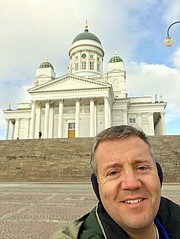 "We can tend to become an island here in our pine tree forest," admitted District Superintendent Joe Howard. "If we don't go to Phoenix, or read USA Today, or get out in the world, then our heads are in the sand … If we don't reflect, and look beyond our own community, and look at what's working elsewhere, and what's not, then we're in trouble."
From administrators to classroom teachers and bus drivers in Prescott and surrounding towns, Howard said the desire of public education professionals today is to prepare students for a future that will enable them to compete with global peers.
"Education is a moving target, changing as the world changes," Howard said. "We're always looking to improve. We all work very hard to be cutting edge."
Such is why the Prescott Unified School District Governing Board invited the district's two 2019 Fulbright scholars — Prescott High Assistant Principal Clark Tenney and French teacher Cathleen Cherry — to offer their insights related to building more global connections.
PHS for years has promoted one-on-one foreign student exchanges — Tenney hosted two last year — and language teachers offer trips to foreign lands, including Japan and Germany.
Cherry is one of 76 classroom teachers from across the nation selected to spend three weeks this summer working and observing classrooms in a developing nation. Her assignment: rural Peru schools. The visit is part of a year-long educational venture with the Fulbright Global Classroom Project.
Tenney was one of 10 American administrators selected to spend 10 days over spring break visiting the world-renowned educational system in Finland. His scholarship was with the Fulbright Finland Foundation.
Both longtime educators with foreign language backgrounds – Tenney taught Japanese to English students in Japan for 12 years and Cherry has taught French over a 25-year career - were thrilled with the limitless possibilities that come with such exchanges.
In the months before her June departure, Cherry has encouraged students throughout the district to connect with Peruvian students by writing post card messages about life in Prescott. She will invite the students she meets in Peru to do the same.
Despite the need for some translations, Cherry hopes this exercise builds a bridge. She wants children here and there to see they share a lot more in common than they might think.
For Tenney, Finland's national prioritization of education was inspirational as was students' personal investment in their academic choices and progress.
Though there are some fundamental national differences in how America and Finland approach education, Tenney said he would like to see all Prescott schools create posters highlighting what they want every child who attends to achieve. He would like to find ways to give students more breaks in their day, and to build a culture of trust that proves the backbone of everything that happens. He said he was awed that there were very little discipline issues in Finland because teachers trusted students, students trusted teachers, and parents trusted both to do what was right.
Tenney appreciated the focus on children's physical and emotional health – every child in Finland is eligible for a free, nutritious meal every day. He said he liked that Finnish schools require almost no homework, lots of student choice and classroom comfort and flexibility, and virtually no standardized testing. Many schools offered in-class counseling and other interventional supports, he said.
Board member Connie Donovan, a retired educator, also admired that Finland favors "teaching the whole child," linking social and emotional health with academic achievement.
For Cherry, the opportunity to engage with teachers from other places and in a different culture is certain to enable her to better articulate to her students the value of listening and absorbing diverse perspectives.
She said she is convinced her experiences will enrich how she engages with her students as she encourages them to engage in the world. In one of her lessons, she had her students via computer witness West African slam poetry; spoken word poetry some of them opted to give a try.
Upon her return, Cherry said she intends to create a global education guide, and do some in-service trainings for teachers.
She then flashed her travel-inspired joke for all to see.
"An adventure? Alpaca my bags!"
More like this story
SUBMIT FEEDBACK
Click Below to: